Going through Toronto's Nuit Blanche website is somewhat akin to the childhood experience of maniacally ripping through Sears' Holiday Wish Book. After cutting out photos of every game, stuffed animal, and doll came the harsh realization that there was no way anyone, Santa or not, was going to indulge that kind of greed. So, I'd reluctantly remove the less-desired items (sorry, Hugo, Man of a Thousand Faces) from my wishlist collage.
Unless you're Julian Higuerey Núñez or Henry Adam Svec, who are facing off in an attempt to critique every single project Saturday night, or you're just going out to get hosed, Nuit Blanche requires strategic editing. Now's not the time to get greedy.
What struck me with this year's event is the increase of international artists and projects that rely on social media. While I think there is a lot of room for artistic experimentation using Twitter, Facebook et al, my standout memories from previous years are very physical experiences, like bouncing atop a 10-foot wedding cake with Cathy Gordon at her public divorce ceremony, or last year's reenactment of the epic 1982 Wimbledon tie-breaking tennis match between Bjorn Borg and John McEnroe, as performed by artists Tibi Tibi Neuspiel and Geoffrey Pugen.
With that in mind, I have narrowed down my list to a few must-sees, and will leave the rest of the night to chance, so as not to be disappointed in the morning. There are about 1,000 ways to approach the night, but this year I've narrowed down the choices by theme, focusing on sound and music.
The Piano, University of Toronto's Hart House and Justina M. Barnicke Gallery
In 2009, musician and sound artist Gordon Monahan rigged up Massey Hall with piano wires. He has also airlifted a piano by helicopter to the top of a hill over St. John's Harbour, where it acted as a soundboard for piano strings that danced and played in wind – until he gloriously smashed the instrument two weeks later. This year at University of Toronto, Monahan, Michael Snow and five other artists pay homage to Elton John's instrument of choice.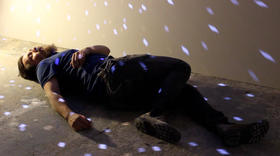 Kelly Mark, Scenes from a Film I'll Never Make, with Alternate Scores
Kelly Mark is one of the artists who never disappoints—she's like the Streep of the festival. With that in mind, her new video plays with music she "always felt would be great film scores or, alternately, music that she remembers from films because it has worked so well."
William Robinson, Young Prayer
Will Robinson is one of the smartest artists and musicians working in Halifax today. For this irreverent installation, which takes place at Metropolitan United Church, Robinson uses an automated pulley system to pay homage to rock 'n' roll's greatest gift to humanity: the guitar smash.
Ruth Ewan and Maeve Brennan, Tremolo
There is a tiny cinema near St. Lawrence Market, and inside its lobby there is a piano. On weekends, musicians entertain the movie-going crowds. For one night, in a collaborative project with U.K. artist Ruth Ewan, the instrument will be taken over by Maeve Brennan, an accomplished pianist who suffers from severe performance anxiety.
Leif Inge, 9 Beet Stretch, Old City Hall
Norwegian artist Leif Inge stretched Ludwig van Beethoven's "9th Symphony" to a 24-hour duration, which will fill Old City Hall with "suspended, seemingly glacial, sonorities" instead of its usual blowhard yelling.
If 24-hour marathons are your thing, I had a chance to watch a few hours of Christian Marclay's day-long cinematic video mashup, The Clock, at the National Gallery, and the sound editing is beyond amazing. Nighthawkish film fans, please go to the Power Plant  at 4 a.m. and tell me what happens.