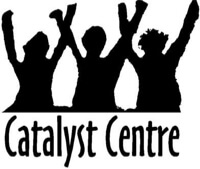 The moment I met the Catalyst Centre folks, I was intrigued. They seemed to get that social justice is not just a question of publicizing critical information: Building movements takes something more, and these folks seemed to have a handle on what that "something" is.
Catalyst carries on a rich heritage in popular education—one that almost vanished when many great popular-education organizations disappeared (or were disappeared by funders).
I have a soft spot for popular education. Instead of relying on "experts" to tell us what to think, popular education draws on everyone's expertise to create critical analysis and programs for action.
As far as I know, Catalyst is the only place in English-speaking Canada devoted to using popular education as a vehicle to take the smarts of social justice groups and weave their insight and know-how into vibrant political movements. When you go into a Catalyst Centre teaching event, you learn from others while others learn from you. Everyone's preconceptions get shaken up. And that shaking up unleashes new possibilities for action.
Take the provincial anti-poverty project that Catalyst assisted with recently. I've been to a lot of dry meetings with talking heads discussing poverty. Sometimes a person actually living in poverty will even be invited to say a few words. But Catalyst's approach is different. It creates a platform to encourage folks living in poverty to understand themselves as a political force. By tapping into our collective expertise, we are poised to build the movements that fight for change. Catalyst generates those glorious political moments when we actually experience the potential that solidarity has to move ourselves and the world.
Another thing I love about Catalyst is that it pays serious attention to activist burn-out. Too many seasoned activists exhaust themselves over divisive tensions amongst social justice movements. To be sustainable for the long haul, social justice activists need to develop better skills to help navigate the tough spots. Catalyst has some great tools that help us transcend difficult interpersonal dynamics and keep activists focused on what strengthens our movements.
Perhaps most importantly, everyone has a lot of fun when Catalyst does its magic. Social justice work should also be about having a good time. Catalyst keeps my eyes on the prize, but I always come out of a Catalyst event with a smile on my face.
You can contact Catalyst to build an event or a curriculum so that your group can go further to build movements around any social justice issue you care about. You can also attend its activist school, hang out with like-minded folks, and get a hand with your own approach to inclusive movement building. Catalyst also has a charitable organization that funnels donations into helping groups that don't have the resources to commission their own popular education activities.
Ellen Russell
Then:
This Magazine
economics columnist (ongoing) and economist with
Canadian Centre for Policy Alternatives
.
Now:
Roving economist in search of fun and social justice, ideally at the same time.