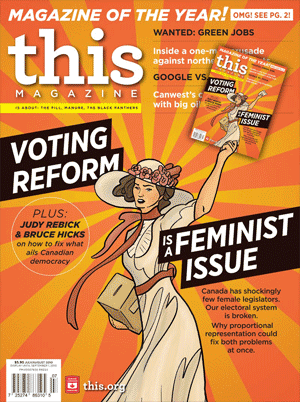 The July-August 2010 issue of This is now in subscribers' mailboxes and on newsstands. As usual, you'll be able to read all the articles here on the website as we post them over the next few weeks. But also as usual, we encourage you to subscribe to the magazine, which is the best way to support this kind of award-winning journalism. You can easily buy a subscription online for one or two years, or we're happy to take your call at 1-877-999-THIS (8447). It's toll-free within Canada, and if you call during business hours, it's likely that a real live human being will answer—we're old-school like that.
Finally, we suggest subscribing to our RSS feed to ensure you never miss a new article going online, and following us on Twitter or becoming a fan on Facebook for updates, new articles and tasty links.
On the cover of July-August 2010 is Katie Addleman's feature on the decade-long push for electoral reform by Fair Vote Canada. Though proportional representation seems to have slipped off the radar for the media and many voters, Addleman argues that voting reform—far from being an arcane concept that's only batted around by parliamentary-procedure–wonks—is a universal issue of civil rights and equality that could put more female legislators in office and restore our badly skewed political landscape.
Also in this issue, Jessica Johnston reports from Abu Dhabi on the Masdar project, a city-sized experiment in sustainable development happening in the desert of the United Arab Emirates. Like Canada, the emirate's economy is currently dependent on oil; but unlike Canada, she finds, the sheikhs are looking to clean technology to power their economy of the future, while we've doubled down on the tar sands. With an estimated 20 million jobs hinging on renewable energy in the next decade, is Canada going to be left behind? and Ashley Walters profiles Joel Theriault, a forestry activist who for years has waged a lonely battle against pesticide spraying in Ontario's northern forests. His tactics have made him enemies in the logging business, the Ministry of Natural Resources, and even among some fellow environmentalists.
Plenty more where that came from: Bruce Hicks writes about the Harper government's plans to increase the number of seats in parliament, and why that move may fix some problems, and cause new ones; Raina Delisle exposes the cozy relationship between Shell Oil and Canada's largest newspaper chain; Andrea Warner suggests that human rights tribunals need to draw the line before dragging in bad comedians; Jennifer Osborne writes us a postcard from the Bangu prison complex in Rio De Janeiro; Navneet Alang says that Google's spat with the Chinese government is just the latest chapter in a centuries long story of the West's colonial paternalism towards China; and Paul McLaughlin interviews Judy Rebick about the fight for democratic reform.
Plus: Wendy Glauser on Canada's very own "Black Panther"; Andrew Livingstone on the Petitcodiac River; Michelle Ervin on natural health products; Lindsay Kneteman on how to improve global maternal health; Sarah Snowdon on next-generation birth control pills; Julia Prinselaar on Canada's own genetically modified pig; Graham F. Scott on copyright reform; Emily Landau profiles playwright and television producer George F. Walker; Shaun Pett on Canada's interconnected web of musicians; and Jenn Hardy on food-activist/musician Vanessa Rodrigues.
This issue we've overhauled our books section to add more reviews of the best of Canada's independent and small-press publishers. Eve Tobolka reviews Andrew Potter's The Authenticity Hoax; Kim Hart Macneill on Clem and Olivier Martini's Bitter Medicine; Sarah Barmak on Shaughnessy Bishop-Stall's Ghosted; and Chantal Braganza (our new reviews editor!) on Shane Nelson's new book of poems, Complete Physical. And we bring you three new poems by Andrew Faulkner, plus a new short story by Eva Moran.