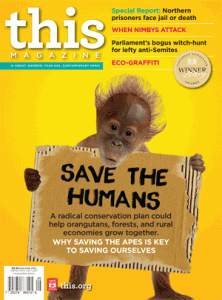 The May-June 2010 issue of This Magazine has been on newsstands for a while already, so I apologize that I'm a little late to the party blogging about what you can read in this issue. You can find This in quality bookstores coast to coast, or get every issue without making a special trip by subscribing. This is actually a great time to subscribe, especially if you're in Ontario or B.C. — the HST is coming July 1. But if you subscribe now, you can lock in a lower subscription price and avoid the tax! As always, the stories from this issue will be posted here on the website over the next few weeks. We suggest subscribing to our RSS feed to ensure you never miss a new article going online, following us on Twitter or becoming a fan on Facebook for updates, new articles and tasty links.
On the cover of the May-June 2010 issue is Shawn Thompson's dispatch from Samboja Lestari, a controversial reforestation project in Borneo that aims to preserve orangutan populations, repair rainforests damaged by illegal logging, and support local farmers by fostering interdependence between the wildlife, forest, and people. Some say it could revolutionize conservation projects around the world; others aren't convinced. Also in this issue: Lauren McKeon reports from Yellowknife on the shocking state of its prison, where lack of resources for psychiatric assessments has turned a whole wing of the facility into a de facto mental health ward. Stuck in legal limbo, the prisoners there wait—and then wait some more—for justice. And Patricia Bailey examines the work of a young crop of filmmakers who have come to be known as Quebec's "new wave." Eschewing the commercial, nostalgic hits of recent Quebec cinema, this new generation of directors and writers are embracing a stark aesthetic that illustrates the social alienation sweeping Canada's Francophone province.
There's lots more: Scott Weinstein calls out the  Canadian Parliamentary Coalition to Combaat Anti-Semitism; Andrea McDowell argues that we need better ways to counter misinformation about wind energy; Eva Salinas reports on the post-earthquake cleanup in Chile; Rob Thomas profiles a graffiti artist who ditched his toxic art supplies and started making his own eco-friendly paints; Darryl Whetter says Canadian Literature has become less feminist; Dorothy Woodend says the small size of Canada's film community is hindering real criticism; and Dayanti Karunaratne investigates whether bamboo textiles  are really more environmentally friendly than their conventional counterparts.
PLUS: Gillian Bennett with tips on protesting the G20 in safety and style; Alex Consiglio on legendary pro-pot lawyer Alan Young; Lyndsie Bourgon on bike sharing programs; Anya Wassenberg on a U.S. Supreme Court battle between Ontario and Michigan over the future of the Great Lakes; Daniel Tseghay on the 50th anniversary of the "Year of Africa"; Graham F. Scott on the Harper government's "women and children" agenda at the G8 and G20; Vivian Belik on minority governments; Jenn Hardy on Montreal band Po' Girl; Chantaie Allick on Ottawa's Snapdragon Gallery; Navneet Alang on how online communities throw together people who would never meet in real life, and more.
With a new short story by Jonathan Bennett and new poetry by Caroline Szpak.