May-June 2010
Are bamboo textiles really better for the environment?
Dayanti KarunaratneWebsite
The Claim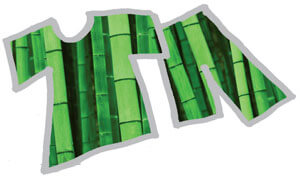 Bamboo fabric is the perfect solution for the eco-chic shopper. The plant grows fast, with little water, few pesticides or fertilizers, and produces 30 percent more oxygen than trees. But does all that really mean guilt-free fashion—or is bamboo just a savvy marketing trick?
The Investigation
Last year, the Competition Bureau of Canada clamped down on the increasing number of textile dealers marketing bamboo clothing to nature-loving fashionistas. Under new regulations, manufacturers and retailers must label bamboo clothing according to how it was created. Since most bamboo fibres are made into a pulp using sodium hydroxide (a corrosive chemical base used in a variety of manufacturing processes) before being spun into yarn, this means a tag change to either "viscose from bamboo" or "bamboo rayon." Lest a shopper still be fooled, such clothing can also no longer be marketed as eco-friendly or natural.
Tagreed Boules, a senior competition law officer with the Bureau, says the new rules were designed to alert consumers that bamboo clothing is not as pure as some retailers like them to believe. Both rayon and viscose fabrics indicate a chemical process, he adds, and are a more accurate description of the material used to make bamboo clothing.
Boules says the agency is taking an increased interest in companies that advertise products as environmentally friendly. As Boules explains: "Environmental claims must be substantiated. If a product claims to be biodegradable, is it the product itself or the container? How long would it take to biodegrade? This information must be readily available."
The Verdict
Using bamboo as a fibre to make clothing does have advantages over other plants—it grows faster than cotton and uses less water and pesticides—but sodium hydroxide isn't exactly "green." If it burns on contact and is harmful when inhaled, it has no business in the green aisle. The good news: research is currently underway to develop a process less reliant on harsh chemicals.