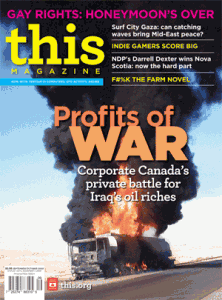 Anthony Fenton, the investigative journalist who wrote "Hostile Takeover: Canada's outsourced war for Iraq's oil riches," the September-October cover story in This Magazine, has been on the air three times in recent weeks, talking about the article, Canada's part in the Iraq occupation, and the private businesses that profit from the conflict.
Here's Anthony talking with the American investigative radio magazine Flashpoints on KPFA 94.1 FM, broadcasting out of Berkeley, California. (Drag the slider to about the one-third mark to skip straight to the interview.)
A few days before that, Anthony was on the Jeff Farias Show, a progressive podcast from the U.S. (the show is one and a half hours, and he is the last half hour. You can listen to the broadcast through Jeff's website.
Finally, later in September Anthony was heard on Gorilla Radio, the Victoria, B.C. social justice radio show, heard every Monday at 5 PM PST on CFUV, 101.9. His interview is the first part of the program.