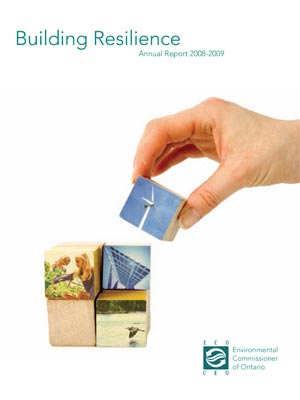 The Environmental Commissioner of Ontario released his annual report to the provincial government yesterday and it contains some interesting tidbits. In particular, it's interesting to note that the press release for the report highlights the problem of SLAPP suits in environmental planning governance right off the top, despite the fact that it gets just a few pages in the report proper.
"Strategic Lawsuits Against Public Participation," or SLAPP suits, happen when a powerful corporate interest, usually a developer, deploys its legal team against indivual citizens to bully them out of the public consultation process or distract them. From Commissioner Gord Miller's press release:
A variety of legal manoeuvres such as SLAPPs (Strategic Lawsuits Against Public Participation) can create a chill on public participation. The Report cites a recent case before the Ontario Municipal Board where citizens faced a claim for costs of $3.2 million – which was fortunately denied by the Board.
Such lawsuits, which the actual report defines as "civil actions with little or no substantial basis or merit advanced with the intent of stifling participation in public policy and decision-making," scare off ordinary citizens and generally put a chill on public consultations, tilting the process in favour of developers. Both Quebec and B.C. have already instituted anti-SLAPP legislation, and now Miller says it's time for Ontario to follow suit (other provinces should too). From the report [PDF]:
The public's right to participate in decision-making over matters of public interest is a cornerstone of our democratic system. Efforts aimed at suppressing this right should be discouraged by the Ontario Legislature and other public agencies. The ECO sees a need for provincial legislation that would put both sides of development disputes on equal footing. Such legislation could serve to halt SLAPP suits in their tracks. It also could provide a means for the public to access financial and other resources in order to exercise their participatory rights in planning approvals and other contexts that have a significant bearing on the environment.
The section on SLAPP suits and other dirty legal tactics is a comparatively small part of the full report, but the fact that the Commissioner is highlighting it is heartening news. You can download the full report here [PDF].