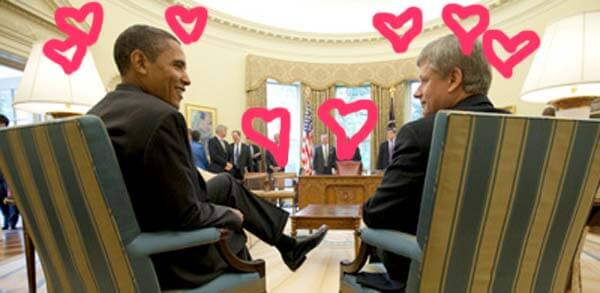 Let me get this straight: The United States finally elects a credible president; moves to enact more humane health care policies; attempts to rein in its legions of lunatic financiers; and gets a clue on climate change. Meanwhile, Canada chugs along with its boring-but-stable banks and an imperfect but respected single-payer healthcare system. And we're the ones who've "grown up," according to National Post comment editor Jonathan Kay, in a preposterous commentary on Newsweek's website:
Suddenly Canadian attitudes have matured at a breakneck pace—and not just because Americans elected Barack Obama (though of course that's a part of it). As Prime Minister Stephen Harper prepares to visit the Oval Office on Wednesday, Canada's chronic anti-Americanism has entered a period of remission. […]

Canadian anti-Americanism is fueled, fundamentally, by envy and fear. But over the past year, the United States has been laid low by a devastating financial collapse, a crash in home prices, and a worsening jobs crisis. Canada's economy, on the other hand, has escaped relatively unscathed. … [The] healing trend comes primarily as an unintended effect of recent developments in Washington and on Wall Street. But it's also a sign that Canada has grown up.
The drippy, patronizing tone of the piece is entertaining but wildly at odds with the facts: For the last decade or so, Canadians have gazed south with bemusement, horror, even—to quote Kay himself—"eye-rolling disapproval," of American politics, economics, social policy, and military conduct. And why wouldn't we? Kay says it himself (repeatedly): the U.S. is a basket case. This isn't about Canada "maturing" enough to be nice to the U.S., as if it even had anything to do with Canada; it's about the U.S. finally starting to dig itself out of the nightmare farce of the Bush years and attempting to be a reasonable partner in international diplomacy again.