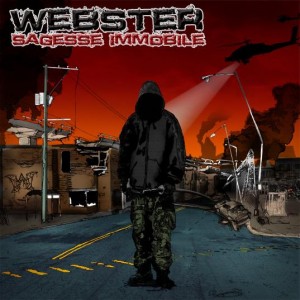 Quebec city's recent 400th anniversary celebration was quite a spectacle — Paul McCartney, Celine Dion, treasures from the Louvre, and even the occasional nod to diversity like the multicultural rap show, Hip hop tout en couleurs (Hip hop in all Colours). For the most part, though, the Quebec black experience went unacknowledged. For "Webster" Aly Ndiaye that's a sad reality, not a surprise. According to the local rapper, blacks in the provincial capital are socially invisible.
At age 28, Webster (as in the dictionary) is an underground celebrity and dean of the QC rap scene. He's not just one of the city's oldest rappers, he's a grassroots hip hop historian. After studying history at Laval University he now works a day job as tour guide and historic interpreter with Parks Canada. The son of two teachers, he spends his spare time visiting local schools and communities talking to kids about Quebec's black heritage.
Tall, wire-thin, and intense, this bilingual rapper realizes he could make a bigger splash in a bigger pond. QC has a reputation among immigrants as "a place you come, but don't unpack your bags." According to Webster, unemployment, police harassment and covert racism are some of the reasons people leave when they become teenagers. But unlike many before him, Webster doesn't plan to move to Montreal or Toronto. "My generation is the first of second-generation blacks…to stay here and fight right here," he says.
The biracial son of a Senegalese father and Québécoise mother, Webster is a self-styled "SénéQuéb" who creates songs in the service of social justice as much as artistic expression. In an effort to provoke thought (and perhaps a bit of controversy), Webster dubs his music "terrorhythms." On his first solo album Sagesse Immobile (Immobile Wisdom) he croons to an R&B beat: "L-land baby, where I was born 'n' raised." "L-Land" refers to Limoilou, a QC district largely populated by the immigrant poor. Webster's answer to Quebec City's 400th is "Quebec History X," a rap that invokes the forgotten histories of figures like Matthew da Costa, a multilingual African who came to New France as Samuel de Champlain's interpreter.
LISTEN: "Quebec History X" from Webster's Sagesse Immobile
Webster's decision to switch from rapping in English to French four years ago was a conscious choice, as much political as personal. "I'm among the first generation that witnessed the birth of Quebec hip hop," says Webster. "In the mid-90's there was a big French hip hop craze. Some used to rap with French accents but when I started rapping in '95, I started in English. English isn't my first language; I didn't have the same scope. In French I have more vocabulary and know how to work the language."
As QC winds down its anniversary festivities, Webster begins celebrating the first anniversary of Immobile Wisdom's release. He's taking terrorhythms to the road, touring extensively from Quebec City to Montreal and points in between. His mission, he insists, is not finger-wagging and guilt-tripping white Quebec: "Guilt is not the point. I do it to spread my message and reach young people in the streets and in the schools. It's to show black people's contribution in the building of this city and country."