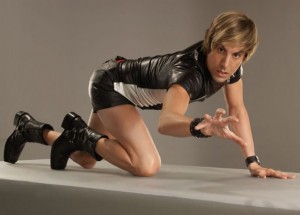 It's difficult to imagine any context in which three litres of depilatory cream, an adopted baby named O.J., and Ron Paul could come together. Of course, it's equally difficult to imagine a Sacha Baron Cohen production in which such a whacky bunch of elements wasn't united.
Cohen's newest movie, Bruno, to be released July 10th, is well ahead of schedule in creating buzz – and of course, controversy. The movie is the third in a very loosely connected series featuring characters from Cohen's faux-interview show, Da Ali G Show. In previews, Bruno, a gay Austrian model, makes the rounds of Prop. 8 rallies, baby photo shoots, and anti-gay self-defence courses. Almost as notorious as these early glimpses of the movie itself are the outlandish publicity stunts that have accompanied it – including Bruno posing naked on the cover of GQ or landing on Eminem at the MTV Movie Awards clad only in a jock strap.
Some of this is obviously funny, and some of it so shocking you just have to laugh. Either way, Bruno seems poised to be at least the hilarious hit Cohen's previous film Borat was. It's been a long winter full of bad news, and I think most of us are ready for a bleached-blonde, Brangelina-mocking fashion model with a little Ron Paul on the side.
I hate to go further than that. Cohen has already captured the title of the fun, cool, bachelor uncle, and which leaves the rest of the media looking like the chic liberal parent who makes everything oh-so-awkwardly serious. Still, Cohen as much as acknowledges this kind of discussion needs to take place by claiming the film uses humour to ignite debate about racism and prejudice in our society, so let me venture this much.
Without having seen the film, it's safe to say the movie will play on gay stereotypes. It's also safe to assume it will give a megaphone to homophobes and bigots they would not otherwise have. The movie doesn't, as Human Rights Campaign so earnestly requested, come with a warning that the it was "designed to expose homophobia." And though that would be a tad over-the-top, it's also too neat and easy to say that people will always figure that out for themselves. There are, I'm afraid, plenty of people stupid or bigoted enough to use the movie to confirm instead of condemn their own prejudices.
Of course, on the other hand, Cohen is right that Bruno will draw attention to some troubling aspects of our society, and that it is more damning and likely to get far more widespread attention than "serious" news coverage – which I'm afraid is a something of an indictment of mainstream journalism as well. That's more than enough motivation for me to escape my muggy, garbage-perfumed city to sit in a dark air-conditioned movie theatre for a couple hours and laugh without thinking too hard. Let's make sure it's also sparks some important discussion, on this blog and elsewhere …