What does "free" look like? This was the prompt sent out to a group of local Toronto artists around two months ago. The results, which were hung along the fourth-floor hallway of the Case Goods Warehouse in the Distillery District last weekend, elegantly captured a word that is part economic reality, part political manifesto, and part new age mantra. There were photographs of wistful-looking children, a bright red, green and yellow map of South Africa, and abstract nature sketches.
Photo credit Melanie Gordon
What was shocking, fascinating, a little destabilizing though was that these pieces didn't just depict free; they were free. Yes, people could take home a piece of original artwork for $0. Well, there was a "creative exchange" element in which the person who received the piece was asked to write an e-mail or letter back to the artist. But there was no payment in the way we usually understand it: the way that pays grocery bills, rewards labour and creativity, and often makes art seem so completely inaccessible to most of us.
Catherine Mellinger, a local textile artist who organized the exhibit along with her friend, photographer Melanie Gordon, explained the system to me. People came early in the day and signed up to receive red stickers. About 75 people signed up for a total available 50 stickers (and pieces). Then, at 3 o'clock people could come back and put a sticker to claim their pieces. The only qualification was that the project's organizers would not mediate disputes. If two people wanted the same work of art, they would just have to sort it out themselves.
It was an accidental social experiment that apparently reflected well on humankind, or at least the particular segment of it that was wandering around the Distillery District for Doors Open Toronto, an event where some of Toronto's most prominent historic sites open their doors to the public for free, on a Saturday afternoon. There was no clumping around a single prized piece. People spread out pretty evenly over the different pieces – freed from the strictures of cost, apparently there is a natural diversity of tastes. Some came early to stake out their claim, but even they seemed willing to negotiate. Many of the people who took part in the exchange were artists themselves, who are normally among the last people with the money to build an art collection. Others, like me, happened on the event while wandering around the Doors Open festivities, and had probably never before imagined owning a piece of original art for themselves.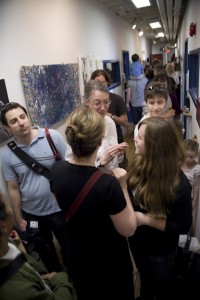 Photo credit Melanie Gordon
It was just one of the much-needed doses of optimism that seem to be popping up, as people explore what can be done without money in a time when there is much less of it. But it still begs the question: is free fair? It's hard making money as an artist, Mellinger conceded, and not everyone felt it was right to add to that the pressure to give work away for free. As a journalist, I don't need to be told twice about the perils of giving work away for nothing.
Free theatre in the park, free museum and art gallery admission, free newspapers and magazines, free yoga, free live music. Last week's cover story in New York Magazine celebrates the growth of accessible arts and culture in a city that one year ago was still all about money. It could, the magazine says with uncharacteristic earnestness, usher in a kinder, gentler, more egalitarian era for New York. I hope that last weekend's exhibit at the Case Goods Warehouse, and what seemed to my eye like the general popularity of Doors Open, are signs that Canadian cities are not far behind. But I also hope, as the magazine failed to address, that when there is once again more money to go around, many of us will be willing to repay the favour to these artists, musicians and writers a bit more literally.
The Octopus Project puts on a free exhibition – though not always with free artwork – every two months, based around a particular theme. They'll be taking a break in July, but should be back in September. For more information go to octopusproject.ca.