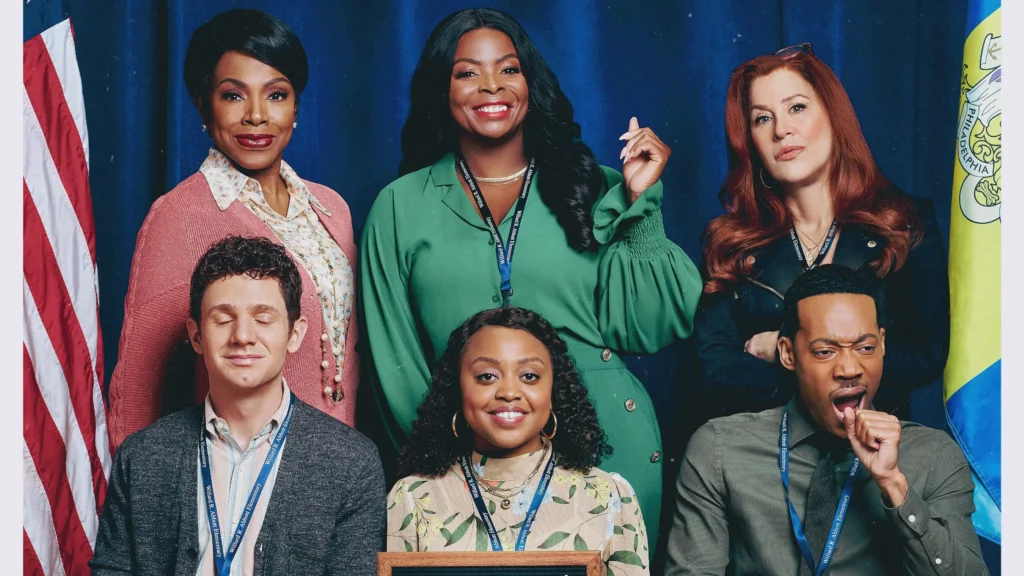 I have always found myself in close proximity to teachers, first as a student then later in my personal and professional circles. As a figure skating coach, I felt a kinship with teachers, even if I didn't always understand the weight of what was being asked of them. This past year, I began watching Abbott Elementary, a workplace mockumentary set in a fictional school of the same name. It is, in a word, delightful. And to me it's the first show to successfully capture what makes teachers tick—and how they cope in a world that consistently under-rewards their contributions.
Created by and starring Quinta Brunson, the ABC series has earned the kind of critical acclaim elusive to network sitcoms today, including garnering seven Emmy nominations this year. Abbott's most effusive praise has come from teachers, for its compassionate yet unflinching representation of what they do. Teaching has long been positioned as noble work, an idea Abbott both celebrates and complicates, exposing the structural and institutional challenges typically obscured by this one-dimensional perception of educators—especially in underfunded and understaffed schools.
The demands placed on teachers are unlike those of nearly any other profession. Teachers stand in as social workers, therapists, and even parents. And due to the ongoing impacts of COVID-19, those demands have been ramping up. In Alberta, the place I call home, the United Conservative Party's (UCP) significant funding cuts to K-12 education and inadequate COVID-19 policy have only increased said demands. Between the UCP's abrupt pivots to online learning, elimination of contact tracing and testing, and inconsistent messaging on masking and isolation requirements, Alberta's teachers have gone on record as feeling abandoned—and that abandonment is taking its toll.
In November 2021, the Alberta Teachers' Association published a survey of more than 1,300 active Alberta teachers and school leaders. A staggering 94 percent of respondents reported feeling fatigue and 95 percent reported feeling stress. That's an untenable reality even the leader of Alberta's New Democratic Party, Rachel Notley, seemed to brush aside in a tone-deaf tweet issued from her Twitter account this past May. In it, Notley commended a teacher for working a second job at a restaurant, noting she didn't know where she found the energy.
As an outsider to teaching, what I love most about Abbott is its affirmation of an oft-repeated adage: it is community care— not self-care and not state-sponsored care—that repairs harm and facilitates change. In "Light Bulb," veteran teacher Barbara Howard (Sheryl Lee Ralph) advises substitute Gregory Eddie (Tyler James Williams) on how to communicate effectively and compassionately with a parent. In "Art Teacher," newbie Janine Teagues (Brunson) finds an inventive way to replace the damaged books of the hardened Melissa Schemmenti (Lisa Ann Walter). In "Ava vs. Superintendent," lazy but loveable principal, Ava Coleman (Janelle James), stands up for her students and staff during a school board meeting.
The teachers in my life have much in common with Abbott's cast of characters, pouring their time, energy, and resources into one another whenever they can. It brings comfort to know they are looking out for each other, but we should not let that comfort lull us into complacency. Those in power routinely expect teachers to make a way out of no way, and without complaint. It is up to us, as allies, to challenge this assumption and to mirror the solidarity modelled for us by the teachers on our screens. The fictional world of Abbott Elementary offers critical lessons for our real world, so read up. Take notes. This is one test we must not fail.