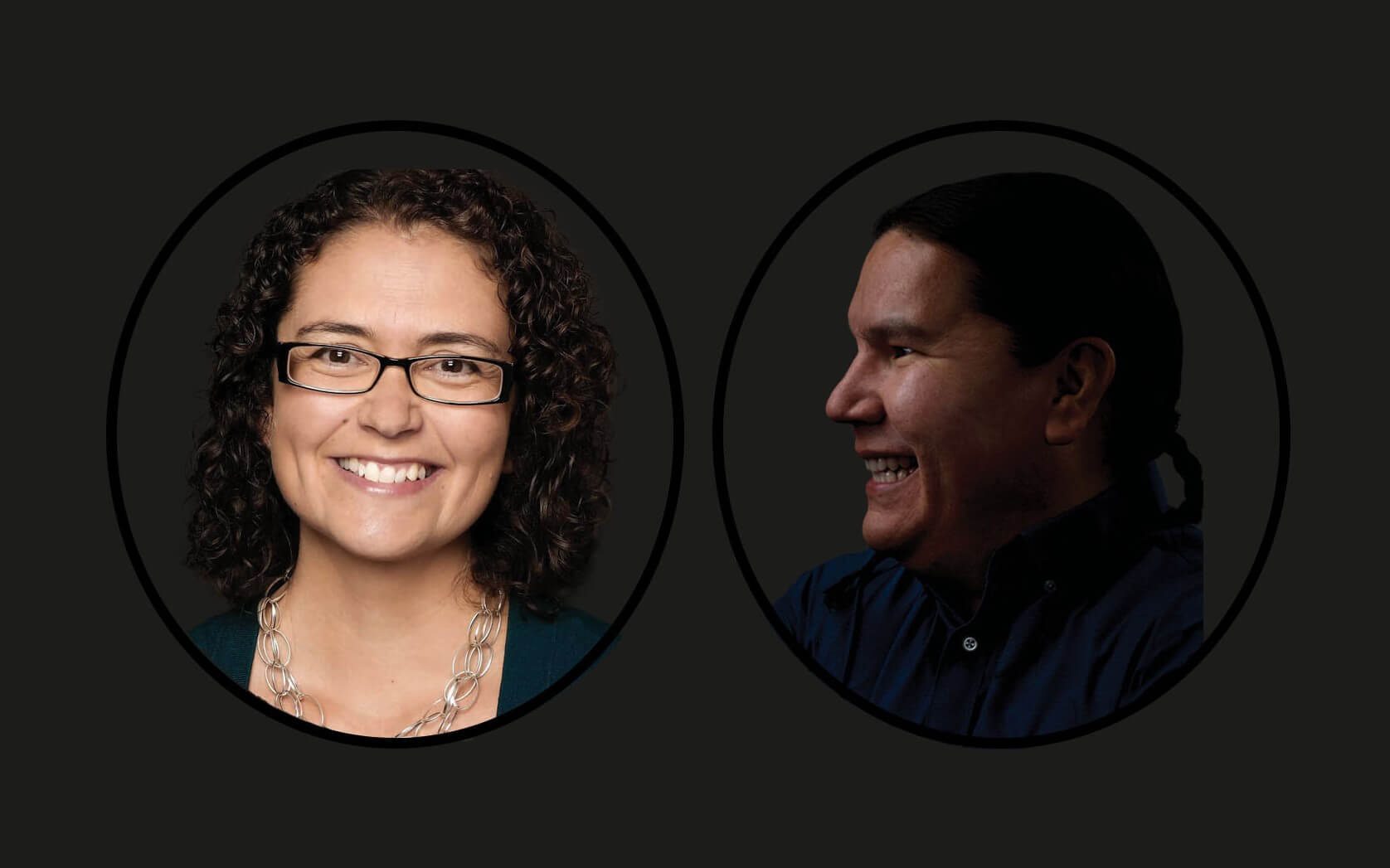 Photos courtesy Jennifer David & Waubgeshig Rice
When Jennifer David decided to start Storykeepers, a podcast that spotlights Indigenous literature, she knew Waubgeshig Rice was her only choice for a co-host. He was an experienced journalist with CBC, a published author—most recently of the bestseller Moon of the Crusted Snow (ECW Press, 2018)—and they were both passionate about uplifting Indigenous voices.
However, the first time David approached Rice about co-hosting in 2018, he had to decline. Although he was excited about the idea, he couldn't take on a new project. He was working full-time at CBC and he had a new baby.
"I shelved it because I never pictured any other co-host. I did not want to go ahead unless I was going to go ahead with Waub," David says.
David sees herself as a communicator. She has a background in journalism, she's an experienced facilitator, and she's the author of two books, including the podcast's namesake, Story Keepers: Conversations with Aboriginal Writers (Ningwakwe Learning Press, 2004). She's spent her career promoting Indigenous voices on television, radio, and in literature.
Early in 2021, David heard Rice was leaving CBC so he could write full-time. She approached him again and asked if this was a better time for him to co-host the podcast. He said yes. Right away, they got to work. They successfully applied for funding with the Ontario Arts Council, hammered out the details of what they'd like the podcast to be, and started planning the first season. The first episode aired in March 2021.
Rather than the typical radio show where authors are interviewed about their books, David wanted to do something different. Storykeepers is more like a book club, with a book being discussed in depth without the author present. They record one episode per month. The entire focus of Storykeepers is Indigenous voices: they discuss Indigenous writing across genres—fiction, memoir, plays, and poetry—with an Indigenous guest host.
"It's a bit of a challenge to transpose that book club kind of vibe," Rice says. "How we approach each episode is very informal and casual."
Although they read the books, take notes, and discuss topics ahead of time, David and Rice keep the actual episodes unscripted. For Rice, the podcast was an exciting challenge after working at CBC for so long, where almost everything was scripted.
When planning the season, David and Rice started with a list of books they wanted to discuss, and then they made a list of potential guest hosts. Afterwards, they tried to match them up.
"What we try to do is identify somebody who has some sort of personal or professional connection to that book or to that author or to the Indigenous nation that it's about just to open our eyes to perspectives we may not have considered either," Rice says. They bring in voices from Anishinaabe, Cree, Inuit, Métis, and Two-Spirit backgrounds, among others.
They recorded 10 episodes for the first season, including a discussion with Cherie Dimaline about Eden Robinson's Return of the Trickster, Duncan McCue about Richard Wagamese's Medicine Walk, Rosanna Deerchild about Joshua Whitehead's Jonny Appleseed, and more. To encourage listeners to engage with the podcast and interact with them online as if it is a book club, Storykeepers offers book giveaways. At the end of the season, David and Rice were thrilled when they realized the podcast had over 47,000 downloads.
Season two kicked off in January 2022 with a discussion of Katherena Vermette's The Strangers with guest host Jamie Morse. Rice has taken a slight step back for season two, as he will be a judge for the 2022 Scotiabank Giller Prize and he's editing his forthcoming novel. Instead of participating in every episode, he'll be co-hosting every second episode.
"I didn't want to spread myself too thin. I want to do the books we feature in the podcast properly," Rice says.
He expects to return to co-hosting every episode in fall 2022.
Listeners can look forward to hearing about an exciting lineup this season, including Alicia Elliott's A Mind Spread Out on the Ground, Michelle Good's Five Little Indians, and the podcast's first episode featuring a graphic novel, This Place: 150 Years Retold.
David hopes the new season reaches even more listeners. She would like people to come to them and tell them what they're reading. She'd be thrilled to hear from Indigenous writers and artists interested in being a guest host on the show.
"We can do this for 10, 20 years and still not get through all the books by Indigenous authors," David says. "I feel like I kind of owe it to Indigenous authors to keep this going so that they can see themselves and their books in here. We've just touched the surface."