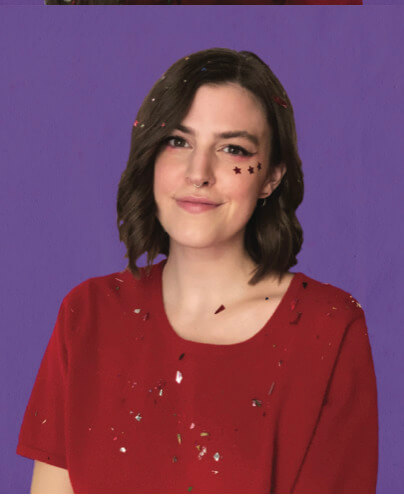 When Natahna Bargen-Lema and Megan Fedorchuk launched Party Trick Press, they didn't shy away from lofty goals. With a mission of revolutionizing eLiterature and bringing higher standards of diversity, accessibility, and inclusion to the publishing process, the digitally focused press aims to challenge the publishing industry's complicated reputation.
Soft launched in October 2020, Party Trick curates literary works by current and up-and-coming authors. Among them are former City of Edmonton Youth Poet Laureate Timiro Mohamed (Incantations of Black Love), Furqan Mohamed (A Small Homecoming), and D'orjay the Singing Shaman (Shit My Shaman Says, Volume 1).
"Party Trick Press is truly a pandemic baby," says Bargen-Lema, herself a writer. After losing her job, she called Fedorchuk, a long-time friend and former colleague from the University of Saskatchewan. "It spiralled from there!"
"I agreed before we even had a fully formed idea," says Fedorchuk. The pair haven't seen each other since before the pandemic began. Separated geographically, Fedorchuk lives in Toronto while Bargen-Lema is in Edmonton.
Party Trick was born of a belief that eLiterature is undervalued, yet crucial for a number of reasons. It's accessible, allowing readers to download ebooks on a variety of devices, using magnification and read-aloud features. It also reduces paper waste. To increase financial accessibility and to challenge the publishing industry's capitalist model, Bargen-Lema and Fedorchuk have adopted choose-what-you-pay price points.
"We're always learning. We're always evolving," says Bargen-Lema, noting that the press is continuously researching opportunities to be increasingly accessible. Aware of the space they're taking up as white women, Bargen-Lema and Fedorchuk agree that a key value is "creating a platform that is truly inclusive, that people feel represented by, that people can feel comfortable sharing on," says Fedorchuk. A positive and collaborative experience for authors is also of utmost importance.
"Every single person that reaches out and trusts us with their words is just so humbling.… We do feel like there's a place for us here. There's a need for this type of work," says Fedorchuk.