"Terese has the best #booklooks and what a nice surprise to see this this morning," tweeted author Casey Plett this spring when Terese Mason Pierre posted her #booklook based on Plett's Little Fish.
Later in the spring, Canthius, a feminist magazine of poetry and prose, tweeted that "the best thing on Twitter right now has to be makeup #booklooks … Thanks for giving us something to look forward to."
It was a difficult spring, with COVID-19 keeping many of us at home in isolation. And yet #booklooks prevailed. What, you may ask, is a #booklook? Book looks are makeup looks based on book covers. Occasionally it's more of a dress-like-a-book thing, with outfits inspired by book covers instead—though amongst Canadian writers, makeup has been a more popular route.
Though #booklooks began before the pandemic, they really picked up as a creative outlet during it, with writers and readers submitting their own through social media. Perhaps most inspiring has been the camaraderie between writers, the retweets and praises sung amongst a group so often made to compete. The looks themselves are glorious, and the added bonus of learning about amazing—and notably diverse—books through the informal project doesn't hurt either. For This's fashion and beauty issue, we asked six participants what creating #booklooks has been about for them.
Domenica Martinello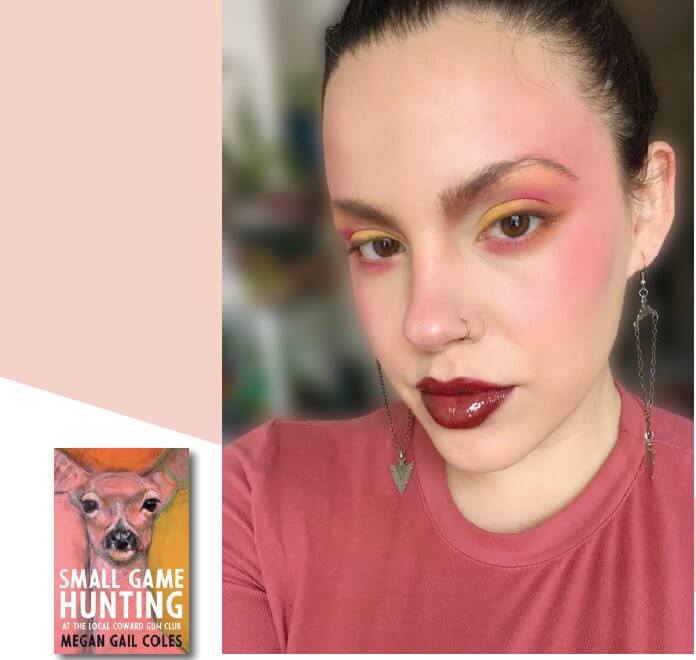 I created the Instagram account @makeup4books in January 2019 as a way to privilege pleasure over productivity. Like many, I tend to fall into the trap of valuing my self-worth based on how productive I am. And as a writer and teacher, my favourite things to do with my time—write and read—overlap with my professional life. So, as a New Year's resolution to cultivate creative hobbies just for the sake of joy and leisure, I decided to merge the aesthetic delights of makeup looks and book covers.
I've had a fraught and ever-evolving relationship to makeup and femininity. It's something I continue to negotiate. Ever since I was a kid I've watched my mother's daily ritual of doing her makeup, understanding it not as an act of creative expression but as self-regulation. When I started experimenting with makeup in high school, it went from unintentionally garish to brashly weird on purpose. My mom, exasperated by this subversion, begged me to take a makeup lesson at the mall (I didn't).
I've internalized so much gendered negativity around makeup, especially as it began to intersect with my professional life: am I wearing too much? Too little? Will I be taken seriously? It's been powerful to reclaim this space as an unregulated one full of play and pleasure through the book looks.
Victoria Liao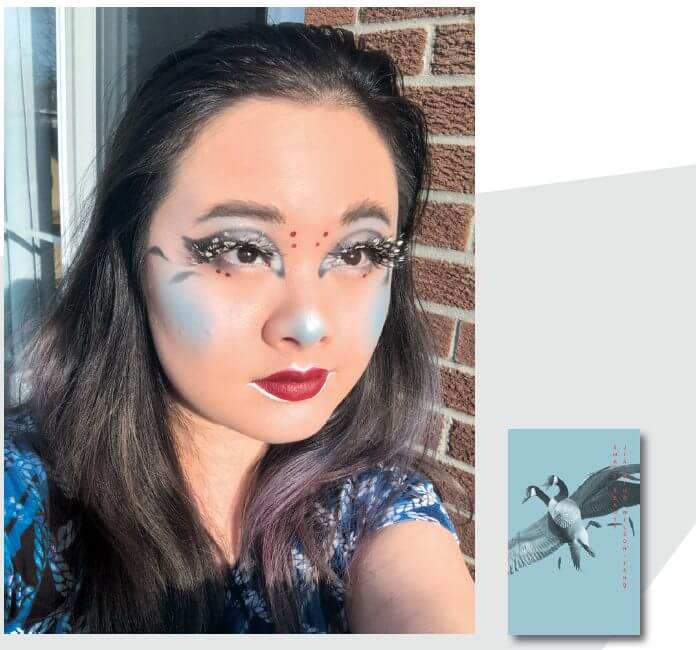 When I was a kid, reading was my escape and my salvation. Struggles with mental illness from around nine years old onwards meant I always needed an elsewhere to go, and reading books granted me that freedom. At 19, after my mental health deteriorated my ability to read without extreme effort and stress, I found myself turning to makeup instead.
For me, makeup is not only a form of queer expression, it's a source of self-love and creativity that can't be measured by others' expectations. I was never supposed to be good or bad at makeup, so I could just do it for myself and treat my face as a canvas.
I tend to pick books that I've already read for a book look, because it feels deeply personal to put another's art on my own face—both that of the cover artist, and the authors themselves. I want to honour their work with my own connection to it. Small Beauty in particular is a book I quote often at friends, with its meditations on anger and its themes of intergenerational trauma and relationships—between both blood and found family.
While I'm still healing in many ways, rediscovering my ability to read and connecting it to parts of my identity that showed up in its absence has been a joy. Book looks are a way to unite my love of both these hobbies.
Terese Mason Pierre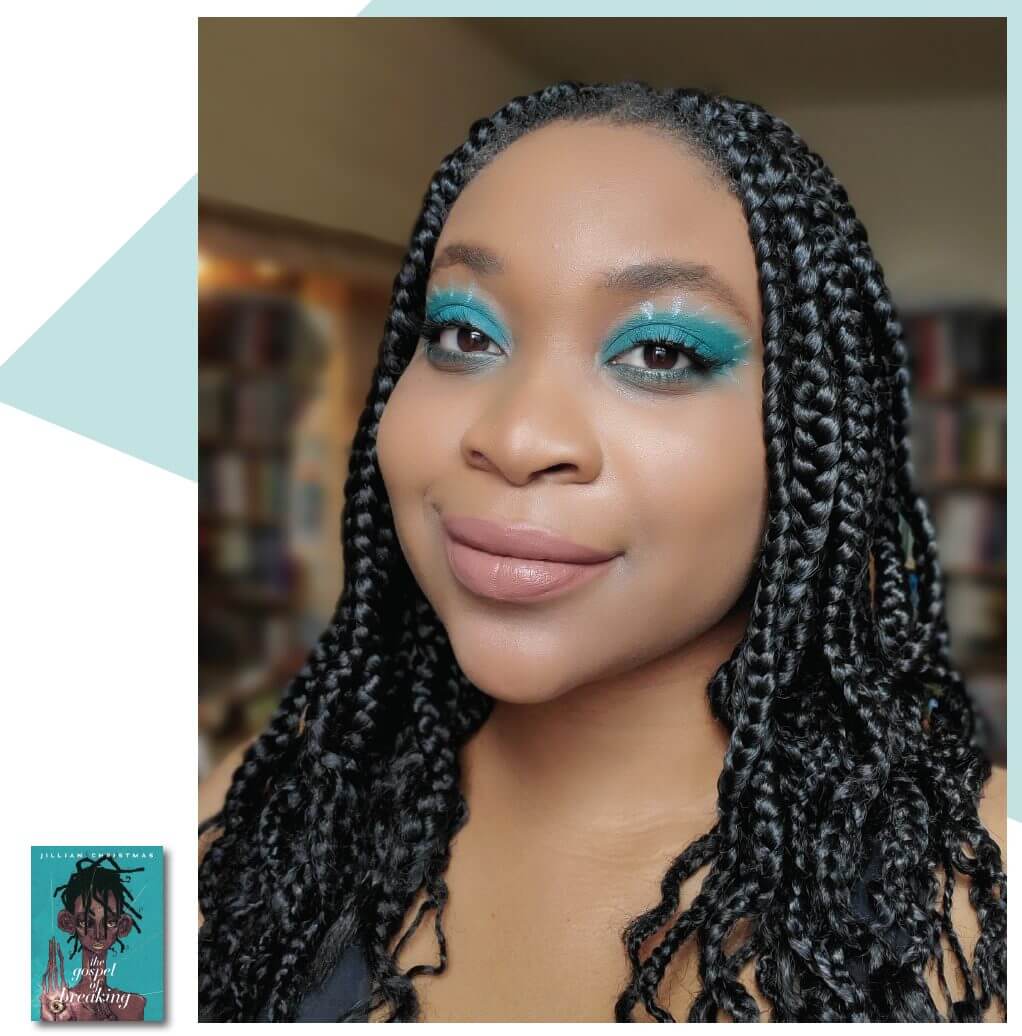 I started doing makeup book looks in a time of great fatigue. I worried about my productivity. At the start of the pandemic, I read articles online about how writers "have so much time now" and I lamented at how little I was getting done. At this point, magazines had reached out to me to solicit work, but I didn't have anything to give them, and I couldn't bring myself to write new poems. When I started doing makeup book looks, I felt myself become more creative in ways that weren't emerging through writing.
I enjoy isolating the colours and textures in a book cover and swatching eyeshadows on my arms for a match. I enjoy looking through catalogues for new books, or finding an author's bibliography for their most vibrant title. I enjoy experimenting with the makeup on my face—some looks have taken more than one attempt to get right. When I choose a cover of a book I've already read, I think about what I felt when I read it and try to remember that as I apply the makeup.
As the quarantine continues, I have found myself mentally withdrawing from other creative forms in order to invest in makeup. I'm not writing much poetry anymore and I'm trying to be okay with that. But I'm no longer fatigued and I'm excited to fill my day. I wonder if when the quarantine ends, the book looks will too, so I decide to enjoy it while I can.
Jenny Heijun Wills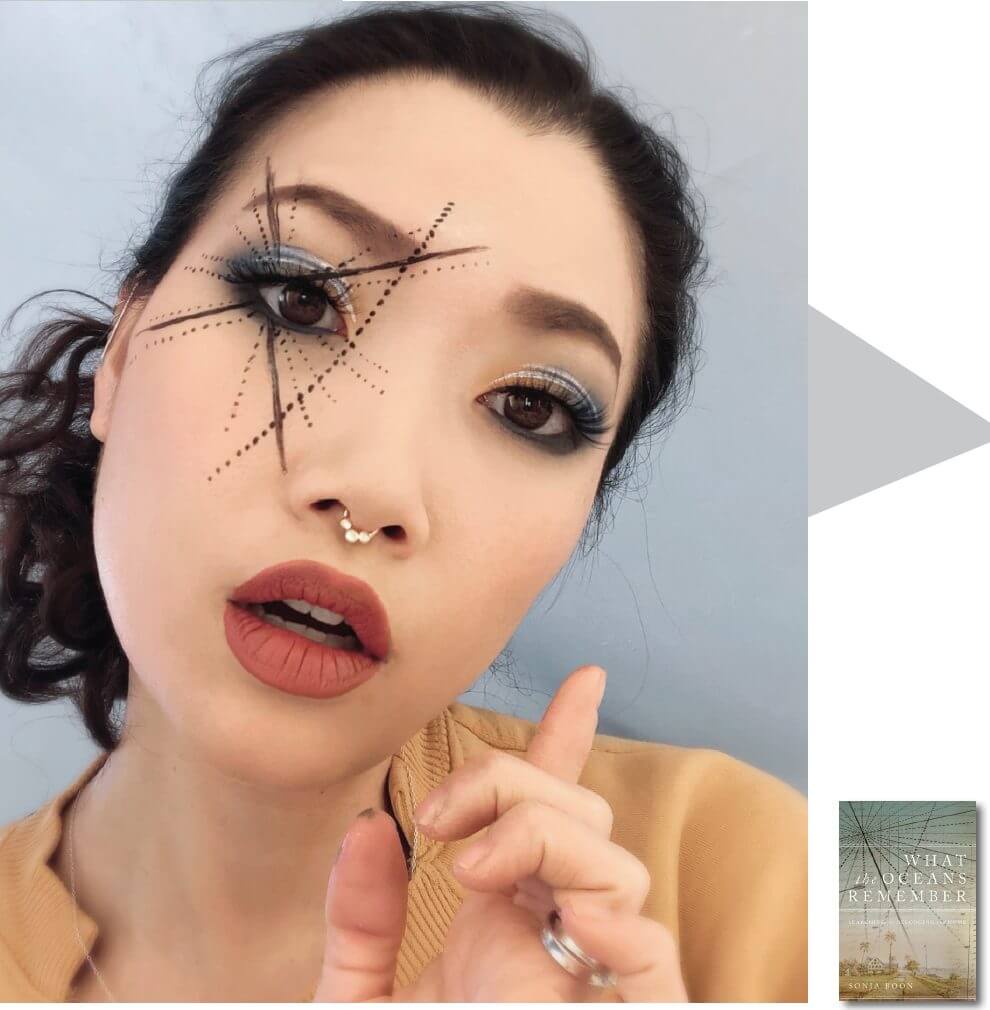 In the minds of some, aesthetics are seen as frivolous if they are temporary and easily removed with a wipe or some baby oil. In all other circumstances, aesthetics are the most important thing—or at least when it comes time to lock down the boundaries of what is good art, writing, etc. When it comes time to dismiss BIPOC and other marginalized creators as too political. As unimaginative.
So, aesthetics are just another technology of rejection. One more moving target. One more way to keep people down, keep people out, keep people going in circles hoping to actually, truly be seen.
This isn't new information, but we spend a lot of time discussing the effects of these thinkings: prioritized Eurocentric beauty ideals on one side and cultural appropriation, window dressing, and fetishization on the other. Let's also talk about the judgements placed on doing aesthetics, as in, the act of.
It is no coincidence that this whole makeup book look thing has proven itself to be an outlet for people told to choose between politics and aesthetics (as if those things are ever separable). It's no coincidence that these makeup book looks have emboldened some folks to insinuate we're doing feminism wrong. Or doing reading wrong.
So my question is: what is it about momentary aesthetics that makes people so uncomfortable?
Is it that it shows that we know how to do everything—politics, style, innovation, and more?
That the perennial shifting target has taught us we can do it all?
Is that why people look away?
Nisha Patel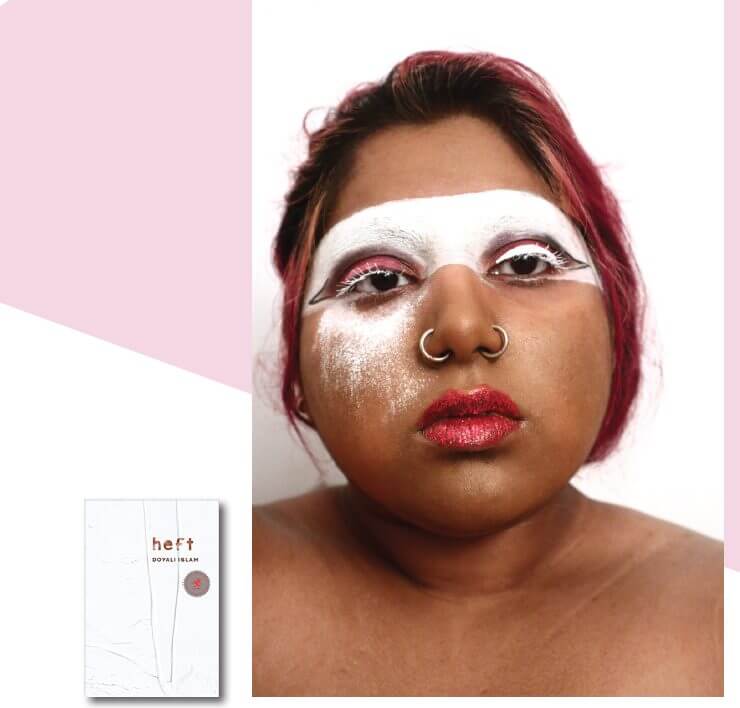 From strings of dim Edison bulbs to the harsh reflection of a front-facing selfie, it feels like the face of the modern writer is always illuminated. There is a miserable duality of being visible but not seen, judged for your material appearance, or applauded for a keen play of the eyeshadow brush. It is common that a writer is paid $100 to read from their book and spent $30 earlier that evening on a new foundation. And then they're the only BIPOC woman in the room.
To be a woman in writing today demands that you always look the part, look good. Publishers need audiences willing to buy books and authors with personality and followers get more likes and sales, and thus are more worthwhile investments. Women need to be careful to toe the line of looking good enough that no one asks if you are having a rough week, but not so good that you are accused of treating their writing careers as vanity projects. On top of that, white male authors pack two suits for their three-week speaking tour, but BIPOC women in cultural garb are trying to stand out. 
The story of the #booklook is that critics cannot hide behind their ivory towers forever, nor is there just one way to interpret and connect with a book. Writing comes from full and breaking lives, and BIPOC writers know this more than anyone because we have had to build immense resiliency to scrutiny. To be a BIPOC woman and a writer is to hold all of yourself out to be judged. Engaging with books through makeup (one of the most criticized uses of the brush) allows women to claim and see the art form through on their terms.
What looks to be a fun play on art is more profound: our looks and our aesthetics are explorations of joy, and that is why it makes so many people uncomfortable. 
Alicia Elliott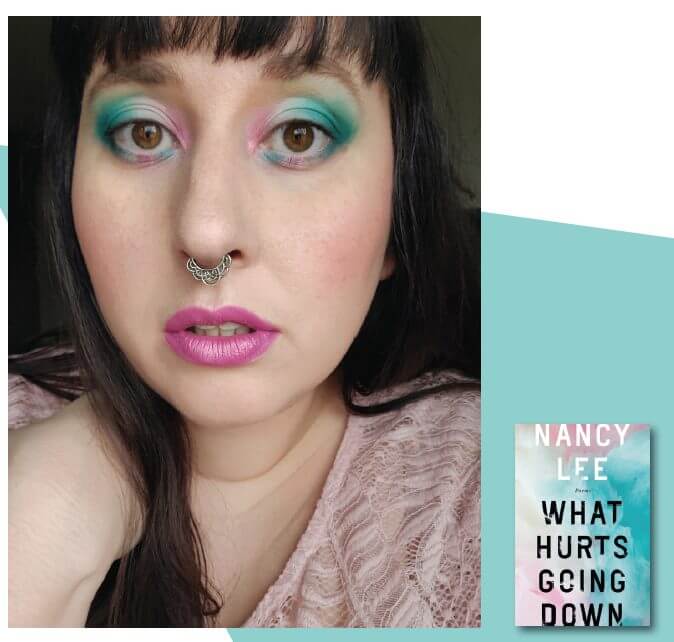 There's something meditative about applying makeup. Like any task that requires concentration, dipping my eyeshadow brush into crimson or goldenrod or cerulean powder, then slowly, softly swiping and swirling it over my eyelid, fills me with peace. In those precious minutes where I'm focused solely on perfecting my blend, I'm not worrying myself sick over the state of the world. I'm not over-analyzing the words of my loved ones, or questioning whether the change this world needs can ever really happen. I'm not worried about whether others see me as competition or conquest. I'm not indulging in the negative thoughts I've so often convinced myself are the only possible thoughts I can have.
When I'm doing my makeup, the peace I experience always brings me back to this truth: I'm none of the things people have tried to convince me I am. I'm just me—a person with a tapered blending brush, working toward beauty.
That beauty is a subjective beauty, of course, like any idea of beauty. But what's important to me is that it's a version of beauty that I have chosen for myself.
In that way, I suppose, makeup is a natural companion to books. Both are methods of self-expression. Both encourage us to see and reflect on the beauty around us. Both encourage us to see and reflect on ourselves, to consider what face we want to show the world.
What face do you want to show?