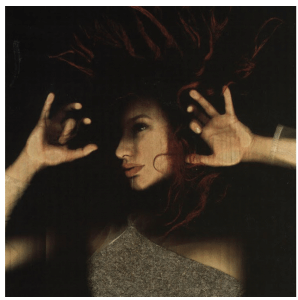 She dives for shells
With her nautical nuns
And thoughts you thought
You'd never tell
– "Pandora's Aquarium," Tori Amos
I carried Tori Amos's From the Choirgirl Hotel with me everywhere in eighth grade even though I didn't have a Discman. I'd stick the album into the CD-ROM of my desktop during computer lab and dive into Amos's opaque lyrics ("6:58 do you know where my spark is") and virtuosic piano while posting tween poetry and wavy banners to my GeoCities website. I had taken the CD from my older sister Elissa and I held it close like a talisman until the plastic case cracked and unhinged.
In the early 2000s I listened to Tori Amos obsessively whenever my 13-year-old heart burned. I honed my knowledge of the musician by poring over message boards where Ears with Feet (Tori's pet name for her fans) recounted concert set lists and uploaded iconic magazine articles from the early 1990s when weird girl alt-rock reigned.
The many threads and members greeted me after school on my family's PC with the aid of a screeching dial-up connection that clogged the phone line. Online, I learned Amos lore, discovering that many of the songs on Choirgirl were about miscarriage, loss, and motherhood, and the a capella "Me and a Gun" sprang from Amos's own first-hand experience with sexual violence.
At the same time as I was taking my daily plunges into Amos's music, I was dealing with surfacing realizations of my experience with early childhood sexual abuse. The memories were sparse and repressed—I'd recall flashes only to forget. And then, some months later, I'd remember it all over again as if I hadn't recalled it before.
I was triggered by the ambient harassment from men that accompanies the onset of puberty which, in turn, pulled these memories to the forefront. A giant frozen blanket enveloped me as construction workers outside my middle school cat-called me as I walked my family's dog. My bodily sensations dissolved as a henna tattooist placed my hand on his inner thigh while dyeing flowers onto my upper-arm. A young girl is a public garden everyone feels entitled to parade through. I navigated these half-memories while surviving ongoing domestic abuse in my parents' home and dodging attention from older men. Amos's fierce music and fervent online community comforted me.
In the Tori forums, users created signatures for their posts, badges marking other online habitats and allegiances. I kept encountering links to Pandora's Aquarium, a Tori Amos-inspired forum with chat rooms for survivors of sexual abuse. Eventually, I clicked through and entered a portal where survivors gathered to tell their stories and chat. Users drew strength from Amos's outspokenness about sexual assault and wrapped themselves in her lyrics as if they were armour. I read accounts of violent and incestuous rapes that made me feel ill, voyeuristic, and like I didn't belong. But, I was also welcome in this strange corner of the internet. Chatting with a fellow member assuaged me—my insomnia and bedwetting made sense in light of my experiences.
Tori Amos was synonymous with survivorship through her activism. In 1994, Amos helped with the founding of the Rape, Abuse & Incest National Network (RAINN), the largest anti-sexual assault non-profit in the United States, which boasts a 24/7 hotline, resources, educational programs, and policy advocacy. Amos was their first spokesperson, answering the inaugural ceremonial call for the hotline when it launched and connecting her fans to the organization at concerts. Decades before movements like #MeToo, Amos made the taboo topic of sexual assault a priority, interweaving it into her music and public persona.
Amos's music speaks directly to survivors. Her soaring voice revived my numbed senses and invited me to feel what I had shut down in order to survive. Even further, her eccentric, logic-defying metaphors layered over chaotic piano riffs made intuitive sense to my young survivor's worldview—trauma breeds absurdity and breaks down linear storytelling. I suspect my own proclivity for mysterious lyric poetry is a result of my trauma as well as sitting at the altar of Amos's bizarre imagery. She taught me I could create my own internal mythologies to tell the erratic, non-linear stories I needed to tell without resolution.