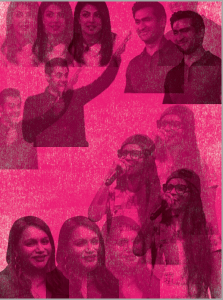 In North America, many Hollywood stars of Indian descent are household names: Mindy Kaling, Priyanka Chopra, Kumail Nanjiani, Hasan Minhaj, and Scarborough native Lilly Singh. According to YouTubers Colin and Samir, Hollywood has realized that Indians—in North America and India—have the buying power to demand representation on screen.
I think we've always known this, but box office smashes like Black Panther and Crazy Rich Asians proved the point to executives that people of colour will pay for good entertainment.
So, what does this mean for diasporic Indian viewers? Do we see ourselves being represented? Are our stories being reflected? What I've seen is that we are no longer just Apu on The Simpsons, a lonely housewife, a doctor with no voice, or a creepy science geek. Characters who portray us have developed beyond the stereotype and reflect the realities of life in North America as Indians. Moreover, we've gone beyond the Sikh, Punjabi-centric depiction of Indian-ness, with writers and stars who are from South India, or who are Muslim. But sometimes I ask myself, how does this even matter?
It wasn't until I was 18 years old that I first consciously thought about being represented in media, likely because I was raised in Dubai. And though I was educated amongst and friends with British kids, I never sought external validation of my culture—I was surrounded by it in the form of extended family and family friends. I lived in Auckland briefly in my teens and then moved to Toronto for my undergraduate degree. It was 1998 and I was watching Deepa Mehta's Earth at a film festival in Auckland. This is the second film in the Canadian filmmaker's trilogy, which also includes Fire (1996) and Water (2005). Actress Nandita Das's beauty, which is unlike the fair-skinned, overly made-up looks of many Bollywood actresses, caught my attention. But it was the film's historical-narrative echo of stories both of my grandmothers had told me that had the most impact.
Earth is the story of India's Partition in 1947, told through the voice of Lenny (Maia Sethna), a Parsi girl living in Lahore. My father is also Parsi—Zoroastrians in India were loyal to the British throughout their rule of India and remained neutral through Partition. Until seeing Earth, every Partition story I had heard was from my maternal grandmother, a Sikh who herself was displaced from the city of Lahore
during Partition.
In the early 2000s I prioritized watching the deluge of films made by diasporic Indian women: Mira Nair's Monsoon Wedding (2001), Gurinder Chadha's Bend It Like Beckham (2002), and Bride and Prejudice (2005). Each release was a big deal, shared with friends at a theatre and with family over the phone. I'd chat with cousins about which character reminded us of which relative and how weddings in the movies compared to real life. Each of these movies represented a version of Indian culture and, in particular, Indian women, which was familiar—urban, educated, liberal, fun, and loud. I felt connected to these representations. It was during a conversation with my maternal grandmother about Monsoon Wedding and Fire that I realized I could come out to her without facing the line, "Indians are not gay."
In 2005, Mehta's Water, the conclusion to her trilogy, premiered at the Toronto International Film Festival (TIFF). I was angered. For the first time in my life, I felt like I had to explain the sense of autonomy I had been raised with to people around me—to justify my independence and assure them I was not going to be forced into a marriage or shunned if widowed. My anger was directed at Mehta, who herself comes from privilege: why does Mehta always tell stories about oppressed women when she herself does not have that experience? India has a patriarchy problem and this should not be silenced. But why, I wondered, couldn't she make films which defy the stereotype that all Indian women are oppressed, rather than placate the western gaze?
To make matters worse, Canadian actress Lisa Ray, whose father is Indian and mother is Polish, was cast as the film's protagonist. The way I see it, women as light-skinned as Ray would probably have been protected from these sorts of practices by wealth and have been shunned inside a mansion, rather than an ashram, which is what happens in the film. To me, this story lacked credibility, though I know it was based on fact and historical practices.
The release of Slumdog Millionaire (2008) at tiff, and its eventual critical success, felt like a global turning point. The film itself felt like a pantomime of poverty in India—a true story, told by a British person lacking cultural nuance and perspective. The popular music from the movie still makes me cringe. Jai Ho! No.
Around the same time, I started paying attention to Mindy Kaling, who by the late 2000s was known for her role as Kelly Kapoor on The Office (2005-2013), as well as a writer on the show. I was never a fan of the show, but when I heard about Season 3's "Diwali" (November 2, 2006) episode, I was intrigued. Somehow, it sounded subversive, like Kaling clapping back at everyone who expected her to do the representation thing. And as her career has grown she's written, produced, and directed several shows which have kept clapping back. As Mindy Lahiri in The Mindy Project, she acted as a doctor who wore her brownness only on her skin and in her name. There are no grand displays of culture; this is a character who is brown because the actress is brown, the essence of whiteness coated in brown. And I kind of loved that. Kaling is public with her pride in being both Bengali and Tamil, so it is not self-hate or a lack of relationship to Indian-ness which informs her decisions. Kaling was intentional about making The Mindy Project fun, funny, and entertaining. Rather than writing an Indian character who would make non-Indian viewers feel comfortable through stereotype or cultural celebration, Kaling wrote Dr. Lahiri to be who she wanted her to be.
In a sense, seeing my people and stories about my people in Western media is often unsettling, rather than entertaining. Through the western gaze, even if written by Indians, these stories are designed to either placate by reinforcing stereotypes, or appeal by diluting the substance behind the story. And this is not restricted to Indian-ness. The original L Word didn't resemble my mid-2000s, mid-20s, lesbian life. But I remember the straight men around me at the time loving it. And I know that Hollywood keeps remaking slave stories because until recently that was the only way they knew how to make a movie with a large Black cast entertaining to white people. It's a familiar narrative.
Who stars are off-screen matters too, especially when they step into activism.
Priyanka Chopra is the first successful Bollywood-Hollywood crossover star, the actress who recently celebrated her one-year wedding anniversary with Nick Jonas, a member of the pop band the Jonas Brothers. I'm supposed to celebrate her—but I cannot; instead I am ashamed.
I remember a video about when Priyanka Chopra decided to move to America from India and joined the cast of Quantico (2015); she spoke about the role she plays, that of Alex Parish, being created for her and how good Hollywood had been to her. But in 2018 she joined other women in Hollywood speaking up for #EqualPayDay, about how women of colour are not afforded equal treatment to their white and male counterparts, and that she wants to be part of the change in Hollywood. This flip-flop demonstrates political opportunism, a need to get involved with movements and perform solidarity for the sake of her reputation, rather than an actual investment in the eradication of racism and sexism in Hollywood.
In 2019 Chopra came under fire for commenting on India's military attack on Kashmir, which is currently in a concentration camp-like state. Her February 26, 2019 tweet on the subject demonstrated her support for the attack, all while being a UN Goodwill Ambassador. Later in the year, when a Pakistani woman tried to hold her accountable at a public event, Chopra responded by belittling the woman and describing the woman's question as "venting." Chopra looked bad, showing a lack of transparency and integrity. She was perceived as being anti-Muslim and pro-war in the Kashmiri conflict.
This is not who I want representing me, nor how I want to be represented in the media. Closer to home, and in the media in an entirely different way, the representation-of-Indians conversation was at the forefront during the 2019 federal election. Jagmeet Singh, the leader of the ndp, is the first person of colour to lead a party and run for the position of prime minister in Canada. This is supposed to count for something—but what? What has Singh achieved that means we can confidently call him a leader? He is respected for deflecting hate and promoting love when confronted with racism, but it seems Singh is more celebrated for his bespoke suits, colourful turbans, and overall style, than for any political accomplishment in the interest of Canadians or Indigenous people. Being the only person of colour to lead a party just may be his greatest achievement, and that is not enough.
If representation counts for anything, it is for us to be taken seriously, which will only come when we take ourselves seriously, when we operate with integrity and intent, rather than grasp at what is dangled in front of us. Accepting opportunities because they are given is an act of desperation, a role India and Indians had been happy to play for Britain—our most recent colonizer—and the settler nations we have chosen to inhabit. We have been happier to sit silently at the table than to not sit there at all. And stories on the screen are told by writers sitting around a table, sharing ideas. Some,
like Mindy Kaling, have been talented and confident enough to speak up.
Good representation also exists, in the form of two Canadian journalists, Shree Paradkar and Scaachi Koul, who embody their Indian-ness without it wearing them down, or serving as adornment. Both are cultured, critical, and loud; they are talented and secure enough to be vulnerable and speak with purpose. Koul, who was born and raised in Calgary, uses humour as a culture writer to show the reader how different yet valid her perspective is from most of what has been written or seen before. While Paradkar, who was born in India and immigrated to Canada as an adult, uses facts and historical reference to show Canada its failings, as a race and gender columnist for the Toronto Star.
Neither is caught up in curtailing displays of culture to ensure white people maintain comfort, nor in being shocking or provocative. To each, Indian-ness acts as part of their platform, their leverage, their value and awareness of their relationship to whiteness. Both write alongside whiteness, rather than as a response to it.
We must fill the gaps ourselves; if we want to be reflected we must project ourselves as nourished, grown, thinking characters and our stories as those which are entertaining as well as informative. It has been proven that purchasing power and moneyed audiences exist. We deserve to tell our own stories on our own terms rather than for the comfort of executives and white audiences. Seeing oneself on screen is not enough if who you see is empty. Representation is lost if it doesn't stand for anything.