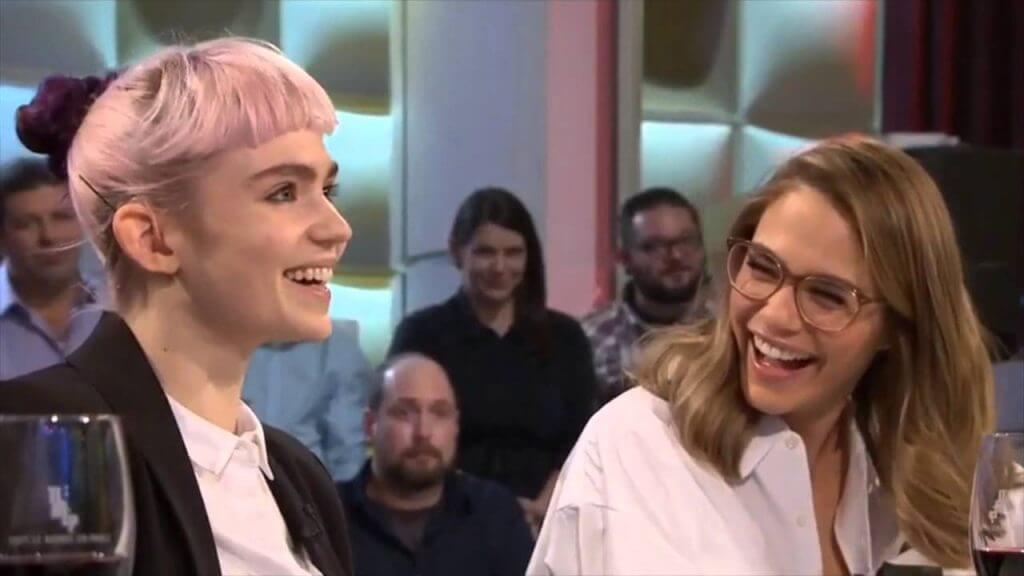 Singer Grimes on Tout le monde en parle in 2015
When Canadian singer Grimes appeared on a segment of Tout le monde en parle in 2015, she was the only guest on the Franco-Canadian talk show answering questions in English. When co-host Dany Turcotte discovered she had lived in Montreal for six years, he asked if she had learned any French. "No," she replied smirking, "…actually my last name is Boucher, so my grandparents are super-pissed at me still."
If this exchange sounded a little tense, then know that Turcotte and host Guy A. Lepage like to push their guests' buttons, but just a little. The atmosphere of the panel show strikes a perfect balance between amity and friction. It's how Lepage and Turcotte steer their most candid interviews.
On average, 1.3 million people tune into Tout le monde en parle every Sunday night, on ICI Radio-Canada, for that two-hour entre-nous experience. The show's format was adapted from the original French version, which aired on France 2 from 1998 to 2006. It replaced Du fer dans le épinards, another panel show where host Christophe Dechavanne and guests debated both serious and light-hearted topics. In its first season, the original French Tout le monde en parle harkened back to its predecessor by leading panel discussions and political debates. By the second season, though, producers reformatted the show to include interviews with guests from different cultural milieus. The show quickly gained notoriety for probing its interviewees with very personal and often inappropriate questions. One of its better-known incidents was in 2002, when host Thierry Ardisson brought up Milla Jovovich's estranged father, who was in prison for eight years. The actress sat uncomfortably before abruptly ending the interview by slamming a glass off the table and storming off the stage.
Quebec's version of Tout le monde en parle is very different. In 2004, Radio-Canada's adaptation debuted with a slightly different setup and dynamic, with Lepage as host and Turcotte as the court jester/co-host. The guest list, for the most part, is comprised of Quebecers and international guests, and includes a mix of both famous and lesser-known figures in politics, sports, academia, journalism, film, television, and music. Unlike his French counterpart, Lepage's aim is to make guests comfortable enough that they can express themselves freely—sometimes to their own disadvantage. Still, he asks tough questions, and Turcotte relieves the tension with quips and jokes. It's important to note that Turcotte and Lepage have backgrounds in comedy, so they know how to read the room. As Lepage pointed out in a 2014 Globe and Mail article: "My show is very Quebecois, in the sense that we can have disagreements and still talk about them. Quebecers," he expounded, "don't like chicanes, but they want to understand."
In order to strike that balance—to get people to open up and listen to each other—Lepage can't dominate the interview. The more he talks during an episode, the less he's happy with the end result, he told La Presse. The goal is to get the guests asking each other questions. "As an interviewer, if I antagonize a guest, I won't get anything out of them," he said. "It would make for a great smoke show, but nothing would come of it." In the episode with Grimes, another guest, TV host Maripier Morin, would asked follow-up questions in English right after Turcotte called her out for not speaking French. If and when things do get tense, other guests will often chime in to keep the conversation going.
But the success of the show hinges on how Lepage and Turcotte moderate these different personalities, situations—and each other. To date, no one has stormed off their stage, but the show has been known to make or break a career two. Just ask any politician who has turned down a guest appearance on the show, or former Parti Québécois leader Pierre Karl Péladeau, who stepped down after his ex-wife, Julie Snyder, opened up about their relationship and divorce on the show. (Neither one of them had openly discussed the divorce before. Snyder's candour was later described as "à coeur ouvert," open-hearted.) The tougher lesson to learn as a guest is that your words are completely open to interpretation. Péladeau stepped down the next day.
***
As much as the talk show covers the news, it has, over time, become the news. The show is unlike any other in that it has a well-defined audience, and that audience, in turn, wields its own power at the water cooler or on social media the next day. Everyone in Quebec is talking about Tout le monde en parle, and the show's audience is now the most coveted among politicians, journalists, up-and-coming artists, and anyone else with a platform.
Not only is there no English talk show equivalent in Canada, but English-speaking guests are now being booked for the show and trying to speak as much French as they can throughout their interviews. This comes at a pivotal time when Netflix is desperately trying to corner the Francophone market in Quebec only to be met with resistance. This was made especially clear in an episode that aired in 2017 featuring then-minister of Canadian heritage Mélanie Joly, who signed a deal with Netflix. Joly was scrutinized for the deal; while Netflix would invest in Canadian content, it was under no obligation to develop Francophone programming. There were also talks that Netflix would be exempt from a federal tax. (Starting January 2019, Quebec will be imposing a provincial sales tax on Netflix.) Franco-Quebec audiences are loath to adopt streaming services like Netflix because they want something made by them and for them. A 2016 study by eMarketer, a market research company that provides consumer insights on digital media, even showed that French-speaking Canadians spent more than double their time watching TV (32.8 hours per week) than logging time online (16.1 hours per week). Despite airing shows like Série Noire, Vertige, and 21 Thunder, Netflix only started reaching out to Quebec production teams in April. It is still unclear whether it will fund any original programming.
In 2011, La Presse television critic Hugo Dumas sparked a debate on Twitter asking if an English-Canadian version of Tout le monde en parle could ever work. Focusing heavily on the celebrity guest list, the debate never really unpacked what makes Tout le monde en parle work in the first place—what made it so much more different than even its French predecessor. What has contributed to its success is its hosts, its blueprint, and the intimacy it creates between its guests.
Currently, the CBC has something somewhat close: The Debaters, a show where two comedians dispute a range of light-hearted "comedic topics," such as Scientology or showers versus baths. The format is nowhere near as intimate as Tout le monde en parle: Host Steve Patterson is more of a referee compared to Lepage and Turcotte. He isn't directing a conversation or mediating guests. And those guests aren't debating hot topics.
As Kate Taylor pointed out in her piece for the Globe and Mail, "Talk TV: Why English Canada can't get it right," English-speaking Canadians are "notorious talk-show agnostics," and the challenge for a Toronto talk show compared to, say, a Quebec or Los Angeles one is that it has a "great deal of difficulty gathering an audience around a single cultural hearth." English Canada is constantly pulled by the appeal of U.S. late-night talk shows (after Canadian newscasts)—The Late Show with Stephen Colbert, The Late Late Show with James Corden, Late Night with Jimmy Fallon—and British panel shows like 8 Out of 10 Cats, Never Mind the Buzzcocks, The Big Fat Quiz of the Year, Have I Got News For You. Tout le monde en parle has a clearly defined audience, and the show speaks to it every week. The magic is in the connections it creates between the hosts, their guests, and that audience.
When asked about Quebec's future in 1972, Marshall McLuhan said that its "secession ha[d] already occurred" psychically. And while it's felt like Canada and Quebec have been constantly compromising with each other, Quebec has still carved out its own culture and take on the public debate. It may not be bloodsport debate à la William F. Buckley and Gore Vidal, but it's created a public venue for unpacking issues and disagreeing.
Tout le monde en parle is not in any way perfect, but it's managed to cultivate an atmosphere where celebrity and politesse are disarmed so that people can, simple as it is, talk to each other