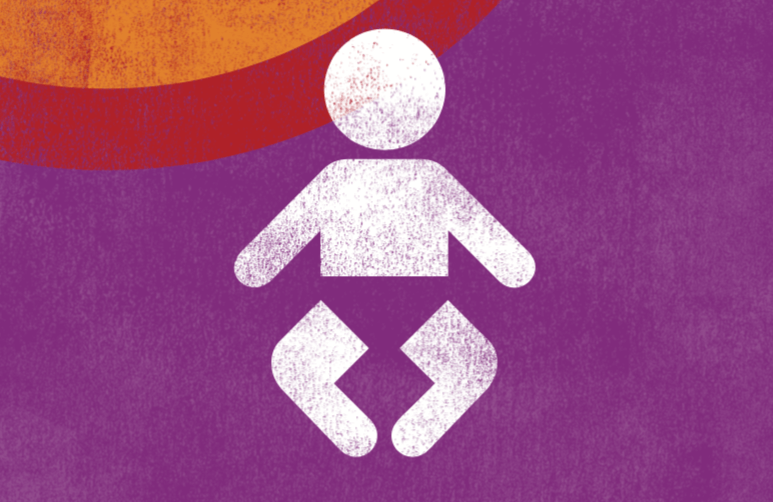 I've always seen myself as a mother. As a child, I had dolls that I fed and bathed. I was one of the oldest of a dozen cousins, and often, there was a baby for me to hold and play with. I read parenting guides and magazines cover to cover—not required reading for a kid, but I gobbled them up. I loved caring for babies—figuring out what made them smile, rocking them to sleep. I couldn't wait to share my favourite movies with them, to embarrass them while singing loudly in the car, to take them to their first day of school. I wanted it all.
What I didn't plan for, though, was growing up queer. That realization hit about 10 years ago when I moved to Pickering, Ont., from Jamaica. I was just 13 and I had a lot on my plate: teenage angst, puberty, and navigating immigrant life and the struggles that came with it. I was too busy figuring my new reality to give much thought to my sexuality and what it meant for my future.
But after coming out at 16 years old, I found myself questioning gender roles and heteronormativity, things I was told were absolutes. I knew my kids were meant to get their father's last name. He would teach them sports I liked as kid, like soccer and cricket. He would tiptoe through the house with a baseball bat when we heard a creak in the night. All of these beliefs melted away once I realized I was queer, and were replaced with questions: How would I parent my future children? What did it mean to parent with another woman?
I couldn't look to the media for advice on LGBTQ parentage. Queer families on TV were too white, too rich, or too tragic to be relatable. I watched Willow and Tara fall in love on Buffy the Vampire Slayer, only for Tara to be shot and killed. The cartoons I watched, like Adventure Time, could only hint at queer themes or risk angering parents. Comics and young adult fiction were better outlets, as writers had better control over what happened to their queer characters, but great stories I could relate to were few and far between.
According to Statistics Canada, 99.9 percent of Canadian children live with opposite-sex parents, indicative of heteronormative family structures. I needed to seek out the 0.1 percent outside of that structure who could tell me about their experiences firsthand. For young Canadians looking to navigate the world of queer parentage, resources are surprisingly scarce—especially in a country so highly regarded for its LGBTQ rights. As with many queer matters, my best bet at getting answers was turning to the community.
***
Daniel Gosson wanted answers, too. The 35-year-old loves children, and it reflects in his years of work as a registered early childhood educator. He and his partner, Patrick, both see themselves as fathers, but they had few queer role models. While gay parenthood has become more visible in recent years, the pair felt they still had limited influences, like Neil Patrick Harris and his family. The only other gay fathers Gosson knew were parents of his students or co-workers, and he felt awkward asking them such personal questions.
Gosson got most of his information from researching, something he did often for his master's in early childhood education. Even then, he couldn't wholly relate. "Most of it is directed at lesbian mothers, since that is the largest group of queer-headed families and they're starting to grow from that," he says. The statistics back it up: In 2011, there were 7,700 children under 25 living with female same-sex parents in Canada, as opposed to 1,900 living with male same-sex parents.
Gosson, like me, always knew he wanted to be a parent. "My mom has told me whether I have them biologically, adopt, or steal, she demands I have grandchildren," he says—a common retort heard by many queer couples. "She wants me to have a family." My own parents have said similar things. Each birthday, they jokingly ask for grandchildren. I'd oblige them if I had any idea where to begin.
I was sure Kim Katrin Milan could help. She and her husband, Tiq, spoke regularly at universities and conferences about all things queer, and she is a co-owner of Toronto's Glad Day Bookshop, the world's oldest LGBTQ bookstore. The pair welcomed a baby girl, Soleil, in January. I met with her at her house in February, only a few weeks after Soleil was born. I watched Tiq pass the baby over to Milan, who wrapped her in a shoulder sling. The baby slept soundly on her mother's chest throughout the interview.
Here they were, a queer family with a beautiful baby of their own. They both looked so graceful and effortless. But Milan let me know the process was anything but. Her first pregnancy before Soleil ended in a devastating miscarriage. Because Milan is a public figure, word spread quickly. "Having to go through it publicly bonded me to other folks whose first or first few pregnancies were miscarriages," Milan recalls. "I got to start having conversations with people about making families. All these people reached out and kept saying, 'We've never seen this and we have no examples of this and it means a lot to us that you're willing to…give us an idea of how we can do this.'"
Community support is a major factor in queer parentage: Where traditional resources are unavailable, queer friends are there to lean on. During her pregnancy with Soleil, for instance, Milan opted to use a doula to further embrace that sense of community. A full spectrum doula, Giselle Johnston offers services to expecting parents from conception until postpartum. Doulas tend to with the non-medical side of pregnancy, there to "care for you emotionally, physically, and provide information around whatever part of your journey you may be in in your reproductive life," Johnston says.
As a Black, queer, non-binary person, Johnston understands that navigating pregnancy within a highly complex medical system is hard enough as it is. That's why Johnston chooses to prioritize the needs of queer parents of colour, in the hopes that future parents don't feel further marginalized by the medical world. "If I hear that they're being misgendered, I will definitely speak up. If I feel that care providers are not respecting my clients who are non-gestational parents, I will speak up," Johnston says. "If I feel that if something is being done against them, I try to speak out about it in that moment and hopefully provide learning opportunities or just try to make that situation a little bit lighter for my clients."
There is also a better sense of understanding in the many routes to becoming a parent among community. Johnston reminds me of them: In-vitro fertilization is an option, albeit an expensive one. I could ask a friend to donate sperm, or visit a sperm bank. Or I could adopt. But there is no set way of going about parenthood as a queer woman. "Everyone is different," Johnston says. "Every starting journey is different."
***
I was raised by, and still live with, my married, heterosexual parents and younger brothers. In Jamaica, I also had various aunties and uncles, some related and some not, who fed and disciplined me as if I were their own. In many ways, this model resembles how LGBTQ communities turn to one another in their own parentage.
The nuclear model, once considered the norm, is no longer necessarily the status quo. While married couples are still most prevalent (Statistics Canada says they sit at about 67 percent of the population), there are more single parents in Canada than ever. Multigenerational families and common-law unions are also on the rise. And though the numbers are low, so are same-sex families.
I had a hard time finding concrete numbers about types of queer families that exist. As Gosson noted, there isn't much research about queer families. "We're starting to talk about queer-headed families, but we're still very stuck on nuclear family structures," he says. "If we're not going to share queer family life or what it looks like for us, how are we going to know what it is? How is anyone going to know?"
In particular, there is little statistical insight into polyamorous queer families—those who parent with two or more partners. One of my former coworkers falls under this category. Samantha, whose name I've changed to protect her identity, lives with her 36-year-old husband Derick, and her partner, 28-year-old Kendra. Samantha and Derick were already married with children when they met Kendra three years ago at a friend's party. Samantha and Kendra fell for each other, and all three now live under the same roof. Together, they parent three- and eight-year-old girls.
Kendra initially had hesitations about becoming a mom, but grew into the role. I saw them wrangling their rambunctious three-year-old and getting her ready for bed. Each parent does their fair share of raising the girls, evenly splitting the workload. Samantha is glad for the extra eyes in the house, noting that none of the kids can get away with much. "Someone always catches them," she says.
As far as they all know, the girls are okay with the arrangement. They haven't yet had a conversation about their polyamory, since their youngest is still a toddler. Their eight-year-old, however, is fully aware of the gender spectrum, and understands that Kendra's pronouns are they and them. "It's not something that is new or alien to her. It wasn't a shell shock having someone non-binary, and she is the first person to correct someone if they use the wrong pronouns. She is absolutely militant saying, 'No, Kendra's they.'"
The unique perspectives their daughters have at such a young age gave me an appreciation for raising my own future children in a queer environment—where learning about differences and coming to celebrate them was commonplace. I wondered, though, what their futures might look like. As the child of cisgender, straight parents, it was difficult to imagine a life raised in a more LGBTQ-friendly family.
Then I found Molly Bud Willats. Between the ages of eight and 25, Willats lived in Digger House—Toronto's first hostel for at-risk youth affectionately known as the "Lesbian Mansion"—with her mom, her mom's partner, and her brother. The 29-year-old says her childhood was an alternative one, where she was raised in an "incredibly queer environment." Her parents, both women, worked in the Toronto Rape Crisis Centre, where she was surrounded by strong women, many of whom were gay, and she often attended Pride and political marches. Being raised in a communal household by both her moms—and, when they separated and dated again, their partners—and other younger women made her feel as if she always had someone to lean on. Willats painted a picture of a loving, politically active, community-based childhood—and it sounded incredible.
***
Everyone I spoke to for this story noted the importance of community, queerness, options, and children. In a TED Talk, Kim Katrin Milan said, "The gift of queerness is options." In a few years, I will choose how to bring my child into the world. We will have chosen family, those whom I have decided to surround us with. I will choose to homeschool them like the Milans will with Soleil, or I will choose to bring them to rallies like Willats's parents did.
"You don't know you can be something until you see someone else doing it," Samantha told me. She's right. I was unsure about how to raise a child in an open environment until I saw Milan doing just that. My parents kept me away from politics and activism my whole childhood, but Willats's parents didn't—and she was better for it. Samantha and her family showed me polyamorous families can be healthy, possible, and even practical.
Our stories are complex and begging to be told. One day, I will add my own story to the colourful tapestry that is queer Canadian families.