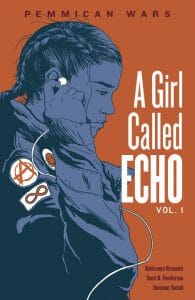 Pemmican Wars: A Girl Called Echo, Vol. 1
By Katherena Vermette
Portage & Main Press, $18.95
In Pemmican Wars, the first part of Katherena Vermette's new graphic novel series A Girl Called Echo, we are reminded what comics do best: tell a story through pictures. Illustrated by Scott B. Henderson and coloured by Donovan Yaciuk, it begins when Métis teenager Echo wakes up in Qu'Appelle Valley in 1814 at the height of the Pemmican Wars. She has begun to inexplicably slip back and forth through time, between her lonely life as a foster kid in Saskatchewan, and the sometimes joyful, sometimes difficult history of her people in that same territory. The carefully constructed panels and sparse, meaningful dialogue skillfully remind us the past is never truly in the past but constantly living with us in the present. A Girl Called Echo is a series to watch.