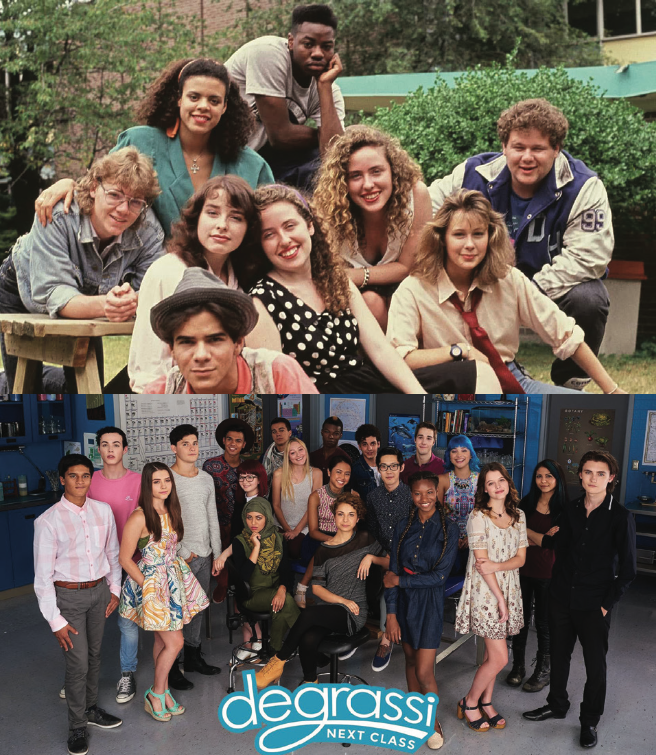 Theatre air conditioning once beckoned crowds during heat waves, but this year, even that couldn't lure people to the movies. This summer, the film industry struggled as the North American box office recorded its lowest-grossing summer quarter in 10 years. In all fairness to moviegoers, the summer movie choices were anything but new: mostly remakes, sequels, and spinoffs. If there was one thing to blame, it was franchise fatigue.
While some critics often cite high ticket prices and streaming services such as Netflix as the culprits, they overlook how revival culture has saturated the film industry. And television, even in its current iterations, isn't totally immune to a revival spell either. In fact, it's steadily becoming a nostalgia machine, too. In the last two years, old hits such as Full House, Boy Meets World, Arrested Development, Gilmore Girls, The X-Files, and Twin Peaks were pulled out of their re-run limbo, dusted off, and revived. While some of these series reinvigorated their precursors, others simply booted up the original once again.
Some might say nostalgia's to blame for the rise of revival culture. As Tom Philip puts it in his GQ piece "The Best Nostalgic TV Knows That It's 2017," this "pervading genre of nostalgia" reinforces the idea that fans "didn't get enough of something the first time around." That's why even the suggestion of a show's return, he explains, results in a "dopamine hit when you discover something you remember is coming back, rather than being concerned if it even has a place in 2017." A prime example of what he describes was seen in the wave of online excitement surrounding the Full House reunion.
Fuller House debuted in February 2016, with the first episode, "Our Very First Show, Again," focusing entirely on the reunion of the original cast. It's a drawn-out process aimed to entice the live studio audience, whose screams drown out every first line. But despite this excitement, the revived series is just masquerading as Full House, only now it's D.J. Tanner who is the widowed parent raising three boys of her own (like her father did, only with girls). The youngest child is the same age as Michelle and the role is conveniently shared by twins. Unfortunately Fuller House is using the same ingredients, only they've expired.
In Canada, the revival machine is devoted to the Degrassi franchise. The show first aired in 1979 and was dubbed The Kids of Degrassi Street. Since then, it's undergone numerous title changes and different casts in an effort to update the show and its storylines. And unlike Fuller House, the Degrassi universe is updated in a way so that new generations of teens can feel represented. The show has never shied away from hot topics, either: matters such as interracial dating, AIDS, and abortion have now been replaced by subjects like Islamophobia, consent, and cyberbullying.
How directors and writers revamp their franchises depends on how they isolate their show's strengths. Too often, they make the mistake of putting all their eggs in one basket by simply reuniting the cast and putting less thought (if at all) into updating the story or the show. Shows rarely keep it to a small reunion and photo-op for fans; instead they either change the series entirely or simply try to make a season out of a reunion. Thankfully, the Canadiana classic Student Bodies opted for the former. For its 20th anniversary, the cast held a small photo-op and meet-and-greet at Fan Expo in Toronto this summer after fans petitioned for a reunion the year before.
Other than Degrassi and Student Bodies, the only other Canadian-made series being ushered into the present tense is ReBoot, only it will no longer be an animated series. However, the live-action—which is set to air in 2018—will feature a new cast of teens protecting cyberspace using an updated list of technology terms. (I wonder if Fax Modem and Data Nully will make a comeback?)
The excitement of fans alone doesn't guarantee the success of any show. What many TV executives and showrunners fail to see is that even though they don't have to build a new audience for a franchise, they have to do more to keep its audience. When they fail to acknowledge this and change, they risk ruining the memory of the show. It's hard to make shows that resonate with viewers the way they used to, but people need more than an exact replica of the original show; that's what the reruns are for