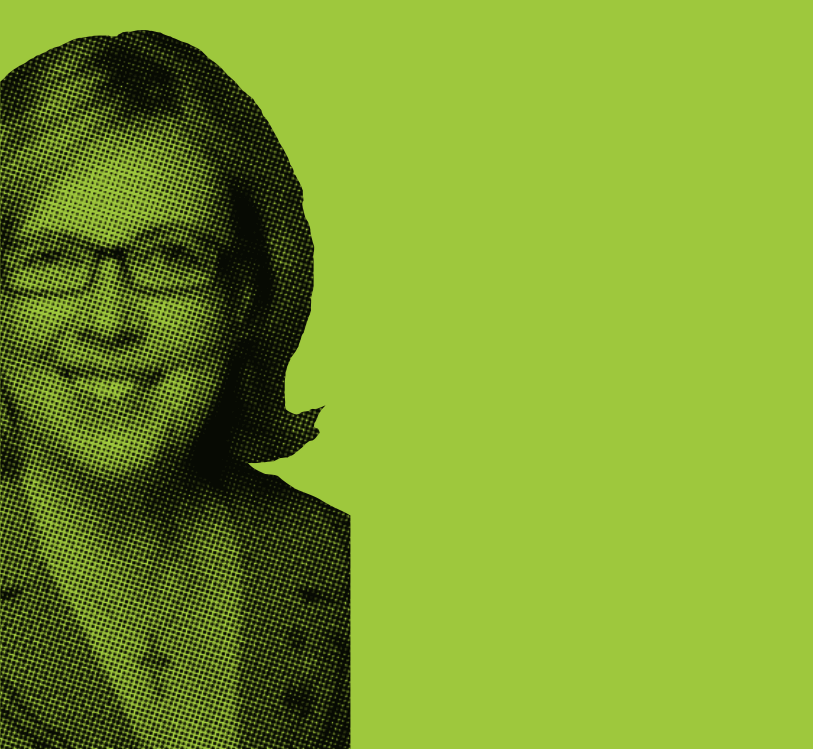 Every election threatened to destroy them. "We had to find 50 people willing to pay a thousand bucks they'd never get back," says Chris Lea, leader of the Green Party of Canada (GPC) from 1990-96. "Every election there was a worry whether we'd survive it." Money was scarce. Meetings were limited because of sky-high travel costs; even paying long-distance telephone bills wasn't guaranteed.
The early years were rough. The novelty of establishing the party in 1984 wore off, and many grew disillusioned with the slog of building a brand between elections. Former insiders walked away while others questioned whether working within the existing political framework was the best way to effect change, rather than cajoling from the outside.
Lea, now partner of Allen & Lea Architecture Design in Toronto, came to politics through activism at the gay magazine the Body Politic. In the early 1980s, Lea helped organize the box office at dance party fundraisers, splitting thousands in proceeds between dozens of LGBT groups throughout the city. One night Lea came across material left behind at a party venue by the Ontario Green Party who had thrown a fundraiser the week before. "I had heard of the Green Party in Europe," Lea says, "but I didn't know there was one in Canada."
He wanted something bigger in his life. Intrigued by the party and spurred by an interest in the environment stemming back to his teenage years in a Toronto suburb, Lea attended a party meeting soon after. After befriending future Ontario Green leader Frank de Jong, Lea was on a path to party leadership. By the time he took over, the Greens were in disarray. No one talked to each other, Lea says. He soon started an internal newspaper just so members could know what the party was doing.
They weren't winning seats, but the Greens were gaining ground. Beyond the ballot box, Lea says, two early victories came against unexpected goliaths. The Greens joined a lobby against McDonald's to phase out styrofoam packaging in 1990. And in Ontario, they took a stand against nuclear power's exorbitant costs, helping ensure no new plants were built after the Darlington nuclear generating station came online between 1990–93.
The Greens cracked 100,000 votes in the fifth election. Eight years after Lea stepped down, Jim Harris assumed command with a promise to run candidates in every riding. Their percentage of the popular vote quadrupled to 4.32 percent, an upward trend that continued in 2008 when Elizabeth May secured 6.8 percent of all votes cast, an all-time high. But the good times didn't last. The Green vote dipped in 2015 to its lowest mark since 2000. People are afraid of voting Green because they worry their vote won't matter, says University of Western Ontario political scientist Laura Stephenson. The Greens, she says, remain a minor party.
Perception is tricky. Alex Marland, a political scientist at Memorial University who studies political branding, says voters see the Greens exclusively as an environmental party. Their name makes it difficult not to make that connection. Everybody associates green with environmentalism. This isn't a bad thing. "Their brand is really easy to communicate," Marland says, an attribute that may have helped catapult them from the lower tier of also-rans into the political upper crust.
This disconnect between how insiders see themselves and how voters see the Greens causes headaches. "We're not an environmental party," Harris says."This is a bias that you have." Harris rejected my question when I asked how the GPC could showcase their full platform. "The Greens have a holistic policy," he countered, one looking beyond environmental matters. And yet, if our air and food and water are contaminated, he says, "it doesn't matter how our economy is performing." It's part of a different mindset, a sentiment echoed by Lea. "We're trying to figure out a new way forward," he says, where sustainability and social justice determine everything government does.
So, who are the Greens? Are they the greatest single-issue party in Canadian electoral history, or the weakest elected party to ever compete for government? In a political landscape where carbon taxes and mass transit investments are routinely stumped for on the hustings, are the Greens still relevant? Not for the reasons you think.
***
Not all political parties in Canada exist on the same plane. Some compete and win government; fringe groups rabble-rouse but typically change little; and then there are single-issue parties, those striving to get one topic or range of related-topics onto the mainstream agenda. The Greens straddle this divide, Marland says. They're more than a fringe party (having elected an MP), not focused on a single issue (regardless of what their name implies), yet are nowhere close to winning government.
There are two areas where Green advocacy stands out. The first is evident in how May and B.C. Green Party leader Andrew Weaver approach their parliamentary duties. "They've been the conscience of the legislature," says University of British Columbia political scientist Kathryn Harrison. Acting almost as non-partisans, both have prioritized policy above politics and done their homework to strengthen legislation. May has also taken on heckling in the House as a personal bugaboo. She's won the Order of Canada. Her colleagues, meanwhile, crowned her "Parliamentarian of the Year," and "Hardest Working MP."
Ultimately it would be ideal if all MPs were conscientious of the House like May is, Harrison says. Absent that, it's hard to overstate how valuable these small efforts are at improving the decorum of Canada's democratic institutions. What's more, Marland says, May's presence as a female party leader is, in itself, valuable in making Canada's political parties reflective of the public.
Beyond these intangible actions towards civility, Harrison points to the Greens' relentless drive for Canada to aggressively curb climate change as their raison d'être. Weaver and May are "truth-sayers" when it comes to this, she says, advocating for science by calling out other parties who try to win votes by pretending climate adaptation will be simple.
May drew Justin Trudeau's ire in 2016 by linking the wildfires that devastated Fort McMurray to climate change. She courted conservative wrath in urging then-U.S. Secretary of State John Kerry to reject Keystone XL. Meanwhile, May vowed arrest in blocking B.C.'s Trans Mountain pipeline, a Harper-era resource project Trudeau defends. "As long as there's breath in my body," she swore in 2016, "I'll fight this damn thing."
Even here, where May's voice represents environmentalists' best hopes for injecting science into climate politics, the Greens remain marginalized by their diminutive, one-MP size. Consequently, says UWO's Stephenson, "their views are somewhat inconsequential."
***
But the party experienced a seismic shift this year in British Columbia. Under Andrew Weaver, the B.C. Greens tripled their seat count in this May's election, capturing three of the legislature's 87 seats. It wouldn't have been a huge power swing unless the NDP and Liberals fought to a virtual draw, which they did. With promises of electoral reform, removing corporate and union money from politics, and halting the Trans Mountain pipeline and Site C dam, the NDP, with 41 seats, wooed the Greens to prop up their minority government.
Weaver has a chance to steer the national conversation about what the Greens stand for, Chris Lea says, highlighting that Green politicians aren't "purple unicorn idealists" but representatives of practical proposals. Moreover, Weaver's success could spread throughout Canada, a rising tide lifting other provincial party boats and the biggest ship of all—Elizabeth May's. The federal Greens will want to capitalize on B.C.'s success to argue that voting Green is viable, says Kathryn Harrison: "That it's legitimate, that you shouldn't be shamed out of voting Green, and that your candidate can actually win."
Since 2001, British Columbia, home of Greenpeace, has awarded the B.C. Greens between eight and 17 percent of the vote. Yet the power Weaver now holds came through an anomaly, Stephenson says. He'll have a bigger stage and an opportunity to legitimize the party in the public eye, she says, but unless Weaver outshines NDP leader John Horgan or syphons votes from the Liberals the odds are slim the Greens will orchestrate a three-way race next time.
Competing for government is difficult for any small party when the country's voting system is designed to shut them out. There's nothing more important for the Greens than implementing electoral reform, says Harrison from UBC; it determines their ability to have any impact whatsoever. In places where proportional representation rules, Jim Harris says, Greens are a vital part of the democratic fabric. The United Kingdom uses proportional representation to elect members to the European Parliament, as do the Aussies in deciding their Senate (where Greens control nine of 76 seats). But in Canada, he says, the Greens have been "severely curtailed" by firstpast-the-post. And in February, Trudeau reneged on a campaign pledge to implement electoral reforms.
Even in B.C. the victory is plagued by what-ifs. Days after the election, Chris Lea's Facebook feed lit up with friends lamenting how a Liberal government was avoidable if only Green seats had gone New Democratic. Yet seven seats captured by the NDP would have gone Green under proportional representation, he feels. (The B.C. Greens placed second to the NDP in five ridings.) Should the NDP get seats they don't deserve? Lea asks. Or should we design a system reflective of what people want?
***
The Greens have matured under May, yet she won't lead them forever. After 11 years, she's their longest-serving leader. Conservative pundits have recently called for her to step down, and May herself concedes she isn't a career politician. In 2016, she told the Globe and Mail her first commitment was to her Saanich-Gulf Islands riding. "I love being a member of Parliament," she said, "I don't love being leader of the Green Party."
Perhaps it shows. There's a disconnect between May's gravitas and the support her party receives from voters, says Laura Stephenson from UWO. You would expect as the Greens established themselves that their message would resonate widely. "We don't see that," she says. Their vote tally has traditionally been low—now it's inching downward. Despite running a near full slate of candidates in 2015, May secured just 3.45 percent of the vote. It all comes down to what voters believe Greens offer that others don't, Stephenson says. It's hard to think May is best suited to govern on pipeline approvals or fisheries protection when the Liberals and NDP have incorporated similar ideas into their platforms. As an environmental voter, she asks, should you vote Green? Or for a comparable party with greater chances of wielding power?
There's no objective answer. Debating the party's future reflects more about who's asking than who's answering. The Greens matter as long as the environment does, says Alex Marland, ensuring environmental issues stay prevalent. Even if they fail to garner votes, other parties are coerced into acting on climate change. It's a powerful tool. Or, Stephenson says, May could join the NDP or Liberals, allowing Green ideas to more easily become law.
Relying on the Liberals can be environmentally treacherous. Behind Trudeau's "sunny ways" lies a leader trading planetary stability for fossil fuel extraction, pipelines, and hydro dams. Trudeau talks more about climate change than Stephen Harper did, says Kathryn Harrison, and he committed to national carbon pricing. Yet, she adds, the Liberals have no plan for meeting Canada's Paris Agreement targets. Their economic strategy is reliant on fossil fuels, inconsistent with commitments to keep temperatures from rising above 2 C.
Holding the government accountable on initiatives to keep Earth habitable has been the Green's greatest contribution to Canada's political dialogue. Keeping that pressure on policymakers, especially now that America will pull out of the Paris Agreement, should keep the Greens busy on behalf of Canadians (and the planet) for decades. It's a small part of their platform, but unquestionably the biggest responsibility the party has taken on. And they may never be rewarded electorally for this climate advocacy.
Putting people ahead of winning seats isn't an abdication of party responsibility. For Chris Lea, it's an acknowledgement of reality and opportunity. It's a long-game they're playing. When Green candidates lose a race, he says, bringing likeminded people together on the campaign increases citizen activism and helps identify and tackle local concerns.Young Greens chair Cherie Wong says, "We don't have to be in government to push for change."
Perhaps electoral recognition isn't the objective. "We're not in it for this election," Jim Harris says. Given the state of the world, "we're in it because we have no choice."
Andrew Reeves is a longtime This Magazine contributor, and the magazine's new columns editor.