The Conservative leadership race ends this Saturday, May 27. In the months leading up to the big day, This collected some of the worst uh-oh moments from candidates:
Deepak Obhrai's French made a lacklustre appearance at the January 17 debate in Quebec City, featuring a lot of finger-stabbing, repetition of poorly pronounced words ("bonsoir, bonsoir, bonsoir"), and using the Englishequivalent of "pea" (pois) instead of "dot" (point) while announcing his website address. Following the debate, French language experts at CBC promptly gave Obhrai a failing grade for his attempts.
---
Kellie Leitch released her "Screening for Canadian Values" video in February—and had Twitter in an uproar. Some even speculated that the countless cutaways and over-dramatic pauses were signs that Leitch was actually being held hostage.
---
In March, Maxime Bernier tweeted a Photoshopped image of himself as Morpheus from The Matrix, holding a red pill and a blue pill, suggesting his supporters are as enlightened as the film's Neo. But, as many on Twitter pointed out, The Red Pill is also a men's rights activism forum that describes itself as a "discussion of sexual strategy in a culture increasingly lacking a positive identity for men." Maybe stick to the Mad Max memes in the future, Bernier.
---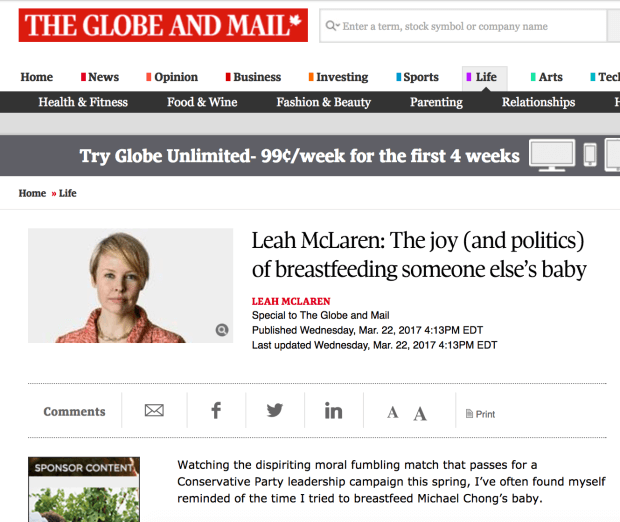 On March 22, the Globe and Mail's Leah McLaren wrote a column detailing her attempt at breastfeeding a stranger's baby during a party 10 years ago, "just to see what it felt like." That baby's father turned out to be leadership hopeful Michael Chong, who called the situation "odd." The Globe has since suspended McLaren and removed the column, though not before it could go viral. Many are now questioning the validity of McLaren's story and wondering if #lacgate was a failed attempt at humour or simply "fake news."
---
Not even interim party leaders are safe. In January 2017, Rona Ambrose took a Caribbean vacation on a billionaire's yacht. At that same time her caucus, with her support, was calling for the ethics commissioner to investigate Justin Trudeau's vacation on the Aga Khan's private island in the Bahamas.