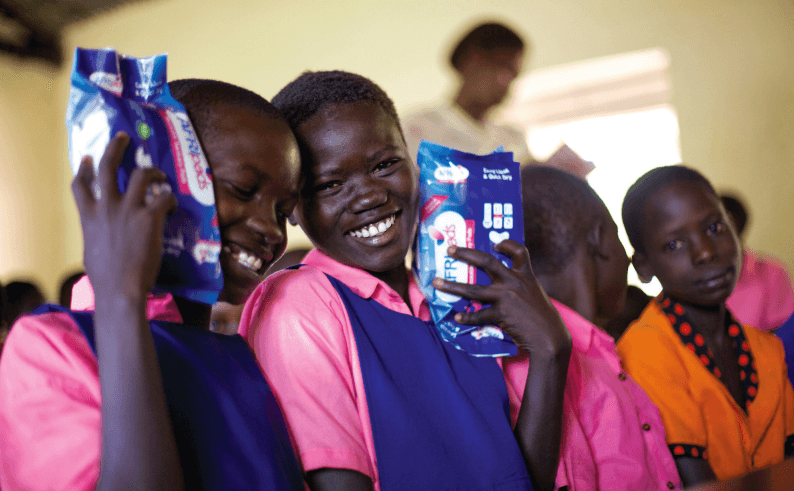 Photo courtesy of Afripads
Madeleine Shaw had been making reuasable cloth menstrual pads for six years when she met Suzanne Siemens at a community leadership course in 1999. The women instantly clicked over their shared goals around business and social change, and together, they decided to take Shaw's pad project to the next level.
"When I was in university, I became an activist and I thought I'd end up as a social worker," says Shaw, a women's studies student at the time. "But becoming an entrepreneur gave me a whole new set of tools to create change."
Years later, their Vancouver-based company Lunapads is still growing. Their product, reusable pads, is aimed at tackling the host of problems associated with feminine hygiene products: the ongoing cost and environmental waste, and for many women across the world, inaccessibility.
Since 1999, Lunapads has sold one million units, and as of September 2016, select Target stores across the United States were fully stocked with the reusable goods. And while business is thriving, so are their international charities, including Pads4Girls and One4Her, two programs that donate pads in developing countries. Because of their work, 20,000 people in countries such as Uganda, Cambodia, and Jamaica have been given nearly 100,000 pads to help them continue going to work or school while on their periods.
"The typical girl in Uganda, for example, is so embarrassed to take the risk of going to school and soiling herself that she will stay home," Siemens says. "When they don't go to school, their grades drop, and they often drop out." That girl may then be forced to marry and become pregnant, Siemens adds. In effect, access to menstrual pads has the remarkable ability to change the course of one's life for the better.
This dedication to business and social change helped Lunapads secure a portion of $500,000 in 2016 from SheEO's #RadicalGenerosity campaign, an initiative that encourages female entrepreneurs to loan money to fellow female founders to help grow their businesses.
As Lunapads moves into the next growth phase, Shaw and Siemens are focused on educating customers on how to use their products for light bladder leakage, making their language and products more gender-inclusive, and publishing a graphic novel-style booklet for Lunapads users in Africa—all while staying committed to their core values. "Every business can do something to be more socially inclusive and environmentally responsible," Siemens says.