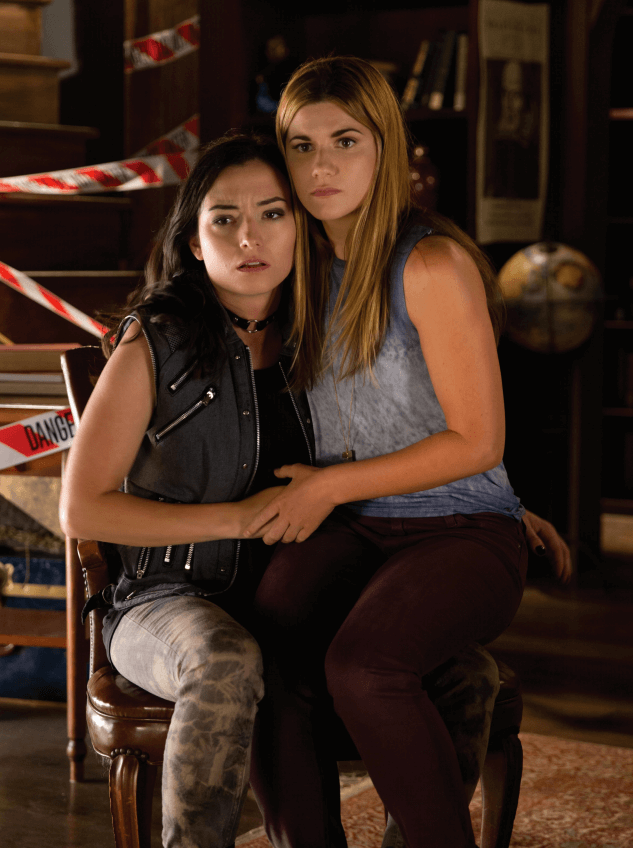 Photo courtesy of Jasper Savage/Smokebomb
I remember the day I booked the now-hit web series Carmilla like it was yesterday. I was so ecstatic I performed an awkward little happy dance to the dust bunnies in my bedroom when I received the call from my talent agent. I had never wanted to land a part so intensely. From the moment I read the character breakdown for the titular role, this unexplainable and innate feeling told me it was a role I had to play. Maybe it's because playing a vampire was something I had always wanted to cross off my "acting bucket list," or because Carmilla was described as being "capable of profound loneliness" and that spoke to me. But mostly, I think it's because it would finally give me the opportunity to portray a lesbian on screen—and one who actually gets her fairytale ending.
As a pansexual woman, I grew up watching the only lesbian show that was available to me over and over again. It was Showtime's The L Word, and when I first started to realize I was also romantically interested in women, it was my saving grace. As it flickered on the television in my teenage bedroom, I recall thinking how cool it was and hoped for the courage to be out and proud. Now my own fans tell me they have a similar experience when binge-watching episodes of our little show on YouTube, and it's gratifying to be a role model.
If you're not familiar with the show, Carmilla is a modern retelling of Joseph Sheridan Le Fanu's gothic novella of the same name. Written 25 years before Bram Stoker's Dracula, the original story is considered the first vampire tale by some historians, and that it was Le Fanu who created the negative, oversexualized lesbian vampire trope. Nearly 150 years later, the story was revamped into a video-blog–style adaptation that takes a cautionary tale about the "dangers" of female sexuality and turns it on its head. Instead of an outdated homophobic story, the team created a version of Carmilla that offers both a queer-positive and feminist narrative. The importance of such a series resonated with many, and received a great deal of support in return, from executive producer U by Kotex, branded entertainment agency shift2, and production company Smokebomb Entertainment.
There are too many places in the world—unfortunately, even in Canada—where being anything but heteronormative is still not accepted. In some cases, it's even illegal and many people in the lesbian, gay, bisexual, transgender, and queer community (especially youth) feel alienated, isolated, and sometimes even suicidal. Many turn to scripted content for escape—but finding positive portrayals can prove difficult. Studies have shown that the landscape of media is slowly changing for the better: a GLAAD media report examining 2016 television series found almost five percent of characters were identified as LGBTQ+. But too often, lesbian characters' stories end in misery: these women die, have breakdowns, or end up heartbroken. It fuels the misguided idea that there is something wrong with being queer.
That's why it is so imperative that queer characters are no longer misrepresented in film and television. And that is why I think Carmilla is such an important and successful show: because it stars the queer heroes that LGBTQ fans deserve.
Carmilla is the full escape. It's young adults solving mysteries and fighting evil in their supernatural university. It's action and adventure, whimsy and campiness. Sexuality isn't in the foreground, and it isn't a harrowing coming-out story (albeit, coming-out stories are important to share too) but it still features an honest and realistic lesbian relationship—one that has resonated with fans.
I first realized how important queer representation in entertainment was in August 2014, when I was shooting the first season of Carmilla. We filmed it in only four days, over two blocks of shooting, and after the first block we released six episodes that began trending online. While sitting in hair and makeup, one of my co-stars showed me the first piece of fan art someone had posted on social media of my character. It was a charming pencil sketch of me as the broody gay vamp, attached to a virtual "thank you" letter. My heart melted and it brought me to tears. That is when I knew I was part of something bigger.
Today, Carmilla has three seasons, a prequel, a holiday special, more than 50 million views worldwide, and will soon be a feature film. One simple piece of fan art has become tens of thousands of creations, and it's a digital phenomenon that allows me travel to comic conventions, media events, panels, and more.
But for me, it's not about red carpets and the illusion of glamour. It's about feeling the warm energy a room full of fans gives off, and meeting parents who say to me, "Thanks for telling my kid they're worthy." It's the lives and perspectives that have been changed forever.
Carmilla is one of few positive queer love stories available on screen for LGBTQ+ audiences, and it is important for me not take for granted the gift of social responsibility that I have been given with this show. I hope to continue to accurately and fairly represent queer women, even as I shift into writing and producing content of my own. My heart and eyes have been forced wide open, and I encourage others to think critically about the media they're consuming—all because of our fans, and a little web series that could.
Natasha Negovanlis is a multi-disciplined actress who previously studied voice performance McGill University. Best known for playing the titular role in the Canadian Screen Award–winning digital series Carmilla, she is also the face of Smokebomb Entertainment's flagship YouTube channel KindaTV, where she works as writer and producer.