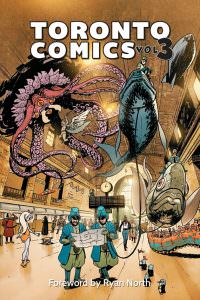 Toronto Comics Anthology Volume 3
Edited by Steven Andrews, Aaron Feldman, Allison O'Toole
T.O. Comix, $20
With its third time at bat, Toronto Comics Anthology has come into its own. Toronto Comics Anthology Volume 3 features 30 comics from 46 writers and artists—each reflecting on Toronto in some way. Besides that, the genres run the gamut, from true tales, to superheroes, horror, and more. The anthology shows maturity by tackling a variety of topics in creative and elegant ways. In "A Work in Progress," writer Gwen Howarth chronicles the history of Toronto Pride's Trans March through her transition. In "The Dark," co-authors Aaron Feldman and Josh Rosen tell the story of a woman who reveals her terminal illness to her girlfriend while dining in the dark. For those who prefer something a little lighthearted, let Ricky Lima and Kelvin Sue reveal the secret lives of Toronto landmarks in "Architecture." Through its variety of diverse narratives, this volume stretches the bounds of what comics can be.