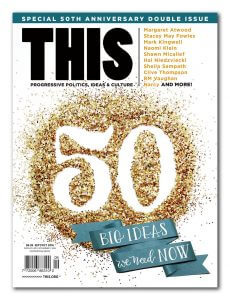 For our special 50th anniversary issue, Canada's brightest, boldest, and most rebellious thinkers, doers, and creators share their best big ideas. Through ideas macro and micro, radical and everyday, we present 50 essays, think pieces, and calls to action. Picture: plans for sustainable food systems, radical legislation, revolutionary health care, a greener planet, Indigenous self-government, vibrant cities, safe spaces, peaceful collaboration, and more—we encouraged our writers to dream big, to hope, and to courageously share their ideas and wish lists for our collective better future. Here's to another 50 years!
---
It's time to re-envision housing in Canada. Many of our challenges can be solved through innovation: we must not look to old models to solve our current problems. After all, it's our current model that's leading to mass homelessness.
No civilized group of people should allow that to happen to their neighbours, and we shouldn't tolerate inaction. Let's make our number one priority to help every homeless person in Canada. Some will need mental health support, some will need an economic solution, others will be suffering from addiction or abuse. Housing should be a right in Canada, like health care or education. It's ridiculous that we will pay tens of thousands of dollars in hospital costs for a homeless person, over and over again, but do not help them pay their rent and end that cycle.
Secondly, let's acknowledge there's a growing population whose housing needs are not being served by the private sector, non-profits or government. Sadly, among this group are average working-class families, particularly young families, but it also includes immigrant and refugee families, students, First Nations, and single mothers. The cost of land in urban areas has made home ownership unattainable for many and increased the pool of renters. Worse yet, because there have been few incentives to build rental housing, low vacancy rates mean renting has become expensive, inadequate, or unavailable. Non-profit affordable housing or public housing should assist those who have fallen through the cracks. Yet, the abandonment of government funding for housing creates wait lists so long they defy credulity—too many end up homeless.
The confluence of these events has meant that much of the new private supply generated in both ownership and rental has been in high-end studio and one-bedroom suites. With their high costs and small size, these options aren't suitable for many of the population types mentioned above. As we embark upon a new national housing strategy, an expanded non-profit housing sector could be the answer to many of these challenges. By removing the profit motive, the cost of developing housing is instantly cheaper, and by placing the burden of developing this housing into community groups there is an incentive to respond to the needs of families and others unserved by the market. In addition, unlike government-run housing, nonprofits have less bureaucracy, decisions are less political, and they have the ability to raise money from donations and volunteers. Expanding this model to serve average families, immigrants, and students instead of just vulnerable populations could be the key to ensuring that we have diverse, affordable, community-connected housing in the long-term.
Innovation will also mean looking to the sharing economy and assessing whether more communal living options could become mainstream. While shared gyms, pools, and laundry have been commonplace for years, we must now explore the limits of what level of sharing is marketable and attainable. Would tenants and owners be willing to accept quality over quantity by sharing their kitchens, living rooms, and more? Perhaps everything other than bedrooms should be reconsidered and we should look to new design options to maximize the utility of those spaces. Many of these things happen organically in repurposed homes or for roommates, but it's time to re-examine it through a design and zoning lens in purpose-built rentals or condos.
Innovation in housing has to mean more than renting out your spare room or adding a Murphy bed. The next era is ripe for ideas on finance, design, and management. However, it's going to take cooperation from all levels of government and a willingness to uncouple ourselves from some centuries of nostalgia about what a house looks like, what ownership looks like, and what our basic rights and entitlements are. If so, we may find a new era of opportunity, innovation, and our most important new social program.
Kishone Tony Roy is CEO of the B.C. Non-Profit Housing Association and a director of Encasa Financial.