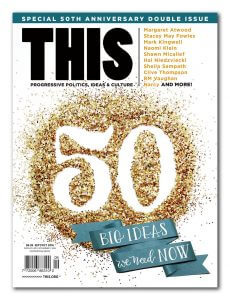 For our special 50th anniversary issue, Canada's brightest, boldest, and most rebellious thinkers, doers, and creators share their best big ideas. Through ideas macro and micro, radical and everyday, we present 50 essays, think pieces, and calls to action. Picture: plans for sustainable food systems, radical legislation, revolutionary health care, a greener planet, Indigenous self-government, vibrant cities, safe spaces, peaceful collaboration, and more—we encouraged our writers to dream big, to hope, and to courageously share their ideas and wish lists for our collective better future. Here's to another 50 years!
---
Picture this: In your neighbourhood, there's a place you can go for a healthy meal. It's prepared by a chef, with farm-fresh ingredients. It's served in a large, bright, communal dining room popping with conversation. And it's free.
You're in that room because you had to leave your job to care for your ailing parents, and you struggle to find money at the end of the month for food. At your table, there are students living off loans, a young mom and her chatty daughter, a widower who lives alone. You eat together, and the meal is delicious. You're a few of the millions of food-insecure Canadians who can't always afford enough food to eat, who sometimes need to ask for help. But this place isn't about charity: it's about dignity.
The community food centre is busy today. In the kitchen, 14 seniors are making a stir fry together in a cooking class focused on diabetes prevention. Outside, staff are prepping a compost workshop for kids in the after-school program. Volunteer gardeners are harvesting lettuce and squash for tomorrow's lunch, and their own kitchens. After lunch, people are meeting to plan a campaign calling for more financial support for caregivers.
Government and private funding for places like this one, places that build community around good food and make it available to anyone who needs it, is helping to curb the rates of diet-related illness that have been skyrocketing in low-income neighbourhoods for years. People are healthier and more empowered, too.
There are dozens of community food centres across the country now—more and more every year. They've become like libraries, but for food literacy: community gathering places where people exchange recipes, seeds, stories, and support. And the people that keep these spaces going—the students, the widowers, the young moms, and construction workers—have been organizing with other Canadians who are fed up with the unreal state of the food system: fried chicken–flavoured nail polish, sugar-bomb sodas in schools, food workers who can't afford the food they produce, toxic agricultural practices, food swamps with French fries for miles but not a fresh vegetable in sight. Local fights for better access, wages, and regulations have ignited a paradigm shift. And that shift is bringing in progressive policies that prioritize the health of all Canadians over the wellbeing and profit of a few.
The idea that food is a public good doesn't seem so radical anymore. Planners are putting food commons back at the centre of communities, and those communities are taking their food decisions into their own hands. People are concerned not only with where their food comes from, but who has access to it. It's about equality, it's about health, and it's about sustainability. We're getting there. When you start with a good meal, anything can happen.
Christina Palassio is a writer, editor, and translator living in Toronto, and the director of communications at Community Food Centres Canada