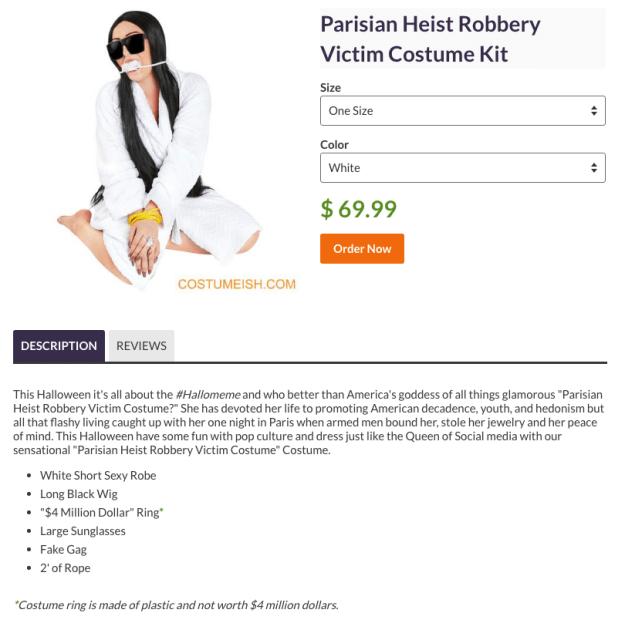 Photo via Costumeish/costumeish.com
If you're looking for a last-minute Halloween costume idea, sadly, Parisian Heist Robbery Victim is no longer an option. If you're looking for an offensive costume you'll just have to go as Donald Trump and his merry band of women-respecting hombres. If you don't get the biggest Kit Kat complain loudly and repeatedly about how Halloween is rigged and be sure to grope every witch and grab every black cat along the way. 
The Parisian Heist Robbery Victim costume didn't specifically mention Kim Kardashian or her traumatic October robbery—when the reality star was bound, gagged, and had a gun held to her head by robbers who made off with $10-million worth of jewellery—but it really didn't need to. The $69.99 costume featured a long black wig, short white robe—what she was wearing when the crime took place—requisite large black sunglasses, a gag, rope, and a $4-million ring. The go-to look for a mother of two afraid for her life and terrified she was going to be raped or killed.

Costumeish.com, the makers of the awful costume, pulled it from the company's website after complaints that the costume was offensive and mocked the violent incident. Sadly, it was not only the costume that was in poor taste. Following the incident, Kardashian was accused of faking the robbery, using it as a publicity stunt, or staging it so she could commit insurance fraud. She was criticized for flaunting her flashy lifestyle and bling ring on social media and for making it easy to track her movements via her numerous posts on Instagram. Even Karl Lagerfeld lashed out at Kardashian for constantly showing off her wealth. And if there's one thing to be said about Lagerfeld it's that he lives an extremely understated existence. The fashion designer really blends in.
The fact that the Kardashian robbery was repeatedly called a hoax and her pre- and post-robbery behaviour was carefully scrutinized served as just another painful reminder of pop culture's gender bias when it comes to violence. Exclusive crime scene photos were published of Kardashian resting her internet-breaking butt on a couch and calmly Facetiming someone as police searched her Paris apartment and interviewed witnesses. Apparently, she should have been running hysterically around the apartment as women are meant to do. "Kim's Story Doesn't Add Up," "No Sign of Struggles or Injuries," and "Left $10 Million in Jewellery on the Counter" screamed the headlines. If Kim Kardashian was a man, the coverage would have been very different. I doubt anyone would ever accuse Kayne West of insurance fraud or faking a robbery, except maybe Taylor Swift.
As if the tabloid coverage wasn't bad enough, internet and social media reaction to the robbery was cruel and dismissive. Twitter seemed to think taste in television programming is directly related to empathy and found it hard to embrace the possibility that one could not enjoy keeping up with the Kardashians and still think what happened to Kim was horrible. It's okay, Twitter, supporting her won't make me judge you. I get it you're a big fan of PBS. Relax, I think you're totally high brow.
One only needs to look at the recent coverage of Brangelina's divorce to see pop culture's double standard further played out. The violence that apparently led to Angelina Jolie filing for divorce has largely been downplayed by the media. There was allegedly a physical altercation on an overseas flight involving Brad Pitt and the oldest of the couple's brood, Maddox. Pitt also apparently pissed on the side of a building upon deplaning and hijacked a golf cart to speed away from the plane. Trying to distance themselves from an air travel experience as quickly as possible, stars really are just like us!
Coverage of the incident and the divorce has been largely pro-Pitt with Jolie described as a "wife from hell," "unstable and manipulative," and a "liar." Also, their sexless marriage drove him to cheat and he might be getting back with Jennifer Aniston because she's just been hanging out with her Aveeno and Smart Water for the last 11 years waiting for Pitt. Have you seen the video of her husband Justin Theroux jogging in track pants? I think Jen is doing just fine.
The media never misses an opportunity to remind us of Jolie's past drug use—heroin! Billy Bob Thornton musk!—and how she used to wear vials of blood around her neck. She is repeatedly referred to in the coverage as a "wild child," which is pop culture speak for a grown woman who does not conform to their standards and behave as society would like her to. (See also: 1990s Drew Barrymore, 2007 Britney Spears, all the time Courtney Love, Miley Cyrus, and Lindsay Lohan.)
US Weekly also criticized Jolie's humanitarian efforts and work, calling it a calculated image makeover and raising suspicion that all those orphanage visits, adoptions, and UN work was just some elaborate ruse to make her seem like a good person when she's actually just a monster set on destroying Pitt's life and launching an elaborate smear campaign.
Tabloids also reminded us of Jolie's dating history which included, gasp, women. Implying bisexuals are shifty liars was a popular narrative during actress Amber Heard's recent split from Johnny Depp. Heard's stories of Depp's abuse and violence were repeatedly questioned and she was called a "liar" and a "gold digger." The biggest tragedy of the story seemed to be that Depp had to change the "Slim" tattoo he got in Heard's honour to "Scum." When it comes to violence against women, everyone knows tattoos are the real victims.
While negative coverage of Kardashian's robbery continues and shows no sign of ending soon, positive pop culture coverage of male celebrities and violence continues to be the norm. When Chris Brown was arrested this summer for assault with a deadly weapon stories focussed on the credibility of his female victim, how the arrest was a set up, and mentioned Brown's constitutional right to bear arms. Apparently, everyone forgot about Brown's 2009 arrest for assaulting then girlfriend Rihanna or his raging anger issues. While gossip sites remember every Lindsay Lohan DUI and Chateau Marmont late night, Brown gets a pop culture hall pass. Brown even claimed he was the victim of a race war and started tweeting #blacklivesmatter. That PR move proved to be worse than the sum total of the singer's musical output.
And speaking of Lohan, in August photos surfaced of the actress physically fighting on a beach with her fiancé. Lohan received no support from the tabloids who described the incident as a "play fight," which is certainly not the impression one gets when they look at the photos of a clearly struggling Lohan. The actress later expressed fear that her fiancé was going to throw acid in her face and she was scared for her safety. Celebrity gossip sites continued to Regina George Lohan, implying she deserves little sympathy because of her wild child ways. Stories implied that Lohan deserved it because of the poor box office performance of I Know Who Killed Me or because she previously struggled with drugs and alcohol.
Despite the offensive costume and internet backlash, a spokesperson for the Kardashians has assured us Kim is shaken, but slowly recovering from the robbery. Filming on the reality star's show was not taking place at the time of the incident so if you're looking to see it covered on the small screen you'll just have to settle for TMZ. Or give Karl Lagerfeld a call.
Lisa Whittington-Hill is the publisher of This Magazine.