THE CHEERY BANTER between a cartoon moose and flying squirrel has rung out over Calgary airwaves every Friday afternoon at 2 p.m. for the past 14 years. Dedicated listeners know what the goofy bit signals: it's time for radio magic.
"And now…"
"Hey, Rocky!" Bullwinkle interrupts. "Watch me pull a rabbit out of this hat."
"But that trick never works."
"This time for sure." Bullwinkle is undaunted. "Presto!"
In drops a charging drum beat and bass line by Juno-winning band Shadowy Men on a Shadowy Planet. Then, we're off on another two-hour radio-making experiment on CJSW 90.9 FM, Calgary's campus and community station. A crowd has assembled in the on-air booth on the third floor of MacEwan Hall at the University of Calgary to hear that storied show intro for the last time. After kicking off the weekend for countless Calgarians over the past decade and a half, Chad Saunders has just kicked off his final show.
"Well hi, everybody. Welcome to My Allergy to the Fans here on Friday, January 8th. So exciting—2016! I hope everyone got their calendars all in order, preferably from their favourite restaurant or mechanic shop and you're just ready to go. This is the last My Allergy to Fans …"
Saunders stands in front of the microphone, chair pushed back, arms akimbo. CDs and records are strewn in piles to his right. A laptop is flipped open to his left. The sound board, a wide flat console with dozens of knobs, lights, and buttons, concentrates the room's myriad audio devices at his fingertips.
CJSW's on-air booth resembles the bridge of some sort of steam-punk spaceship. Cassette decks and turntables rub shoulders with sound mixers and a fleet of monitors. The station's Twitter feed streams on a screen fixed to the wall while another provides access to the digital library— a growing collection of 7,600 albums. Saunders, however, prefers the frenzy of analogue, manually mixing from vinyl, CDs, cassettes, and his laptop. He manages this flurry of activity while taking calls from listeners and zipping out the door and past an illustrated skateboard deck that reads "The Chad Saunders Music Library" to find the perfect gem among 100,000 meticulously filed albums.
Voted Calgary's favourite radio personality for six consecutive years, from 2008–2013, Saunders' inimitable brand of slapdash radio has been incubating since he first walked through CJSW's doors back in 1990. Over the past 25 years, the lanky 43-year-old has been a volunteer, board member, program director, and served an 11-year tenure as station manager. But now with his full-time gig as the director of operations and special projects for the National Music Centre ramping up with the opening of a new 160,000 sq. ft. facility, Saunders has made the tough call to retire the show. We've gathered in the booth to witness him try and pull a rabbit from his hat one last time.
"I see my pals from Blist and Matt Masters," Saunders looks through the glass at the band setting up in the performance studio. Masters is an alt-country musician who ran as the NDP candidate against Stephen Harper in the last federal election. Sabo Forte and Andy Sparacino, who played the character Tron in the Fubar movies, comprise hip hop duo Blist. The unlikely collaborators, who dub themselves Blasters for the next two hours, are here to mark the end of an era. "They're getting all warmed up and ready to go," says Saunders.
With unruly brown hair, a runaway metabolism and goofball sense of humour, Saunders is a charismatic host. But his popularity also speaks to the power and potential of community radio. On CJSW's airwaves, Saunders had the latitude to take chances. Listeners never knew what was going to happen next. In December, I heard a song in which Fabio, the Italian fashion model, softly intonated about his favourite ways to surprise his girlfriend. That same show included an excerpt from the Baby Pac-Man Read-Along Story Book, as well as vintage soul, garage rock, and plenty of local bands. The freedom Saunders had to speak his mind and play what he wanted allowed for a level of originality not possible on the more regimented mediums of public and commercial radio.
The appeal of community radio's one-of-a-kind content is enhanced by how listeners are part of the action. Stations rely on their audience for funding, but also to become volunteers and to produce shows. Community radio is participatory from the moment you tune in; listening is a form of self expression. Whenever I see CJSW's green-andwhite sticker on the back of someone's car, I feel an instant kinship—an ally in an ongoing effort to realize a weirder, more progressive version of Calgary. The sense of belonging fostered by community radio offers another dimension to listening, one that goes far beyond the passive consumption of entertainment.
All these elements—local focus, crowdfunding, active listeners, and originality—that helped build such a loyal following for My Allergy to the Fans also positions community radio to flourish in the 21st-century media landscape. The relentless tide of free content on the internet has upended the economic model for broadcast television and print publications. Commercial radio is still profitable in Canada, but new online competitors materialize regularly. Community radio's grassroots, guerilla-style approach to broadcasting presents a resilient media model for the digital age. Examples are starting to emerge of community stations like CJSW stepping up to fill widening gaps in local media coverage.
CANADA'S BROADCASTING ACT recognizes three sectors—public, private, and community—that make use of the nation's radio frequencies, which belong to citizens as part of the public domain. The Canadian Radio and Television Commission, which regulates the broadcasting and telecommunications spheres, defines community radio's role in terms of creating content "rich in local information and reflection." The medium must also meet the needs of the community not addressed by CBC and private commercial stations. Volunteers are involved in every aspect of running a community station (the main difference for a campus station is that students must also participate).
In 2014, 165 campus and community stations were included in the CRTC's annual Communications Monitoring Report. Together, they make up 16.3 percent of all the radio and audio services authorized to broadcast in Canada. Barry Rooke, the executive director of the National Campus and Community Radio Association (NCRA), says the number of stations operating today is around 185. He estimates the community radio sector adds between five to 10 stations annually, although the growth of campus stations has flat-lined. The NCRA also has several member stations that don't require a CRTC license because they broadcast solely with an online stream.
Community radio's mandate to reflect the richness and diversity of local communities is becoming increasingly important as traditional media outlets continue to disappear. Twenty-two Canadian daily newspapers have closed down over the past five years. For example, Nanaimo's Daily News and the Guelph Mercury shut down in early 2016. Each paper had served their community for over 140 years. The alternative weekly, FFWD, which ran the popular Best of Calgary survey that crowned Chad Saunders the city's favourite deejay, published its last issue  in March 2015. And this past January, Postmedia downsized and merged the newsrooms of Calgary's two major dailies; now one team covers local news for both papers in a city of 1.1 million. Parliament's Standing Committee on Canadian Heritage formed a panel in late February to study the national crisis of local news coverage in print, broadcast, and digital media.
"People are starting to recognize that there is a gap," says Rooke, "and they are looking for solutions to find content that suits their street and their neighbourhood." For example, he adds, when Picton, Ont. station County FM launched in October 2014, it attracted 80 dedicated volunteers within a year. The local programming includes music shows, hourly news updates, and regularly-covered community events. Local stores have turned their dials away from stations in nearby towns and now blast their homegrown one, says Rooke. Having filled the void of local coverage, it's been embraced by the community.
In addition to practical information about events and local issues, stations like CJSW offer organic and personal connections to manifold communities. At 30 years and counting, Megawatt Mayhem, a weekly two-hour show on CJSW, is Canada's longest-running heavy metal program and a lifeline for that community in Calgary. The station is also home to several multicultural programs that broadcast in 10 different languages. Community radio is indissoluble from the spot where it's created. People from a place engage others about that place. This rootedness—which includes old fashioned conversations replete with "ums", "uhs," and meandering digressions—keeps the medium relevant.
Ivan Emke, an associate professor in social and cultural studies at Memorial University's Corner Brook campus in Newfoundland, has seen the transformative effects of community radio first hand. Emke volunteers with Ryakuga, a non-profit communications company that encourages rural communities to experiment with grassroots media projects. Ryakuga has helped several small towns in Newfoundland set up their own community stations. Emke defines humans as meaning-seeking creatures. We continuously process new information in an effort to make the world intelligible. A big part of how we create that meaning is through conversation.
"For isolated communities, including communities that are in the middle of huge urban areas that are themselves an entity or ecosystem," says Emke, "they need to maintain some sort of control over the story about themselves." The hosts of Megawatt Mayhem, Kevin Woron and JP Wood, have helped connect Calgary's heavy metal community over decades of interviews with musicians, information about upcoming shows, and discussions about local bands. Community radio provides the forum for the kind of dialogue and exchange of ideas that allows individuals to rally around a common identity.
Maintaining a volunteer-run radio station, however, is no small feat. Rooke estimates that up to 40 percent of the NCRA's 95 members are losing money or just managing to stay afloat. Revenues fluctuate wildly from station to station with about a quarter running on less than $12,000 annually. CJSW's annual budget, by contrast, is $700,000. It supports seven full-time staff members and 300 volunteers, making it a flagship community station in Canada. As a community and campus station, CJSW raises 39 percent of its budget from a student levy. Some of CJSW's financial stability can also be attributed to its location in a young and affluent city, but the station is also a fundraising superstar—by necessity. Every October, CJSW asks listeners for a significant chunk of its operating expenses. This past October, in the middle of a severe economic downturn, it raised a whopping $255,689 in under eight days, which is a national record for the sector.
Community stations depend on listeners, not advertisers, for survival—but investing during a funding drive also gives listeners a stake in the station. In this way, community radio offers a continuum of belonging versus passive entertainment. At CJSW, you can phone, tweet and, as of February, text the deejay in the booth. All these points of contact encourage people to ramp up their involvement: from listening, texting, and phoning to pledging money, volunteering, and hosting a radio show.
Certainly, something sturdy has taken root on the third floor of MacEwan Hall. This capacity to attract fresh ears while staying relevant to longer lobes is a big part of CJSW's success. Volunteers range from ages 12–70. New people are attracted to the station while veteran members remain committed. Many Calgary bands, artists, and arts organizations have connections to CJSW. Kerry Clarke has been doing her Thursday afternoon show, Alternative to What, since she moved to Calgary in 1987 to work as CJSW's program director. She put Saunders on the air for the first time back in 1991. Clarke works as the artistic director for the Calgary Folk Music Festival. Both Reggae Fest and Afrikadey!, big summer cultural festivals, were started by former CJSW deejays. "CJSW has really shaped the community," says Clarke. "You talk about somebody who is doing something awesome in Calgary and quite often there is a route back to CJSW."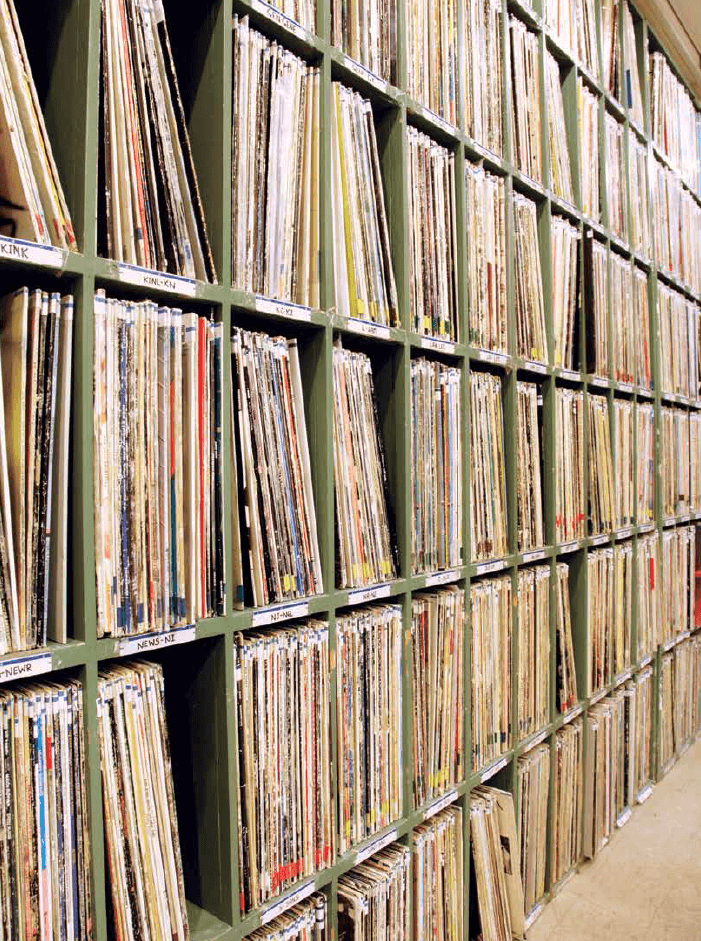 "HAVE THE BEST TIME," says Saunders. We're almost at the show's halfway mark and he's chatting on-air with Hayley Muir, whose soul and rockabilly program, Dixie Fried, is moving into the 2 p.m. slot next Friday to take over after My Allergy to the Fans.
"I'm so excited. It's like, I'm a little nervous," answers Muir, who is also the singer for local punk band The Shiverettes. Muir and band mate Kaely Cormack founded Femme Wave, a multidisciplinary feminist arts festival, this past November. She started volunteering with CJSW in 2009 and has been doing a radio show almost ever since. Despite all the experience, she's intimidated by the expectations around her new time slot.
"Why?"
"I don't know. Well, one of the callers this morning was like, 'Oh, those are some big goofy shoes to fill,' and I was like, 'I know, right!'"
"They're clown boots and they're canoe-sized and we just float down the river in the summer in them."
"Cool. I can do that."
"That's how you get to Folk Fest—just hide in the clown shoe," says Saunders. He dedicates the next song,
"The Name Game" by soul singer Shirley Ellis, to Muir.
The exchange with Muir is classic Saunders. Leapfrog adlibbing is his thing: an off-hand remark expanded into a joke, which sparks into a running theme. He never planned a show the night before because he wanted to react to what was happening that day, whether it was a big news story or a gnarly bout of Calgary weather. In many ways, My Allergy to the Fans was a front row seat to the inner workings of a wild imagination.
One of his jokes is still going strong after 11 years. It began as an April Fool's prank in 2005. Saunders, along with a few others, hosted the morning show as if the station had been taken over by The Cobra, a commercial station with the tagline "All Metal! All the Time!" The three hosts impersonated over-the-top characters reminiscent of the 1984 rock-music mockumentary This is Spinal Tap. Saunders, clad in a blonde mullet wig, aviator sunglasses, and a skin tight leopard print t-shirt, became Jett Thunders (the costume later added a pair of shimmering pink pants). And then Thunders somehow survived the prank. His trademark blonde mullet and pink pants still haunt Calgary's music scene. He emcees concerts and music festivals and is the mascot for the Calgary Underground Film Festival. An '80s-era, classic-rock super fan, Thunders gave a PechaKucha (a TED-style talk that uses slides) lecture in 2013 and regularly chimes in on local issues through his own Twitter and Facebook accounts.
Creative freedom—the ability to take risks, face-plant, and wear mullets—gives community radio an edge on its commercial counterparts in the digital age. And CJSW station manager Myke Atkinson believes it's only a matter of time before commercial radio falters big. "It's like a stack of Jenga bricks," he says, "and they keep pulling one out and, at some point, there are no more things you can take out before the whole thing just falls apart." Commercial radio's increasing homogeneity, he argues, will be its downfall. Digital streaming services such as Spotify or Google Play already provide instant access to a greater volume and variety of music. And now Beats 1, Apple's new 24/7 internet radio station, has live hosts curating shows from New York, Los Angeles, and London. Then, there are our cars: Once they're manufactured to make listening through a smartphone as seamless as it is to press the button for radio, commercial radio, says Atkinson, is dead.
It's been decades since commercial radio hosts have chosen what music to play. Letting anyone—never mind a whirling dervish like Saunders—play and chat about the music they love is too big an economic risk. Instead, program directors use software to calibrate each hour so that something appeals to everyone. It's hard to see how this algorithmic one-size-fits-all approach can survive the rise of online music streaming. While community radio can be messy, it's always fresh. This past October, CJSW started podcasting—every broadcast is available online to playback on demand. Web traffic has increased fivefold. It would be pointless to time shift commercial radio because it's too similar from one show to another, from one week to the next.
Community radio's inherent flexibility has also allowed CJSW to cover events and topics in original ways. In 2010, in the months leading up to the surprise election of Naheed Nenshi, CJSW launched an ambitious municipal election coverage project. Joe Burima, the station's first full-time news and spoken word director, with the help of an intern and a team of 10 volunteers, interviewed all 88 mayoral and aldermanic candidates. "We felt that an ongoing issue with municipal elections—hell, all elections—is that the public did not have digestible information on candidates and their platforms," says Burima.
The project put every candidate on an equal footing. Everyone from frontrunners to low-profile candidates were asked the same set of questions. Podcasts of the interviews with aldermanic candidates were posted online as part of an interactive map of the city. Interviews with mayoral candidates were broadcast during morning programs in the last two weeks before the election. Calgary's 2010 municipal election had the highest voter turnout in over three decades. Fifty-three percent of eligible voters cast a ballot— a 20 percent jump from 2007. A bunch of factors contributed to the higher turnout, but CJSW's coverage also developed its own momentum and became a respected source of information during the election.
"I WAS ALWAYS A QUITTER," says Saunders as he brings up the levels on his microphone. The band is performing an ode to My Allergy to the Fans to the tune of Grease's "Beauty School Drop Out." Masters, Andy Sparacino, and Sabo Forte harmonize and diverge as they sing the farewell tune. Sparacino hits some surprisingly high notes for a burly guy with a red beard and penchant for trucker hats and flannel shirts. The song is funny, but also poignant.
"I quit that beauty school and for 14 years I just spent some time doing this radio show, but imagine all the perms that I saved the world from," says Saunders. He drops the levels on the band to talk and then raises them again. "We're going to do this for hours until you fade us out," says Masters.
The Blasters pick up extra members as more musicians stop by to bid Saunders adieu. The performance studio is packed with instruments and crisscrossing wires, but the audio quality is excellent. In 2009, CJSW expanded from a dank hodgepodge of subterranean corridors to the airy environs of MacEwan Hall's third floor. State-of-the-art equipment and bright open spaces give the station a more modern atmosphere. After moving into the new space, staff and volunteers set to work increasing the power of the broadcast signal from 4,000 to 18,000 watts, developing online podcasting, digitizing the library, and allowing listeners to text deejays in the booth.
Recently, CJSW launched Coming Up Calgary, an online event listing, including details for everything from Flames games to spoken word open mics. It's a direct response to the shuttering of FFWD Weekly, whose listings CJSW hosts relied on to discuss local events. Coming Up Calgary is an extension of the station's mandate, but it's also a new frontier—a move beyond radio. Many volunteers also create their own podcasts, some of which quickly find traction and get thousands of downloads through iTunes.
Community radio remains beset by obstacles: fundraising, developing an audience, finding resources—it goes on and on. But the medium also has remarkable potential. Community radio is proving its resilience during a paradigm shift in how we learn and communicate about the places that we live. Calgary is a much richer place to call home because a ragtag collection of 300 amateurs have access to a broadcasting signal that reaches the city limits and beyond.
"Matt Masters and Blist, everybody. You guys are my Bruce Springsteen moment, that's all I can say. Alright, gang. Signing off—My Allergy to the Fans. Blist, Matt Masters—thank you for joining me. Not enough words," Saunders' voice cracks. He hits play on his last song and The Beach Boys' "Wouldn't it be Nice" floods through thousands of speakers and eardrums across Calgary. Radio magic.
DOUG HORNER is a Calgary-based writer and editor. He earned degrees in English and philosophy from the University of Calgary, all the while hosting music programs and volunteering at CJSW. He worked at Alberta Views magazine for several years before making the leap into freelance writing. Horner holds the title (self-proclaimed) of ping pong champion of Calgary.