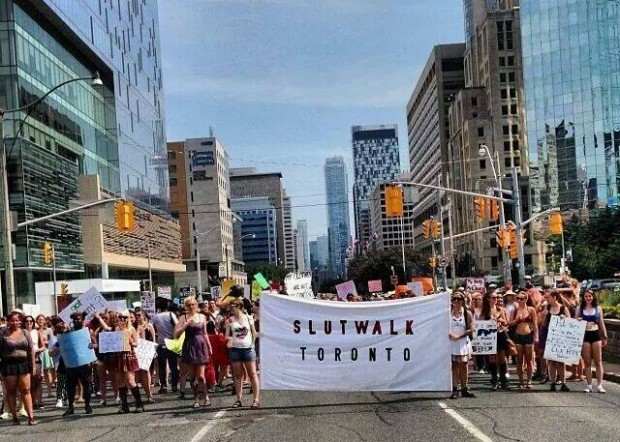 Over 1,000 people walked from Nathan Phillips Square to Queen's park this past Saturday. Some identified as feminists, some identified as sluts and others called themselves allies. SlutWalk Toronto 2014 was the third for the city since it began in 2011. Now, SlutWalk has become an annual event in 200 cities world over.
The first SlutWalk Toronto was held at Queen's Park April 3, 2011, with a few thousand participants. It began as a protest in response to what a Toronto police officer told a group of students while speaking at York Univeristy's Osgoode Hall Law School."I've been told I'm not supposed to say this," said Constable Michael Sanguinetti at the time. "However, women should avoid dressing like sluts in order not to be victimized."
Not only did he say it, he was trained not to, and did it anyway, raising questions about how Toronto police are trained to help victims of sexual violence; perhaps explaining why only six percent of sexual assaults are reported.
Today, the walk is about ending sexual violence, slut shaming and victim blaming, as well as anti-oppression, urging us to think critically about how power dynamics and privileges impact individuals, communities and larger systems.
On June 12, after participants walked chanting things like, "Yes means fuck me, no means fuck you," they settled at Queen's Park to listen to speakers like NDP MPP Cheri DiNovo who spoke about trans rights bill Toby's Act (Bill 33) and White Ribbon Campaign facilitator Jeff Perera, "Male-identified people, young men and boys, need to hear these everyday stories and experiences," he said. "Saying 'not all men' is not helpful. We need to listen and we need to reflect."
Other speakers included Maggie's Toronto coordinator Monica Forrester, "As a trans woman I've always experienced slut shaming. My body is beautiful and I'm proud," she told the crowd. Kira Andry spoke about the injustices for trans survivors in the legal system, despite the rainbow coloured triangle sticker in courtrooms shallowly proclaiming a safe space.
The Canadian Mental Health Association reports, "An Ontario-based study of trans people found that 20 pe cent had experienced physical or sexual assault due to their identity, and that 34 percent were subjected to verbal threats or harassment."
Among those who also spoke were: Blu Waters, an elder on the York University campus; GRIND Toronto founder Akio Maroon; Flo Jo, a sex worker speaking out against Bill C-36 ;and SlutWalk cofounder Heather Jarvis. Queer writer and comedian Catherine McCormick acted as MC.
The afternoon was educational in intersectional feminism and feminist issues, some that have been unresolved for decades: "Forty-four years ago I was marching here as a feminist with a sign that said 'Our bodies Our choice,'" DiNovo told those gathered. She doesn't want to be doing the same thing another 20 years from now.
Aside from the educational aspect, it was an empowering gathering of empathy and solidarity, a time when one can point at a fellow walker's sign, telling their own story of assault, and say, "Me too."
As for the name, re-appropriation of "slut" has never been necessary to support the walk. It is about throwing a word—in a world where so many hateful words against women exist in many different languages—back at those who use it like venom.
"We've started a lot of conversations surrounding sexual violence, victim-blaming and rape culture," says SlutWalk Toronto organizer Natalee Brouse. "It's now up to us to use this platform for more nuanced conversations about who is affected by sexual violence, how we as a culture and society harm rape survivors, and what we can do to change that."