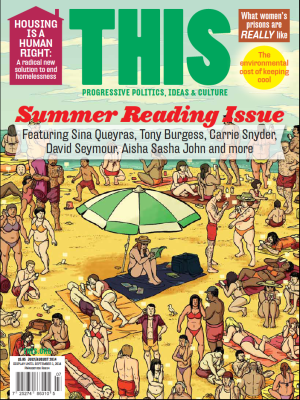 What's more summery than the smell of sunscreen, eating outdoors, nonstop construction, or a magazine's summer reading issue?! This summer, This Magazine is publishing a special literary issue with poems and fiction selected by lit editor and acclaimed (and Trillium-shortlisted) author Dani Couture (YAW, Algoma).
To celebrate, we're throwing a literary bash on Wednesday, July 16, and you're all invited. Held at Supermarket (268 Augusta Avenue) in the middle of Toronto's Kensington Market, this lit issue party will be a gathering of some of Toronto's finest writers. Dani will host short readings by Aisha Sasha John (THOU, The Shining Material), David Seymour (For Display Purposes Only), and Tony Burgess (Pontypool Changes Everything, The n-Body Problem).
We'll also hold a book-tastic raffle with prizes donated by the AGO, Aresnal Pulp Press, BookThug, Coach House, ECW Press, TOR and more. You could even win a brand-new e-reader, donated by the good people at Kobo!
Your $5 door charge includes a copy of the fabulous Summer Reading Issue!
Expect tremendous readings of new work from:
– Tony Burgess, Canada's foremost purveyor of literary horror, whose work The Walrus called 'ultra-violent horror meets absurdist humour [and] H.P. Lovecraft meets Stephen Leacock.' Best known for his Pontypool Trilogy, his latest book is The n-Body Problem (ChiZine), which looks at the terrible side effects of disposing of dead zombies.
– Aisha Sasha John, author of the impressive new collection THOU (BookThug), which contains two long, narrative poems. As Michael Nardone has noted, 'John is a poet of centrifugal energy, of reverberant intimacy.'
– David Seymour, whose last book of poetry, For Display Purposes Only (Coach House), was called 'equal parts moving and clever' by the Globe and Mail.
It promises to be a splendid summer celebration, so please join us on July 16 for some fun summer reading!