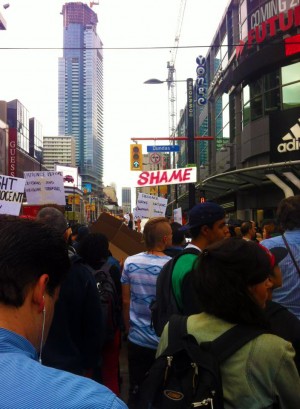 Dundas Square, at 5:10 p.m., hundreds of protesters marched, outraged. Voices crying, "Shame!" Signs questioning, "Who will protect us from our protectors?" Bodies wearing office clothes, casual clothing, work out gear. Megaphones amplify chants, drums create unison, bagpipes mourn. Minds on Sammy Yatim, the 18-year-old boy fatally shot by police last Saturday.He never made it to meet his friend at their shared apartment, and never logged on for a Skype date with another. Instead he was pronounced dead at St. Michael's Hospital."In my mind it seemed like it couldn't have been more than a couple minutes between the time when police arrived and the end of the situation," witness Jeremy Ing tells Global News.
Amateur videos posted on YouTube and security tape footage show several officers surround the front door of a streetcar, stopped at a corner, near Victoria's Spa and Rehabilitation Centre. Passerby Markus Grupp began filming just a few minutes past midnight. The shadowed figure of one officer in particular is especially chilling: his arms unwavering, gun raised and pointed at the doorway, where a person stands. They shout to drop the knife, the figure shouts back calling them pussies. "If you take one step in this direction with that foot …[inaudible] die," shouts an officer. The figure moves slightly, met with three bullets, followed seconds after by at least six more. The body falls, and is seen to be Tasered.
Const. James Forcillo, who fatally shot Yatim, is a six-year veteran from 14 Division. He has been suspended with pay. The SIU is investigating, assigning six investigators and two forensic investigators. The unit has not yet interviewed Forcillo, whose lawyer says is "devastated." As National Post columnist Christie Blatchford quotes activist Bromley Armstrong in her thoughts of the tragedy: "If I should beat my wife, you don't ask my cousins to investigate." Here, Blatchford is using these words to illustrate how police would investigate each other before the formation of the SIU. Post-SIU, however, the mistrust remains, this isn't the first time someone who needed help was killed by police instead.
Hundreds participated in the protest Monday evening. It started at Dundas Square and led to the spot Yatim was killed, Dundas West and Bellwoods Avenue. A brief and heated stop was made outside a local police station. Yatim's  mother and sister were in attendance and requested the march move forward. Later, event coordinators wrote on the Facebook page Sammy's Fight Back for Justice, "we are not here to terrorize the O.P.D that is not our mission. We are only here to fight for Sammy's Justice and hopefully have stronger laws correlated to prevent this from happening to anyone else."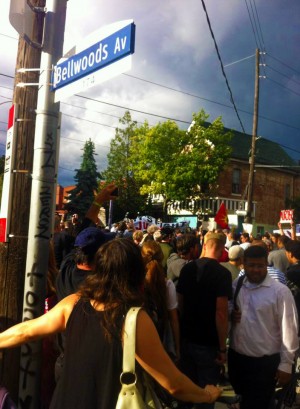 Toronto police chief Bill Blair said at a Monday press conference that he understands the public's concern, "The public also has a right to demand that the Toronto Police Service examine the conduct of its officers and to ensure that its training and procedures are both appropriate and followed. This will be done." The same day, city councillor and TTC chair Karen Stintz wrote on her website, "Speaking as an elected official, and as a parent, I was disturbed."
Witnesses reported seeing Yatim holding his penis and a knife, up to three inches long. "He did not seem mentally present," says passenger Ing. The 505 driver evacuated the streetcar's passengers, Yatim was left on alone and police were called. It was right they were called, but the officers did not do what they were trained to. According to The National Use-of-Force Framework for Police Officers in Canada, lethal force is to be used in response to "Grievous bodily harm or death." The videos show Yatim standing, moving slightly, then being shot at least nine times. He was not Tasered first, but after. There was no attempt shown at negotiating. The Toronto Star collected instances where police have disarmed people with knives, without any fatalities, or even guns being raised in some. "He was cornered on an empty streetcar," tweeted city councillor Janet Davis, who also questioned where the Mobile Crisis Intervention Team (MCIT) was. The Toronto Police website says, "As a second responder, the MCIT will answer calls, along with the primary response unit, that will ensure the client in crisis and those close to them are safe."
It isn't known for sure whether or not Yatim was suffering mentally, there wasn't a chance to find out. He wasn't given the chance. The 18-year-old recently graduated from an all-boy Catholic school, Brebeuf College School on Steeles Avenue East. He planned on studying healthcare management at George Brown College in September. He and his sister, Sarah, moved to Toronto from Aleppo, Syria five years ago. They lived with their father after their parents' divorce. His mother and extended family stayed in his home nation. Yatim's uncle, Mejad "Jim" Yatim told The Star, "Sammy used to spend the summers with his mom in Syria until the situation became so dangerous."  Canada was supposed to be safer. The bereaved uncle adds, Yatim fit in with his friends by wearing hoodies and "pants lower than his father (Nabil) would stomach." Nabil, who returned home early from a business trip after hearing the news, now says all he wants to do is bury his son.
After arguments of his pot use the teenager moved out of his father's home in June. He and friend Nathan Schifitto moved to another friend's place. Josh Ramoo and his seven-year-old son, Braden Scopie opened their doors to the teens. When Scopie talked to the Star, he told them he was sad, "He was my friend."
Yatim planned to move into his own place come September, but in the meantime renovated the room he shared with Schifitto, described by Ramoo as "a teenage dream room." He searched for a job (his last was at a McDonald's six months ago) and went with friends to help out on construction sites.
Joshua Videna was a friend of Yatim's, "He seemed a little bit different, a little bit more stressed in life." Videna says his friend would say, "I gotta get my life straight. I'm 18-years-old and pretty much not going anywhere."
Sasha Maghami says she was Yatim's best friend. When she left for a five-month trip to Australia on July 21, he asked her not to forget about him. Before she left, she says he seemed less talkative and playful.
He was a teenager.
A visitation for Yatim will be held today from 6 to 9 at Highland Funeral Home in Scarborough. His funeral will be tomorrow at 11. Facebook group Justice for Sammy invites people to attend the Toronto Police Services Board meeting Tuesday August 13 at 1:30.