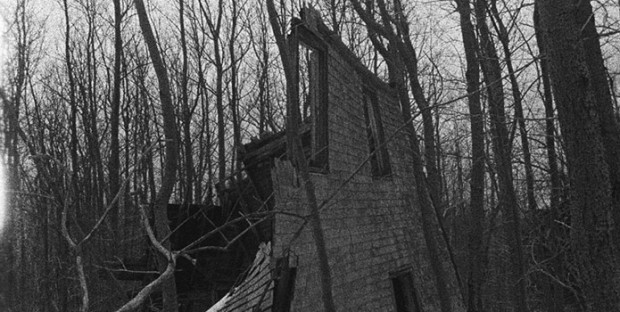 If you spend time in any of the Maritime arts communities, chances are you'll meet a back-to-the-lander. In the early 1970s, many artists, hippies and draft dodgers left the comforts of urban life to head east in search of fresh air and cheap land. I've heard amazing stories of long-haired painters trying to fit into traditional rural communities, while learning how to milk goats and grow carrots.
Most famously among the back-to-the-landers are American photographer Robert Frank and sculptor June Leaf, who since 1971 have divided their time between homes in Mabou, Cape Breton, and Manhattan. So it makes sense that Leaf and Frank (a surprise, considering his reclusive reputation) should make appearances in Jem Cohen's We Have an Anchor, a hybrid of live music performance and film that screened this week at Toronto's TIFF Lightbox.
Cohen's own East Coast obsession began over 10 years ago when he accompanied pals Fugazi to a 1998 show at Halifax's Olympic Gardens Bingo Hall (which sources tell me was amazing, and a huge deal for the city), and then travelled to Cape Breton to meet Frank. After last night's performance Cohen told the crowd how he became "increasingly mesmerized" by the island, making multiple trips to collect footage of the landscape in Super-8 and 16mm film – the grainy, raw-edged format beautifully captures the rugged terrain, more so than his high-definition shots.
That footage made up the bulk of the film, which was presented as multiple projections. A meditative, trance-like collage of ocean, treacherous highways and decaying buildings was interspersed with interviews with locals, historical facts and poetry from Cape Breton's Don Domanski and Elizabeth Bishop, another American who fell in love with Nova Scotia. Some images worked, but others were puzzling: why follow a Pepsi fountain cup as it rolls around a parking lot? Why the roadkill or the faded "Bible study" sign? Why the extended scene of a black dog gleefully running through the snow? Are dilapidated houses a sign of regional poverty or just cool to look at?
It's hard to say if Cohen just liked those images visually, or if he thought it represented something of the place. I understand why Cohen says he doesn't want to show this in Cape Breton for fear people will think he's making a definite statement about their home. In a region that is accustomed to seeing itself reflected in tourism ads with kitchen parties and lobster feasts, Cohen's art would come as something of a shock.
The real highlight of the performance was the live musical score performed by Mary Margaret O'Hara and an indie supergroup of musicians from Fugazi, Dirty Three, The Quavers, Godspeed You! Black Emperor, and Thee Silver Mt. Zion. Cohen, who has worked with R.E.M. and Elliott Smith, knows how to harness music, and the immediacy of the score with its own rough edges and crescendos, best reflected a geography that is more than just a postcard.