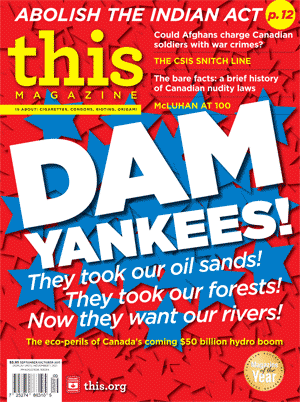 The September-October 2011 issue of This Magazine (that's it on the left there!) is now in subscribers' mailboxes (subscribers always get the magazine early, and you can too), and will be for sale on better newsstands coast-to-coast this week. Remember that you can subscribe to our RSS feed to ensure you never miss a new article going online, or follow us on Twitter or Facebook for updates and links to new articles as they're posted.
Lots more great things to read this issue, including Will Braun's cover story on the coming boom in new hydroelectric projects in Canada. Hydro providers will invest billions in new dams in the coming decade, but energy experts, environmentalists, and aboriginal groups are skeptical of hydro's green reputation—especially since much of this new electricity infrastructure is being built to satisfy the insatiable appetite of the U.S. power grid. On Marshall McLuhan's 100th birthday, David Hayes offers a short history of the iconic media theorist's rise, beginning with a curious Globe and Mail reporter's 1963 profile. And we mark the 10th anniversary of the invasion of Afghanistan with a special roundtable discussion between Amir Attaran, John Duncan, and Graeme Smith.
Plenty more, of course: Katie Hyslop introduces us to Dechinta Bush University, the culmination of the 50-year dream of a university by and for the North; Katherine Laidlaw talks to the activists who are trying to cut sky-high smoking rates in Nunavut with a new public awareness campaign; Jason Tushinski investigates the "Suspicious Incident Reporting System," a snitch line for CSIS and the RCMP that has privacy and civil rights experts concerned; Kaitlin Fontana spends eight hours watching Sun News Network so you don't have to; Daniel Wilson argues for the abolition of the Indian Act; and Jackie Wong profiles photographer Roberta Holden, whose impressionistic images of the arctic capture the changing moods of the landscape.
Plus: Paul McLaughlin interviews Canada's Nieman Journalism Fellow, David Skok; Teresa Goff on the constitutional right to a healthy environment; Joe Rayment on the rebirth of the company town; Lauren McKeon on Canada's nudity laws throughout history; Graham F. Scott on the Tories' tough-on-crime stance; Brigitte Noël on non-hormonal birth control; Heather Stilwell sends a postcard from newly independent Southern Sudan; Stephen Sharpe on origami and papercraft artist Drew Nelson; Navneet Alang on Big Brother in the age of the smartphone; Christina Palassio on Book Madam & Associates; and reviews of Kristyn Dunnion's The Dirt Chronicles, Hal Niedzviecki's Look Down, This is Where it Must Have Happened, Sam Cheuk's Love Figures, and Rebecca Rosenblum's The Big Dream.
With new fiction by Pasha Malla, and new poetry by Elena E. Johnson and Carolyn Smart.