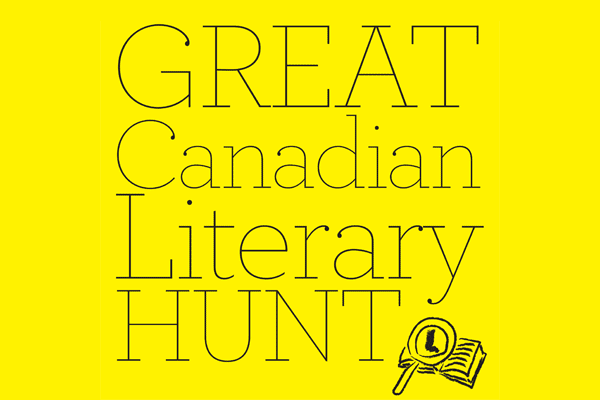 Only five days remain until the deadline of the Great Canadian Literary Hunt! If you're like me, you're intimately familiar with those scarce final minutes.
My art teacher back in the day, Cynthia Lewis, lived by the mantra: "Good art takes a long time." While there were obvious exceptions, there was never good reason to believe those hastily jotted charcoal lines would suffice. Good writing also takes a while to ripen. Here's how to best spend your remaining time.
1. Write your entry
Perhaps you already have a Word document of golden prose saved for this very occasion. In that case, please skip to step four. If you're the NaNoWriMo type, read on.
You're going to need that internally-motivating idea that keeps you up at night, begging to be scribbled somewhere, anywhere. It feels like a crush. You're also going to need externally-motivating factors. I like to write near busy people and a steady stream of coffee. Maybe your aid of choice is wine. Perhaps you can only write in the nude while listening to Bowie. Wherever your ideal environment may be, stay put until you have plenty of content on that page.
2. Edit your entry
Now walk away. Pull on some pants and leave your writing sanctuary. Talk to friends, strangers and mentors about your ideas. Drink more wine. Get lost in Value Village. Return with the will to kill your babies. By this I mean you have to be able to let go of words, sentences, even whole paragraphs (or verses, poets), that don't add to your piece. Pluck these out like weeds and be glad you're rid of them.
3. Title your entry
A title that evokes nostalgia for you could be bland for our judges, so something short and catchy might be best. Make it stand out in a crowd. Something like "Genital Lemonade" might do the trick, but make sure it pertains to the story or poem. (If you expect out judges to read about genital lemonade, it had better be great.)
4. Send us your entry
You can submit your story or poem electronically or by mail. Since the future of the mail is foggy, you might like to opt for electronic submission. Email your entry as an attachment to [email protected]. The entry fee is $25 — pay online, and we'll take care of the rest. Click here for details on how to send your entry by mail.
The final deadline — drum-roll please — is 11:59 p.m. EST on July 4. Electronic entries must arrive by that time. Mailed entries must be postmarked on or before July 4.