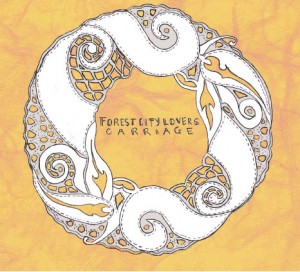 My first encounter with Kat Burns occurred ten years ago in Whitby, Ont. My family had a spare room in their basement that they were renting out and Kat Burns was a rebellious teenager in need of a roof over her head. She didn't live there long—a few months at most. We never really knew each other. I was away in Ottawa at university at the time, but we knew of each other, and she seemed like a perfectly nice, quiet girl—if a little shy.
Fast forward 10 years and Kat Burns has released a number of albums under her own name as well as her band Forest City Lovers. Their latest, Carriage, is out June 29th and the first single "Light You Up" is available right now:
The Besnard Lakes make music with atmosphere. Since 2003, the husband and wife team of Jace Lasek and Olga Goreas have been building enormous sonic landscapes that reflect a chemistry both musical and personal. Their songs are beautiful, delicate and and inspired. Here's "Albatross" off their new record The Besnard Lakes are the Roaring Night:
Finally, I'm certain I'm not introducing anyone to Broken Social Scene, Canada's most well-known indie music collective. They've been making waves in Canadian popular culture and beyond since 1994's You Forgot it in People.
So rather than introduce the band, I'd like to introduce a song. As with their previous records, it took me a few listens in order to appreciate their latest—Forgiveness Rock Record—but ultimately, it's another stunning collection of emotion, empathy, and love. What is wonderful about this band is its willingness to wear its heart on its sleeve. They're a band that truly believes in the astounding possibility of people, and there is no better example of this than the absolutely gorgeous "All to All":