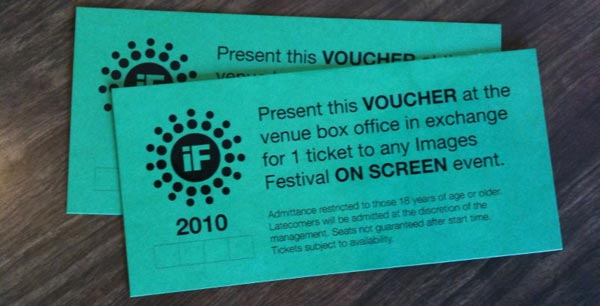 As part of our partnership with Toronto's Images Festival, we've got a week of free tickets to give away for festival screenings and other events. Every day this week we'll have a pair of tickets to give away to some lucky winner, and all you have to do to be that person is correctly answer our skill-testing question of the day. Simply leave a comment on this blog post answering the question below, and we'll select a winner at random at 5 pm. The tickets we're giving away are good for screenings and live events any time during the festival, so you can pick a time and event that suits your interest. Take a look at the full festival program on the festival's website to see what's playing.
As of the time of publishing this blog post, you'll have about three and a half hours to answer our fearsomely difficult question: What was the title of This Magazine poetry editor Stuart Ross' most recent book of short stories?
Leave your answer below and you could win!
Make sure you use either your real email address (no one will see it but us, and we won't spam you later, promise), or a Twitter or Facebook login, so that we can contact you if you win. Good luck!