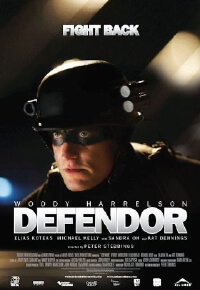 With shoe-polish smeared across his eyes, and a duct-taped "D" insignia across his chest, the simple minded Arthur Poppington(played by Woody Harrelson) transforms himself into an unconventional, but heroic vigilante: Defendor.
The film takes place in the seedy underbelly of an unnamed industrial town—in reality, a not-at-all-diguised Hamilton, Ont.—an unlikely setting for the unlikeliest of super-heroes.  But the Hammer might also be the perfect backdrop for Harrelson to defend.  Like Hamilton, Poppington is an underdog; he struggles for recognition and ultimately, is capable of much more than he's given credit for.
Unfortunately, Defendor's theatrical run will most likely be brief. It's a tough movie to classify and for that reason, a difficult film to market, so waste no time. It has all the makings of a cult classic: an unlikely hero in a funny costume, crack-smoking street-walkers, crooked police officers and, of course, depth, heart, humour, and darkness.
It's the story of a man with few options looking to inject his life with purpose and find closure to some of the tragic events that helped define him. It also follows Poppington's quest to be taken seriously by people whose main feeling for him is pity. This is what gives the film the humanity that elevates it beyond the trappings of a goofy genre film. The rest of the cast turn in equally strong performances highlighted by Canadians Elias Koteas and Sandra Oh. Koteas in particular threatens to take some of the spotlight off of Harrelson in his portrayal of the crooked cop, Chuck Dooney who Poppington's main rival in his pursuit of the villain, Captain Industry.
Ultimately it's a surprising and unique film that hits all the right marks and an amiable hit for English-language Canadian film. See Hamilton on the big screen starting today in Toronto, Vancouver and Calgary. But not in Hamilton.