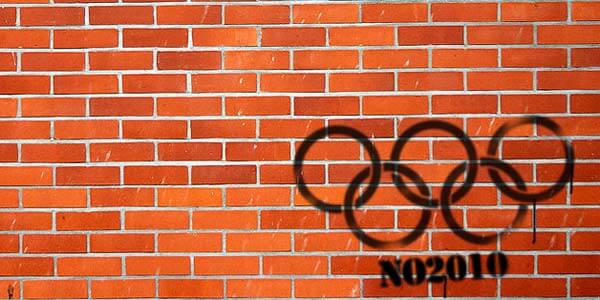 The January-February 2010 issue of This is now in subscribers' mailboxes and on newsstands coast to coast (for the first time ever, we're also being sold this issue in 30 Canadian airports — let us know if you find us on the racks in your travels!). You'll be able to read all the articles from this issue here on the website in the weeks ahead, but buying an issue from your friendly local independent bookstore is a great way to read the magazine. We also suggest subscribing to our RSS feed to ensure you never miss a new article going online, following us on Twitter or becoming a fan on Facebook for updates, new articles and other intertubes-related hijinks.
On the cover of the January-February 2010 issue is our special Olympics-related package of articles, bundled with love by Cate Simpson, Kim Hart Macneill, and Jasmine Rezaee, your complete rundown of 9.2 billion reasons to be flaming mad about the Vancouver 2010 Olympics. We've got an in-depth interview with Christopher Shaw, head of 2010 Watch, citizen watchdogs of the Games' excesses, cost overruns, and civil liberties infringements; plus our look at the issues the Olympic fiasco is exacerbating, including aboriginal land claims, creative budgeting, sponsorships, medals, police tactics, and more.
Also featured in this issue is Lisan Jutras' meditation on racism, as she examines her own biases and struggles to find a cure for her own prejudices, and finds that 12 steps may be just the beginning. And Amanda Cosco reports on Denis Rancourt, the University of Ottawa professor who tried to give all his students A+ in order to fight what he saw as an unhealthy obsession with marks and grades. Amid the controversy, there's a serious discussion underway about radically rethinking how students learn.
There's lots more, including Jason Anderson on Awards Season; Raina Delisle on B.C.'s pro-Olympic curriculum, and the parents and teachers who are fighting it; Bruce M. Hicks has a modest proposal for squaring the circle of Aboriginal government, by turning all Aboriginal lands across the country into an 11th province; Nick Taylor-Vaisey on the Canadian Forces Artist Program that embeds painters, choreographers, and writers with Canadian troops in conflict zones; Jasmine Rezaee on Canada's deadly trade in Asbestos sales to the developing world; Mariellen Ward on Slumdog Millionaire and the boom in "slum tourism" worldwide; Paul McLaughlin interviews Inuk sealskin clothing designer, lawyer, and activist Aaju Peter; and Denis Calnan reports on the opening of a new school that is transforming Sheshatshiu, the 1990s byword for troubled Innu communities.
PLUS: Brad Badelt on Biochar, Kim Hart Macneill on Canada's most shameful world records and a new graphic novel from an innovative Nova Scotia publisher; Nick Taylor-Vaisey on the problem with road salt; Chris Benjamin on midwifery; Daniel Tencer on Roman Polanski; Christopher Olson on the death of the obituary; Navneet Alang on how the mobile web is transforming urban life; Siena Anstis on a new generation of African computer hackers; Graham F. Scott on the opportunity cost of the Olympics; and your letters on our Legalize Everything package
With new poems by Jonathan Ball and Verne Good; and a new short story by Michelle Winters.