[Writer Laura Trethewey recently travelled across Canada by train, and sent us five postcards on the way, from B.C. to Northern Ontario. The "Prairie Postcard Project" chronicles that leg of her trip and the people she met along the way. Visit her blog for the whole story. Click the postcard images to enlarge.]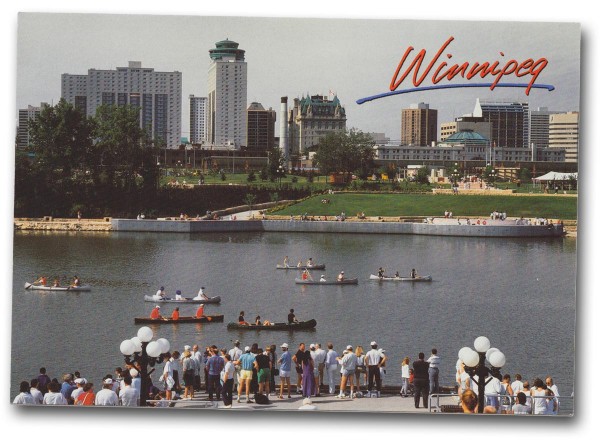 Dearest This:
It's almost a requirement that a hotelier have a certain amount of eccentricity. The owner of the first place I stay at in Winnipeg definitely does. My second night there, I hear loud voices coming from the garden. Thinking it's a gang of rowdy guests, I head back and discover the owner and a pal of his deep into a box of wine. They invite me to join in.
Both are in their 40s but have an oddly child-like appearance, the owner in particular. The corner of his mouth is stained, like a toddler who hasn't learned to drink his grape juice properly, while his thinning hair sticks out diagonally from one side of his head, like his just awoken from an afternoon nap. He has a quiet demeanour, almost like he's sizing me up, and then he gives himself over to proclamations like "women are bitches! They don't want to see each other succeed. Men do. I think it comes from playing sports."
This is followed by a huge guffaw that quickly quiets into a worried look, like he's said too much. His friend tells me later on that the owner has recently had his heart broken by a "lady friend."
-Laura T.