Our friends at Maisonneuve, the Montreal quarterly of all things eclectic and curious, recently overhauled the design of their magazine. Here's the contrast: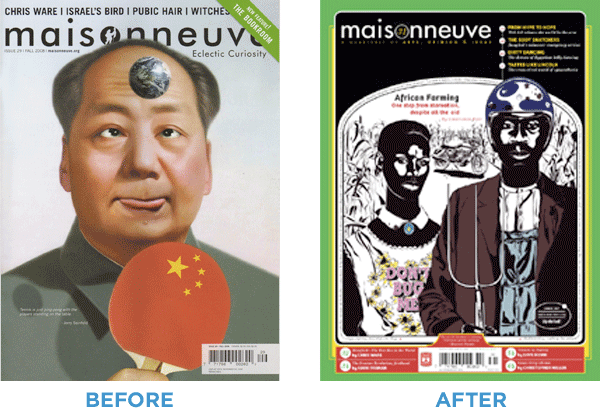 Maisonneuve has always marched to the beat of a different drummer, which is why we, and thousands of other readers, like reading it. Personally, I always liked the simplicity of the old covers, but I'm not going to dwell on the past. I'm not in love with the new cover design, but the changes inside the magazine are great. And Maisy now definitely looks unlike anything else you'll see on newsstands—almost always a plus.
So when my copy of the Summer 2009 issue arrived in my mailbox yesterday, I flipped to the letters page to see what the feedback on the new look had been. And boy, was there a letter:
Wow. That is one of the ugliest magazine covers I have ever seen. It looks like a 1978 copy of This Magazine. After reading your description of the changes it is hard to believe that so much thought could go into something so drab. Good thing I have a subscription becuase this cover would turn me off if I saw it on the stands. But the inside is as good as ever. I especially like reading writers that I don't see in other magazines.

—Scott Dobson, Toronto
Oh, SNAP. A 1978 copy of This Magazine! Which is, admittedly, not about to win any beauty contests, as you can see from the March 1978 cover above. But that was 30 years ago, and while we're still beautiful on the inside, This has also had some work done recently and we want to show it off. So: attention, Scott Dobson! Contact me (editor at thismagazine dot ca) and we'll give you a free one-year subscription to This Magazine, 2009 incarnation. Do you know Scott Dobson? Are you Scott Dobson? Let the word go forth.
UPDATE: Meet Scott Dobson!
A helpful tipster out there put us in touch with Scott, who comments below on the This Magazine of his youth, in which we find ourselves in pretty awesome company: "In chronological order the most important things to me in the 70's were Bobby Orr, Evel Knievel, Monty Python, and THIS magazine." Thanks Scott — that free subscription will be in the mail soon.