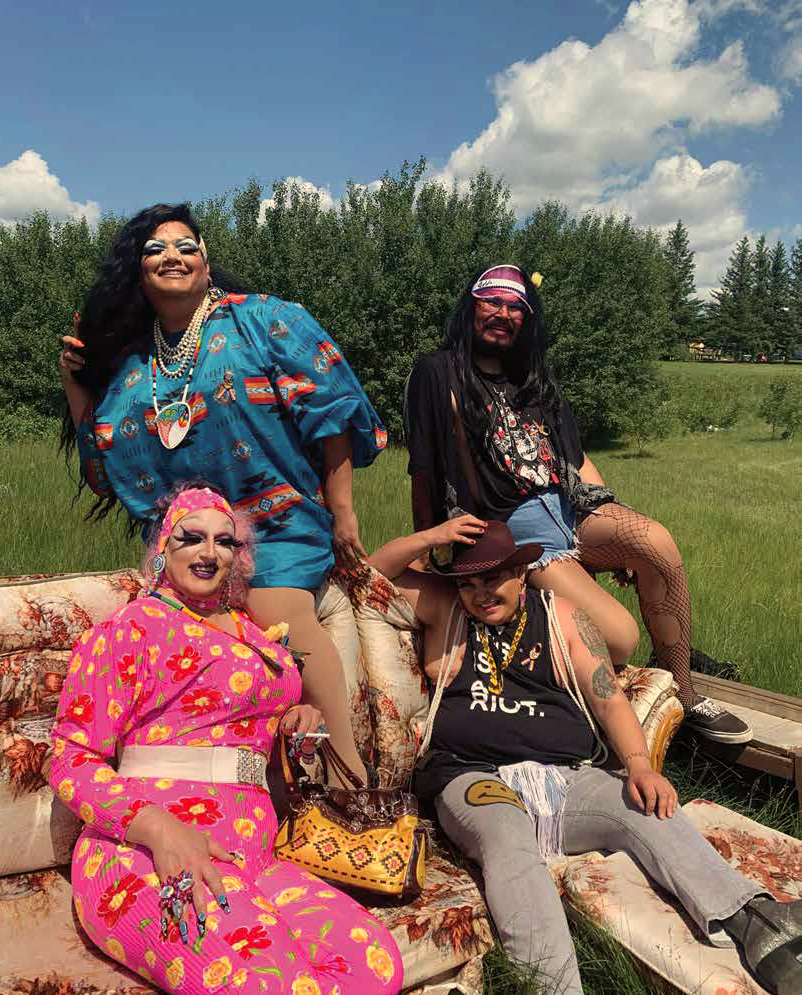 Photo by Cherilyn Brazeau
What is colonially called Winnipeg, Manitoba, in Treaty 1 territory, might not be known for its drag scene. But as home to The Bannock Babes, one of the fiercest drag collectives in the country—and one of very few Indigenous drag troupes on this side of the border—perhaps it should be.
The Bannock Babes are an eclectic group of Indigiqueer performers who joined creative forces in response to the lack of Indigenous representation at drag shows.
"In the last six or seven years there's obviously been a growth in the popularity of drag locally and internationally, but there wasn't always space made for Indigenous performers," says Bannock Babe Prairie Sky.
Working as colleagues at Sunshine House, a harm reduction-focused community resource and drop-in centre, Prairie Sky, Feather Talia, and Vida Lamour DeCosmo decided to create that space themselves by hosting a one-night-only event with an entirely Indigenous lineup. But that first show proved to be the spark that lit a larger fire. "We realized that it was something very special," says Prairie Sky.
The collective, whose core members also include Local Honey, Buffy Lo, and "resident auntie" Anita Stallion, became an artistically liberating and highly supportive drag community—one that feels like family for Indigenous performers.
"It's just people celebrating themselves and their experiences, and being honest about those in an artistic performance," says Prairie Sky. "There's just so much love and respect between us that radiates into the spaces that we get to occupy, and so I think that's our impact."
With shows that range from "very politically sombre kind of drag, to drag that's just fun and ridiculous," The Bannock Babes fuse performance with political statement. In some ways, they have no choice.
"As Indigenous queer people, our entire lives are political….We don't often get the frivolity that non-Indigenous and white artists get. Like they can be frivolous … whereas all of our stuff is always going to be interpreted as being a political act. So, we kind of run with that," says Prairie Sky. "It's all resistance and it's all survival."
For non-Indigenous audiences, Prairie Sky says, "it's just good drag. But for Indigenous audiences, it's home"—which is what the troupe is going for.
Those looking to catch a Bannock Babes show in Winnipeg can look to queer bar, Club 200, where the drag collective usually hosts spring and fall performances. The group has also performed in many high-profile shows, from the Aboriginal Peoples Television Network's APTN Indigenous Day Live to the 2-Spirit Ball in Ottawa. But it's the Friendship Centre events and small-town performances—those like the Waywayseecappo First Nation's Pride parade—that Prairie Sky feels have the greatest impact.
"I think for other people, they'd be like 'Oh, going to Dryden, Ontario, isn't that big of a deal.' But for us, it's a real big deal because, like, these are the towns and these are the places that we grew up," says Prairie Sky. "Even though I'm not from Dryden, I know what this means to a queer person, a queer Indigenous kid in those towns."