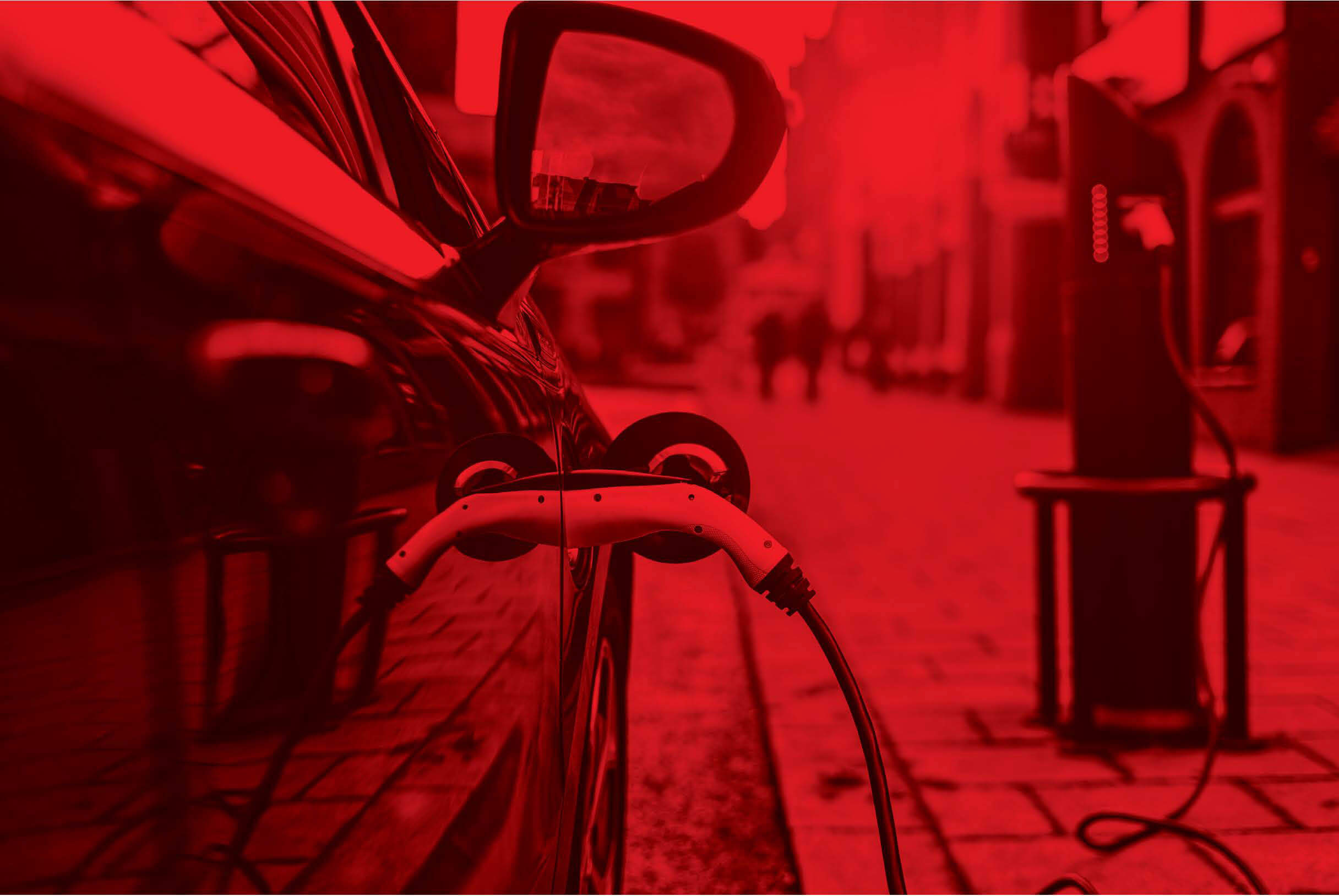 Photo by byNRQEMI; Design by Valerie Thai
Over a century since their introduction, cars dominate the streets of cities and towns across Canada to such a degree that many people feel there is no real alternative. In January 2022, Turo Canada in partnership with Léger found that 83 percent of Canadians have their own or lease a vehicle and 81 percent of vehicle owners feel it would be impossible not to. There's a reason for that: car-dependent communities are the product of decades of collaboration between industry and government.
Today, the supremacy of the automobile can feel like an immutable reality—but it wasn't always that way. In 1913, there were only about 50,000 motor vehicles on Canadian roads, but the year prior, the Canadian Highway Association had already started pushing for a national highway system. By 1919, they were starting to get their way. The government of Robert Borden passed the Canadian Highway Act that year, directing highway funding to the provinces, followed by even more during the Great Depression. Finally, in 1949, the government of Louis St. Laurent passed what became known as the Trans-Canada Highway Act to set federal standards and provide federal funding, which reached up to 90 percent on some segments. The Trans-Canada Highway was considered complete, as per the Act, in 1971.
The history of highway funding is one example of the central role that governments have played in enabling the automobile-dependent society we live in today, but it is not the only one. Over the years, federal and provincial governments expanded road networks, provided incentives for automotive manufacturing, and created the Canadian Mortgage and Housing Corporation to make mortgages more accessible to people, while setting standards that encouraged suburban development. This partnership between industry and government was mutually beneficial, but it hasn't been without consequences.
Vehicle ownership costs on average between $8,600 and $13,000 a year, according to the Canadian Automobile Association, and that was before recent inflation. Meanwhile, 1,762 people were killed by motor vehicles in 2019, and another 8,917 people were seriously injured. The environmental toll is also significant, with suburban living having a bigger carbon footprint than urban dwelling, and transportation accounting for 25 percent of national emissions in 2019, second only to the oil and gas sector. Those emissions grew by 54 percent between 1990 and 2019, in part because of the increased number of large trucks and SUVs on Canadian roads.
To address the transport sector's contribution to climate change, the Canadian government and its provincial counterparts have coalesced around a plan to accelerate the adoption of electric vehicles, with a goal of reaching 100 percent of passenger car and truck sales by 2035. To incentivize that shift, the federal government is offering rebates of up to $5,000 for the purchase of a zero-emissions vehicle, subsidies for the construction of electric vehicle chargers, and is working with industry to ensure production facilities are in place.
On its face, electrification seems universally positive since it will be essential to any transition in the transportation sector—but it also signals a lack of vision. "Automobility as a technology and as a set of desires is never fundamentally challenged," explains James Wilt, the author of Do Androids Dream of Electric Cars? Public Transit in the Age of Google, Uber, and Elon Musk. Instead, Wilt says, the government's policy assumes "all you need to do is get people out of an internal combustion engine vehicle and into an electric battery vehicle."
That is in part because of a common assumption that electric vehicles are without environmental cost since they do not produce tailpipe emissions. It can be seen in the language of "zero emissions." Yet, as Memorial University of Newfoundland (MUN) professor John Sandlos says, "To conceive of those vehicles as being 'green,' wholly green, and without cost, that would be a mistake." In most scenarios, an electric vehicle has a lower emissions footprint than one powered by gas or diesel, but that does not mean they do not have an adverse impact of their own. A greater share of their emissions are generated in the production stage rather than from their use, and their batteries account for a significant portion of that environmental cost.
As part of the federal government's push to grow electric vehicle production, it wants Canada to become a key node in the mineral supply chain for the batteries that power them. Former Minister of Innovation, Science, and Industry Navdeep Bains calls this Canada's "competitive advantage," explaining that "we are the only nation in the western hemisphere with an abundance of cobalt, graphite, lithium, and nickel, the minerals needed to make next-generation electric batteries." The 2021 federal budget was praised by the Mining Association for introducing new funding and tax incentives under the government's Mines to Mobility initiative. U.S. officials have also referred to Canada as a "51st state" for minerals after a concerted push by the Liberals for an integrated supply chain.
For government, the expansion of domestic mining is positioned as a significant economic opportunity, while "the mining industry sees that as an opportunity to portray themselves as clean and green," says Sandlos. But in order to lay the groundwork for increased extraction, the costs are being downplayed. "Part of the problem goes back to our measures of what is economic success," explains MiningWatch Canada communications and outreach coordinator Jamie Kneen. "The reason that these things look like good economic options to governments is that there are big dollars invested and high-paying jobs are created, but not that many jobs, and a lot of the real costs of mining are externalized."
According to Wilt, such a plan "is premised on the continued dispossession and underdevelopment of Indigenous nations, especially in the North." While mining can provide opportunities like high-paid jobs and training, it also comes with many consequences, and communities—be they Indigenous or non-Indigenous—are not always able to effectively assert their rights to ensure mining developments minimize the harms and deliver the promised benefits.
The government is championing its strategy, but it's still early days. Kneen explains that opposition to lithium and graphite projects in Quebec is already mounting, and most existing Canadian mining is still for minerals that wouldn't be going into batteries. That means there's time to ensure mining projects must meet a more rigorous standard. "It's a question of having much stricter and much more effective regulations in place," says Kneen, "including things like free, prior, and informed consent for Indigenous communities and processes that provide meaningful democratic engagement and that respect Indigenous authorities and their decision-making, so that people are not being asked to sacrifice beyond what's already been stolen from them."
Sandlos warns against "a Wild West rush" for battery minerals and asserts the need to learn from the mistakes made during the oil boom earlier in the 2000s. In her book Fossilized: Environmental Policy in Canada's Petro-Provinces, University of Waterloo professor Angela Carter describes that period as one in which provinces were "neglecting the environmental risks and impacts of oil extraction in their rush to capture the spoils." In her research, Carter outlines how, in seeking to capitalize on high oil prices, governments subsidized oil companies, rolled back environmental regulations, and even stifled environmental research. Those actions not only had impacts on local environments and the climate, they were also accompanied by the oil industry having greater influence over policy and growing inequality, particularly in the provinces where that extraction was taking place.
As we look forward to a potential mining boom driven by electric vehicles, an environmental assessment process that gives people real power over resource developments could be one way to avoid a similar fate. "If there are communities near a mining development, those communities should be involved in the planning," Sandlos explains, "especially if this mining is happening in the proximity of Indigenous communities which have particular rights to land, and culturally I think they would say they have certain obligations to the land as well." In his view, that process could require companies to sign agreements that create community-controlled oversight bodies to audit the mines.
Each of these projects should also have to do a full accounting of their costs, says Arn Keeling, an MUN professor and collaborator with Sandlos on the Toxic Legacies Project. "If we're going to talk about electrification, what's the true cost?" he asks. "Well, the true cost means paying every dime" of the social, environmental, and infrastructural costs, not being distracted by "promises of windfall profits that usually get privatized anyway." There will be opposition to higher standards for mining projects, but they are essential to responsible development. "The neoliberal way of thinking about this is to see all this as red tape," says Sandlos, but "it's the way of imposing a land ethic on doing this kind of development and being willing to put the brakes on developments that don't make sense."
Beyond ensuring mining is done in a more responsible way, the government's transport policy needs a broader rethink. "The first of the three Rs is reduce," says Kneen. "Reducing demand through efficiency and technology is great, but we also need to look at the structures of the way we do things." The suburban, auto-oriented communities we have today are the product of decades of government policy that encouraged us to live that way, and a transport policy that meets the scale of the climate crisis requires a similar level of ambition. "I wouldn't want to see electric vehicles become an excuse for more suburban development," says Sandlos.
As an alternative to requiring most Canadians to buy electric vehicles, Wilt argues for a "radical decommodification of transportation" where governments prioritize policies and investments that encourage people to ditch their cars—whether gas, diesel, or electric—in favour of taking public transit, riding a bicycle, or walking where it's feasible. In practice, that means directing significantly more funding to expand transit systems and cycling infrastructure in urban, suburban, and even rural communities across the country. It also requires federal and provincial governments to not just pay the capital costs of buying new buses or building new subway lines, but subsidize the daily operating costs usually shouldered by cash-strapped municipal governments.
Finding success with such a transport policy requires thinking about the broader community too, in the same way the automobile incentivized suburbanization. "All levels of government are focused on profit opportunities for shareholders," explains Kneen, "and it's not a policy that's really responding to people's needs." Instead, Wilt argues such a shift "requires densification and socialization of housing" to ensure investments in transit, cycling, and pedestrian infrastructure don't just serve to further gentrify cities with new condo developments and prices that many people can't afford. "It really does revolve around understanding mobility as a fundamental right and responsibility for all of us to collectively share," he says.
The government is embarking on a project that continues to centre automobiles, while requiring a significant increase in resource extraction at home and abroad—extraction that will have consequences for communities and local environments. It's a policy that doesn't fundamentally challenge the status quo, other than swapping internal combustion engines for batteries, even as our reliance on automobiles has created inequities and harms that this transition offers us the chance to address. The transition away from fossil fuels will require minerals, but the amount depends on the path we ultimately pursue—and one that reorients mobility toward public transit is far less resource-intensive than one where many Canadians continue to rely on automobiles.
As Wilt puts it, "The question is not so much whether the policy can or will be effective, it's more, 'Is this the future that we want?'" We have a rare opportunity to think seriously about how we want to live in the century to come. It would be a shame to let mining and automotive companies make that decision for us.