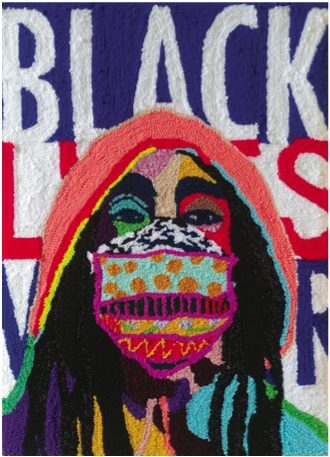 Simone Elizabeth Saunders' work is remarkable. She uses tufting—a traditional rug-making technique—to bring fabric to life by mixing fibres, colour, and portraiture. The Calgary-based artist creates scaled-up artwork averaging 70 inches squared, equipped with what is called a tufting gun, which is an automatic hand-held device. "It is such a beautiful process to have this tool that feels so powerful to hold and use," says Saunders. For the viewer, that power is felt when witnessing the intricate technique in action, the noticeable subject matter and the lively result.
Saunders began her artistic career in theatre. An interest for set and surface design led her to pursue a degree at the Alberta University of the Arts, where she majored in fibres and graduated last spring. However, tufting, which requires a specific skill set, is something the prolific artist taught herself a little over a year ago. To begin the creation, a cloth is stretched onto a frame so the yarn can pierce the fabric. "I describe it as painting with thread," explains Saunders. "I use a lot of play, I like to approach the loom with whatever mood I'm in, and that informs what pattern and colour I choose."
The fibres artist is intentional with the representation her pieces offer. Blackness is depicted in its complexity and diversity, through the vibrant hues and intricate patterns assembled into faces, bodies, and backgrounds. "Portraiture spans back to a sense of dramatism and storytelling," Saunders says. "I'm stepping into a role and thinking about this woman or person, what life they are inhabiting, the emotions they are going through." While inhabiting these characters, the artist also examines the intersection of race and gender. "I am diving into my Black history and creating strong narratives of Black womanhood and Black excellence," she highlights.
These artworks are the result of a labour of love. Each piece takes 200 hours to complete from start to finish; the process is tedious and lengthy. While Saunders is currently a one-woman operation, she is gearing up for her first solo show in New York, to be revealed in 2021. "It's exciting since I'm still a beginner," she mentions. "There is still a lot of growth for me as an artist using my gun."