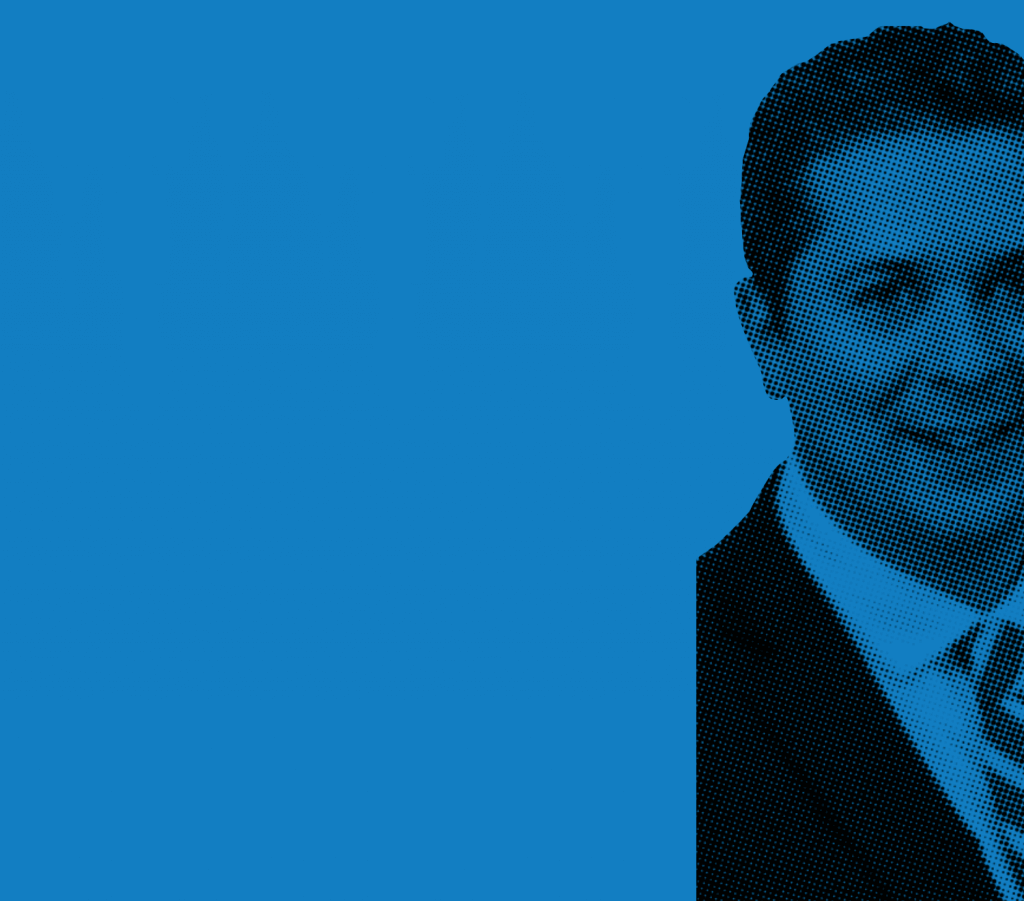 As the results of the 13th ballot of the Conservative Party of Canada's leadership race were read on May 27, 2017, Maxime Bernier faced the podium stoically, waiting to hear his name called. The Quebec MP was a longtime frontrunner in the race, and as ballots rolled in that afternoon, his chances of becoming the Leader of the Opposition were high. His opponent, Andrew Scheer, sat across the aisle. Then, the announcer began: "And the next leader, of the Conservative Party of Canada, with 51 percent of the vote…" There was a dramatic pause. Scheer responded with a pursed oooh, looking toward his wife. Bernier continued to stare forward, blinking, his face resolute.
The second announcer continued. "Le prochain chef, Andrew Scheer." A smiling Scheer embraced his wife. Bernier smiled. He had found himself the Hillary Clinton of the CPC—losing to the young upstart. At 38, Scheer was named the new leader of the Conservative Party of Canada—a job previously filled for more than a decade by the impervious Stephen Harper.
But when the results came in that evening, I thought to myself: Who the f&%$ is Andrew Scheer?
I'm not the only one asking this question. As a host of Canadaland's politics podcast "Commons," I stood with a recorder and camera alongside my producer in Toronto's Eaton Centre just two weeks earlier in an attempt to ask questions about the upcoming leadership race. Those who stopped were largely unaware of who the candidates were, let alone what they stood for. Not a single person who stopped mentioned Scheer when asked to name potential candidates.
Scheer was the dark horse, or rather, chubby-cheeked dappled pony who rose out of the ashes of Kevin O'Leary's withdrawal to win the derby. Midway through the race, Scheer was so far off the radar that This's own December 2016 roundup of frontrunners failed to include him.
There were signs of change in the spring, by which Scheer had asserted a spot as a third-place option behind O'Leary and Bernier, albeit a more distant one. Polls repeatedly put Scheer in this position, with a March 8 Mainstreet poll slotting O'Leary and Bernier in the lead and Scheer trailing by more than 10 percent. A week later, The Hill Times, an independent politics and government newsweekly, listed Bernier, O'Leary, and Scheer as the top contenders, noting them as the first and second choices of several conservative insiders. Scheer, it appeared, was the "next best option" for many. In April 2017, the Winnipeg Free Press noted that Scheer had the support of several MPs but was lagging support from where it counted: from the party members who would be voting. But by the vote in May, Scheer had a clear path to victory. In the first round, the smiling candidate had 21.82 percent support on the first ballot—just seven points away from Bernier. Scheer edged past him on the 13th round by a mere 1.9 percent—despite being the first choice of fewer people in the ranked ballot system.
The youngest of the leadership candidates, Scheer and his ascension to the position of CPC top dog seems rather unremarkable when compared to the path of his predecessor. Like Harper, Scheer held no cabinet positions prior to his election as party leader (though he served much longer than Harper did before he became party leader). But while Harper had been lauded as a prominent player during his time as part of the Reform Party, Scheer has remained under the radar as Speaker of the House of Commons. It's a role he has held since 2011, focusing on presiding over debates rather than participating in them, unable to vote unless there was a tie that needed breaking.
By all accounts, Scheer is the quintessential aw-shucks white guy—a church-going family man well-liked by the members of his party. He smiles all the time. He's a safe choice for the Conservatives; he's not going to post red pill memes on Twitter, like Bernier, or take selfies with joggers, like Justin Trudeau. Instead, he's going to show up in a blue plaid shirt and a cowboy hat at the Harvest Hills Alliance Church pancake breakfast. His working-class, son-of-a-deacon background will surely be used as a foil to Trudeau's perfectly coifed, Vogue magazine-appearing, son-of-a-prime-minister elitism.
Going into the race, the CPC wanted to be armed and ready for a fight. But it's not clear what kind of a fighter the Conservatives have served up in the blue-eyed boy from Regina. Certainly, he doesn't appear to possess any new weaponry, nothing we haven't seen before in a more strident form in Harper—the same man who was voted out of power on the promise of the cleansing tide of Trudeau's sunny ways and change. Scheer seems like weaker sauce, a mild-flavoured alfredo holding the pale noodles of the various CPC factions together. And it's not clear that this sauce—this "Harper with a smile"—is the right choice for what lies ahead.
***
Originally from Ottawa, Scheer was first elected to public office as an MP in the riding of Regina-Qu'Appelle, Sask., in 2004. He was just 25, having moved there only two years before. He narrowly defeated longstanding NDP MP Lorne Nystrom in an election that saw the NDP routed, winning 19 seats nationally but losing all seats in Saskatchewan. Scheer was not well known, though he was involved in politics as a teenager volunteering for the Reform party. In 2006, Scheer was appointed one of three Deputy Speakers. Five years later, he won the election for Speaker of the House of Commons; he was the youngest person to ever hold the position. By 2015, he was appointed Opposition House Leader, a role he held until he threw his hat into the Conservative leadership race.
Throughout his campaign, Scheer positioned himself as a consensus candidate focused on the issues uniting conservatives. But his policies were curt and underdeveloped: The plan for ISIS was to "ensure we are doing all we can," and the budget would be balanced by "reduc[ing] spending across government and focus[ing] on making sure money is spent more efficiently." Still, the tagline on his site read, "Andrew will unify Conservatives to defeat Trudeau in 2019."
And Scheer has plenty of people to unite. There are the populist Kellie Leitch fans, a small but loud and grumbling far-right faction. The social conservatives, such as Brad Trost and Pierre Lemieux, want to push religious right social policies. The libertarians, and the centrist Red Tories, are still kicking. But for all his talk about unifying, it's unclear what Scheer will choose to unify his party around. He has yet to define "conservative values." When he speaks of bringing all conservatives under a "big party tent," what will that tent hold?
Right now, it is even hard for the average Canadian to know what Scheer stands for. At the time of publication, his website is completely devoid of any content other than a "thank-you" and a link to the CPC fundraising page, his 26 policy positions previously outlined wiped. Of those positions, he seems only to parrot the anti-Trudeau sentiment of former interim leader Rona Ambrose and the ideas of his mentor: a focus on taxation and savings, like home energy; an emphasis on forestry, gas, and oil; scrapping the Carbon Tax; a balanced budget in two years; and some focus on the family views of the future. Conservatives are generally united on these basic fiscal and economic policies, and Scheer's rallying call around these "consensus ideas" is a safe bet as new leader.
It seems clear that Scheer will stay far away from hot-button social conservative topics, despite his clear social conservative voting record. A practising Roman Catholic and son of a deacon, he voted and spoke out against same-sex marriage and personally opposes abortion in 2005. Later, in 2016, he voted against adding gender identity and gender expression to the Human Rights Act and Criminal Code. But Scheer manages to do an awkward jig around these topics. Shortly after announcing his leadership campaign, he appeared on CBC's Power & Politics; when asked whether he would promote and defend same-sex marriage, Scheer danced around the question like the artful dodger, responding that it was "the law of the land." When asked directly if he supported it, Scheer stuttered and stammered some nonsensical words before admitting that he had his own personal beliefs and faith background. He reluctantly added that to build a national, viable coalition, he wouldn't revisit the debate.
Fiscal policies, meanwhile, weren't enough for Harper to win another majority and weather crises related to social issues. Harper's fight against the wearing of niqab to citizenship ceremonies, for instance, backfired in his 2015 campaign. And it's hard to think that Scheer can or will avoid social issues and debates of morality when many of the candidates for the Conservative leadership made it a race about these very issues. His closeness with far-right publication the Rebel, Ezra Levant's merry band of bandits—a site that Scheer has granted several interviews to—is troubling. His comments on withholding funding from universities that don't foster a climate of "free speech," a hot button social issue, directly contradicts that principle.
Instead of dwelling on these social positions, Scheer has tried focusing on positivity. "I've always thought that it's much more effective for all kinds of Conservatives—but especially social conservatives—to talk about the things that we're for in a much more positive way," he told Christian outlet Lighthouse News in May. But if party unity is channelled into a single-minded focus on defeating and attacking Trudeau, this positivity may go out the window.
Scheer's social issues polka will present a major challenge in his search for unity—and for a long-term vision for the party. As our populace ages, the "old-stock Canadians" who vote Tory are being replaced with a younger, more diverse, left-leaning populace who care about these issues. To have any sense of longevity, the Conservative party must grow to come up with fresh ideas that appeal to a range of Canadians, and in particular, younger demographics. Because the youth are coming: While voters in the 65-74 age bracket had the highest participation rate in the 2015 election, voter turnout in the 18-24 age bracket increased by 18.3 percentage points, and those 25-34 increased by 12.3 percent. These Canadians and newcomers to our country face a set of different problems from the bread and butter of the old Conservative base. The election of the Liberal party in 2015 showed that the Harper ways couldn't stand up to Trudeau's promise of change. It is the Conservatives, not the Liberals, who are painted as out of touch, despite what the CPC press releases may say.
In choosing Scheer, a renewal seems difficult. A social conservative policy focus would be a bad strategy, out of touch with most Canadians. The people—at the very least, the young people poised to inherit the nation—want change. The Conservatives had an ever-so-slight glimmer of hope during this year's leadership race, in the fresher ideas of a Bernier or Michael Chong; ideas that sounded different from the party of old and might have appealed to a broader swath of Canadians with a move toward a fiscally conservative, socially liberal small-c conservatism. But with Scheer, staying the Harper course does not look like the reinvigoration that they desperately need.