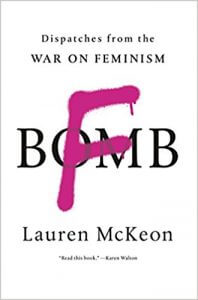 The day before the 2017 March for Life, anti-abortion activists took over the hulking Renaissance Washington, D.C. Downtown Hotel. After lunch, I joined about fifty activists, lawyers, law students, and others for the adjacent Law of Life Summit, designed to advance the anti-abortion movement through putting forward more antiabortion legislation, attacking Planned Parenthood as a (supposedly) criminal organization, and encouraging more lawyers, prosecutors, and judges to embrace the mission. Besides a handful of nuns in habits and one or two priests, the staid crowd looked like what it was: a room full of affluent lawyers. Before Royce Hood, founder of the summit and a not-so-long-ago graduate of the Catholic-run Ave Maria School of Law, stepped onto the podium, the crowd milled around the coffee stations hemming the room, treading across the chocolate- and mocha-coloured geometrical carpet to pump hands and clap backs. The men favoured well-cut suits and Archie-style hair, while the women wore smart blazers, tasteful jewelry, and sleeveless work dresses. From what I could see, the only exceptions to this seemed to be two young women: one in a green shirt carrying a magenta sign that read "Conceived from rape/I love my life" and another in a leather motorcycle-style jacket who wore her electric violet hair in a deep side part.
The latter woman, Destiny Herndon-De La Rosa, founder of New Wave Feminists (slogan: "Badass. Prolife. Feminists."), was on stage. As part of a panel featuring "young leaders," she sat with two other women. One was Alexandra Swoyer, another Ave Maria graduate and a Washington Times journalist who covered the presidential campaign for Breitbart. The other was Alison Howard, the director of alliance relations at Alliance Defending Freedom. Each had their cell phone out, fingers swiping and connecting. Moments earlier, by way of introduction, the moderator, Jill Stanek, the national campaign chair of the Susan B. Anthony List, crowed, "I have surmised that you all know that we won, right?" She went on to say that the anti-abortion movement must prepare for "the most evil tricks that we can't even possibly imagine" and called feminists "perennial losers." She cheered what she deemed feminism's "generational in-fighting" and its "reluctance to pass the torch"—stoking the divisiveness within the movement. "My observation of the pro-life movement is exactly the opposite. We first demonstrate the love of our young people before they were even born," she said, emphatically if not grammatically. She was so proud of the women on stage, she beamed. "These women are so precious."
Herndon-De La Rosa had recently catapulted onto the national stage after New Wave Feminists applied to become a partner at the Women's March on Washington and was, to her great initial surprise, accepted, and then, swiftly and much less to her surprise, rejected. The march pointed to its pro–abortion rights stance as the reason for its rescinded partnership, but Herndon-De La Rosa "invaded" the totally public march anyway (the audience applauded wildly at this, as if she'd infiltrated the Gestapo) and welcomed the publicity boost the controversy created. She went on to say there were no hard feelings and joked that she "needed to send them a fruit basket, because this is the best thing that's ever happened." I'm not sure what she said after that because the room erupted in laughter and clapping, drowning her out. A few minutes later, she won the room again when Stanek asked the panelists how they saw the movement's future. "The future is pro-life female," answered Herndon-De La Rosa, riffing off a popular feminist T-shirt with a similar slogan. She added that it was important for anti-abortion advocates to promote the pro-women narrative. "We're not trying to control women or take over their bodies—that's not it at all," she told the crowd. "We believe that you should have control over your body from the moment it first exists."
Yikes.
Moments later, after the panel ended, the audience voted to skip their washroom break—they were too engaged to stop. Hood, who emceed the conference, his face permanently pink with excitement, encouraged attendees to step out if they needed to, directing them to the men's room. "There are restrooms," he added, hesitating, before jovially breaking off to responding laughter and shouts of "good for you!" as he confessed, "I don't know where the women's room is." A few minutes after that, the audience broke into another round of rowdy, gleeful laughter when John-Henry Weston, editor-in-chief of the website LifeSite: Life, Family & Culture News, jumped up on stage, holding his laptop, voice hiccupping in excitement as he interrupted Hood.
---
"Outside the conference room, teenage girls clumped together. The youth rally had ended at the same time. I was surprised to see how many of them carried signs that read 'True feminists protect human life.'"
---
"Breaking news! President Trump just did it again," he cried, emphasizing "again" with Shakespearian drama. "He once AGAIN called out the mainstream media for not coming to cover the March for Life." Giddy noises rippled through the crowd. "He's like our best advertisement tool right now." Westen broke off into giggles that were answered with more laughter and riotous clapping. "President Trump is also confirming—officially, sort of—that Mike Pence is going to show up tomorrow." At this, the audience lost composure, filling the room with shouts of "Wow!" He continued quoting Trump, and the audience continued mirroring his excitement, hollering victory.
What a fun crowd!
The blending of traditional conservatism and new feminism made for a strange but effective mix. In one breath, we got speakers who asserted things like "mom's the real issue"—referring to the presumed superiority of the traditional family structure and the sanctity of motherhood—and, in the next, other speakers praised feminism and lamented what they saw as a you-can't-sit-with-us mentality in the movement. Both, however, preached a brand of pro-women activism rooted in restriction, no matter how often it employed "dank memes," risqué language, or Urban Outfitters–style (ahem, sorry, Pro-Life Outfitters) "All Lives Matter" shirts shilled on tattooed bodies. While it's beyond my purview to define someone's feminism for them, the more I became exposed to the Anti-Abortion Movement Dictionary's meaning of feminism, the more I became convinced it wasn't as advertised: a sort of modern feminism-for-everybody with a "pro-life" twist. Take one of New Wave Feminism's memes, for example, a funky pink text on a black, distressed background: "We reject the failed feminism of victimhood and violence, for ourselves and for our unborn children." In the corresponding Instagram caption, Herndon-De La Rosa added, "The fauxminists can have #victimhood if they want it. Real #feminism is beyond that."
Well, now, doesn't that sound familiar?
Outside the conference room, teenage girls clumped together. The youth rally had ended at the same time. I was surprised to see how many of them carried signs that read "True feminists protect human life." (The signs were hot pink, of course, a shade so ubiquitous that day it might as well have been the event's official color.) At the bottom of the sign, a pink banner highlighted the Guiding Star Project, accompanied by #NEWfeminism.
Curious about what, exactly, new feminism was, I hunted down the organization's booth at the nearby trade show, where teenage girls carrying the signs were even more abundant. I scanned through a pamphlet at the booth, which was bordered by still more young girls, trying to master my poker face. "'Old feminism,'" read the pamphlet, "is based on the idea that men and women are interchangeable and that women have been unfairly held back from achieving their potential in society because of their role as mothers in the home." (Oh, geez.) "New Feminism," the pamphlet explained, "views femininity through a lens of hope and joy. We honour the unique feminine genius—the way women think, perceive, and love as women—and celebrate that these strengths are compatible with the strengths of others. We know that true feminine success is measured by a woman's love of others" [italics theirs]. Sure, fine, but I had just one question: by what bar is true masculine success measured? The pamphlet didn't say, but I'd seen enough that day to guess.
I wandered through the trade show, checking out the other feminist-branded booths. For all their dismissal of "old" feminism, these groups tended to promote a feminism that was—well—musty, like first-wave, nearly-a century-gone, make-sure-you-have-mothballs-handy-because-it's-so-old kind of old feminism. Non-profit Life Matters Journal, a publication of Rehumanize International, an organization that describes itself as "a non-partisan, non-sectarian/secular group dedicated to the cause of life," displayed a giant mint-and-pink standing banner that asked, in lettering reminiscent of both tattoos and Pinterest, "Can you be Pro-Life and Feminist?" On it, they'd given Rosie the Riveter a makeover, rendering her face blank except for a piece of tape over her mouth that read "life," a nod to the Silent Siege project, which calls its tactics a "divine strategy from the Lord"—a strange choice for a supposedly secular group. As the banner pointed out, early feminists, including Alice Paul, who spearheaded the battle for women's right to vote in the U.S., and Dr. Elizabeth Blackwell, the first woman to receive a medical degree in the U.S., largely protested abortion, at least in public. Still, as much as we owe a debt to these women, I'm not about to grab a petticoat and try to be them. I might picture myself standing on their shoulders, but it's not in a straight and unwavering line. Rather, it's an inverted pyramid that allows for pluralities and expansion, a rejection of this idea that it's good to go backward.
Excerpted from F-Bomb: Dispatches from the War on Feminism copyright © 2017 by Lauren McKeon. Reprinted by permission of Goose Lane Editions.