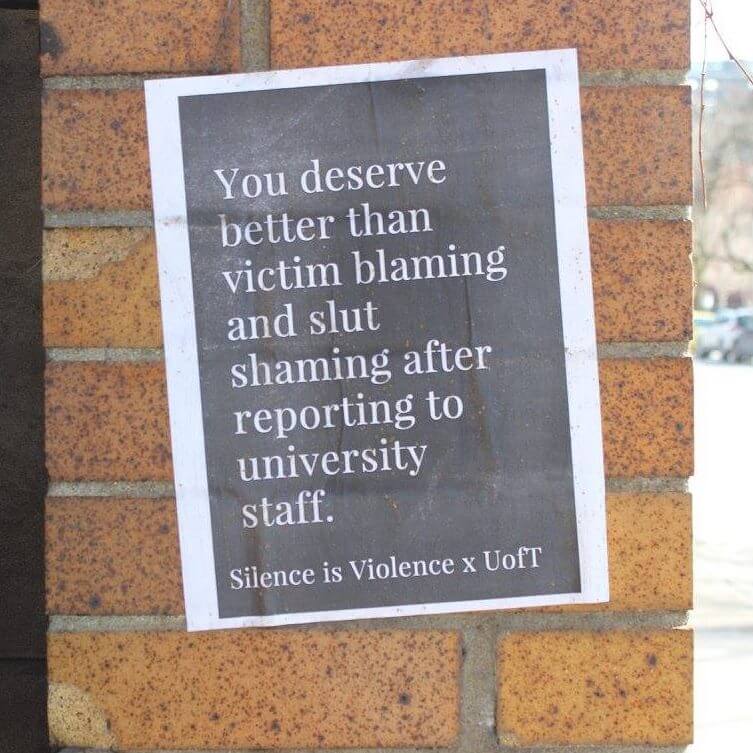 Tamsyn Riddle was excited to start her university courses in 2015. At the University of Toronto, where she majors in diaspora and transnational studies and minors in equity studies and political science, her academic successes would be appreciated in a way that they weren't at her Peterborough high school. Plus, she could be a part of Trinity College's elite culture, where many students dream of someday becoming prime minister.
But that excitement quickly dissipated in her first year, when Riddle says she was raped by a fellow freshman student at a quad party hosted by the college. She reported the incident to the school, having faith they would help her. Instead, the school spent more than a year on an investigation that let her accused assailant walk free.
Now, Riddle is trying to enact change. On April 4, 2017, she filed a human rights complaint against the school. The complaint outlines "[discrimination] against Ms. Riddle based on sex by failing to properly investigate and remedy the assault that she experienced and by failing to provide Ms. Riddle with a safe, discrimination-free learning environment."
Riddle made her complaint public, sharing it at the Silence is Violence press conference "Survivors Speak Back: Confronting Sexual Assault at the University of Toronto" this April. There, she told media that she loved Trinity College and the University of Toronto, and it was hard for her to believe that the school loved her back as a survivor of sexual violence.
Riddle filed the complaint after the school took 16 months to finish an investigation into her and another student's sexual assault allegations against a first-year male student. "The human rights complaint is for me, but it is also about changing the institution," Riddle says.
U of T has not commented on Riddle's case specifically in the media. "We can't comment on the specifics of individual cases," University of Toronto director of media relations Althea Blackburn-Evans told This.
In spring 2015, when Riddle says she was assaulted, she told a friend. Her friend knew someone who said she was assaulted months earlier by the same man. Riddle and the other woman reported their cases to school officials together. Riddle then heard her options. She could report the case to police, but there could be potential drawbacks, such as retaliation by her assailant or disappointment in police actions. Riddle was already aware about institutional rape culture and victim blaming in the state's justice system and was not planning on reporting to the police before these comments.
Instead, Riddle decided to proceed with a hearing through the university. In a hearing, a school administrator decides what the process will look like and what evidence will be admitted. Because Riddle would be considered a witness to an alleged crime, she would not get a lawyer—but her alleged assailant would, and she could be cross-examined. In January 2016, Riddle received correspondence from the school that they were proceeding with a hearing. She tried to prepare for a hearing mentally and emotionally, educating herself on policy. But she says it was hard for her to keep focus on her studies with such uncertainty around her.
As per the university policy at the time, interim measures would be in place for a year: The accused could not lead any school clubs, join any Trinity College clubs (though any outside of the college were considered fair game), live on residence, take the same classes as Riddle, or eat in the dining hall. He also had to see a counsellor. Despite these measures she still saw him around campus.
After months of waiting, the hearing never came. On August 29, 2016, Riddle was informed that the university had settled the case with her alleged assailant and his lawyer. The resolutions the two sides had come to were deemed confidential.
Over the summer of 2016, while the school was dodging her calls, Riddle joined the University of Toronto chapter of Silence is Violence (SiV). The survivor-led group, according to its official site, "aims to radically alter the culture of institutional violence on university campuses across Canada." Members of the group—Jassie Justice, Mira El Hussein, and U of T chapter founder Ellie Ade Kur—sat with Riddle when she announced that she was filing a human rights complaint. It was the first time Riddle says she found a sense of community on the campus since her assault.
In January 2017 universities and colleges legally had to make changes in accordance with Bill 132, Ontario's Sexual Violence and Harassment Action Plan Act. The bill states that with student input every college and university must have a sexual violence policy that sets a process for how the school will respond to such incidents and complaints. But U of T's policy—along with the policies of other schools—has been criticized as confusing. Riddle describes the language used in the 13-page document as vague. "If you are reading through it as a survivor, you would get tired," she says.
The school, however, says students were part of the process to create the document. "I can tell you that we've been consulting with our community—including our students—very broadly over the last couple of years to develop our new sexual violence policy," Blackburn-Evans told This.
Riddle's recommendations in her human rights complaint are clear: She wants improved communication, timelines on action, automatically giving academic survivors counselling and help, and legal counsel for sexual assault survivors. "I'm looking for the university to start seriously addressing sexual violence," Riddle said after announcing her filed complaint, "in a way that shows that it sees itself as being accountable to survivors at this institution."