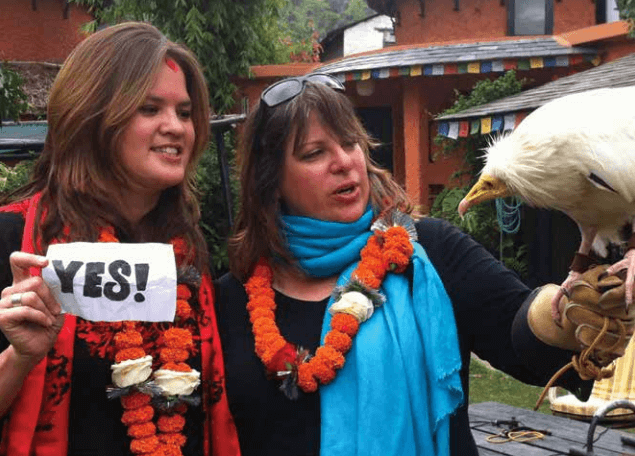 Alexandra Shimo, left, and Lia Grimanis. Photo courtesy of Lia Grimanis
Uncommon rain and no wind in April 2014 in the mountains of Pokhara, Nepal, nearly halted Lia Grimanis' elaborate wedding proposal to award-winning author, Alexandra Shimo. After planning the para-hawking proposal (a combination of paragliding and falconry) for three-and-a-half years, Grimanis couldn't back out now. She took advantage of a short clearing in the weather and plunged off a mountain with Shimo. But the falcon tore off the paper message meant for Shimo tied to its ankle reading: "Say yes." Then the walkie-talkie malfunctioned.
"I just started screaming to Alex, 'We've been together over three years….' And Alex yelled, 'What?'" Grimanis laughs. "Luckily, she understood 'Will you marry me?'"
The extreme gesture is typical of Grimanis, who holds two Guinness World Records for being the first woman to pull a tractor-trailer 100 feet in high heels. Grimanis uses these feats to remind female survivors of violence, homelessness, and poverty that they are stronger than they think.
As a teenager, Grimanis fled a violent home, lost her virginity to rape, and dropped out of high school. Driven by a promise she made on a shelter bed to give back to other women in need, Grimanis has clawed her way out of homelessness and, for the last 25 years, has helped other women do the same. "Nobody ever came back to help me and said, 'Look at me, I'm a doctor, lawyer, astrophysicist after being homeless.' I needed to be that story," says Grimanis.
She landed a corporate IT sales jobs she was under-qualified for by being the most enthusiastic, well-researched candidate. By 2006, she had saved enough to invest $50,000 to found Up With Women, an organization dedicated to providing formerly homeless and at-risk women and children with strategic leadership, career, and business development services, and mentoring for youth. Shortly after meeting Shimo in 2011, Grimanis left the corporate world to focus on Up With Women.
Both women work at reframing their negative experiences and are fiercely committed to social justice. Shimo, who is of Caucasian and Japanese descent, lived with her mother in a run-down home in North London with no immediate family nearby, no heat, phone, or hot water. The house was eventually condemned, and they moved into social housing with her mother's emotionally manipulative boyfriend.
"Each night, [my mother] came home from whatever job she had and cried," Shimo recalls. "Sometimes we would pack up our suitcases and get ready to leave. Then we would unpack again; my mother didn't want to move into a homeless shelter. I think that those experiences of feeling helpless and trapped by poverty have undoubtedly shaped me and all that I do."
Shimo sits on the advisory board of Up With Women and volunteers with First Nations youth organizations. Her latest book, part memoir and part history, is called Invisible North: The Search for Answers on a Troubled Reserve. It is inspired by the injustice and hope experienced by those on the Kashechewan First Nation, and is slated for publication this fall.
As for Grimanis, she's preparing for her third and final Guinness Book of World Record as the first woman to pull a jet plane. She'll attempt the feat on May 14, 2017—Mother's Day—as a testimony to mothers' resilience.
"It's hard enough being in a shelter as a single person feeling broken and like there is something wrong with you, but these mothers feel incredibly guilty," says Grimanis, noting that many mothers unfairly blame themselves for having their children in a shelter, when often they've fled home to keep their children safe. She and Shimo just had their first child, and, fittingly, their anonymous sperm donor wrote on his intake form that homelessness is the thing that bothers him the most.
It's the same feeling of anger and frustration that drives Grimanis to help other women with lived experience of poverty. "You can be incredibly traumatized from what happens to you, or you can use that pain, anger, and memory of loneliness and make it your fuel," she says. "This is what will drive you harder than anything else and bring you the opportunity to change other's lives as well."