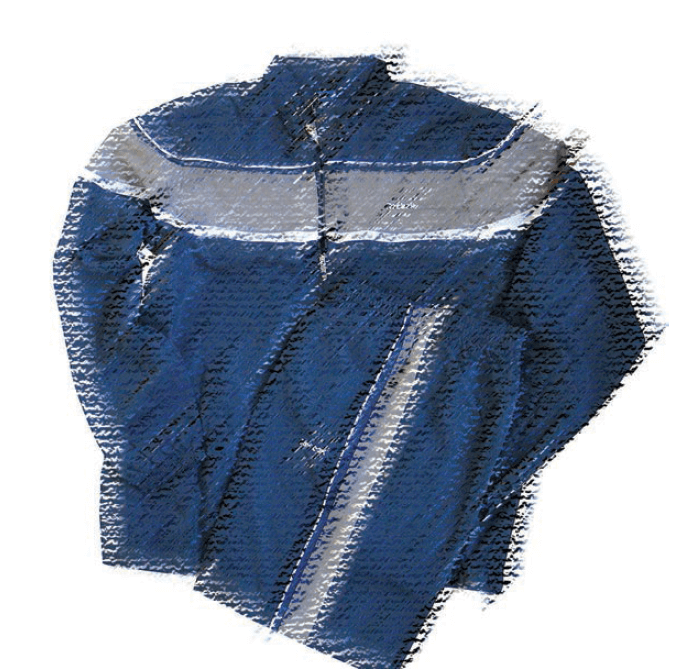 THE FIRST TIME I REALIZED I WAS OVERWEIGHT I was wearing a grey and red plaid dress with buttons snapped like daisies on the pockets. It was my eighth birthday, and my mum invited all of our friends and family over. Like always, she picked matching outfits for my sister and me, laying them out on our beds. In a hurry to join the party, I accidentally grabbed my sister's dress instead of mine. After 15 minutes of struggling to get in it, I managed to put it on. I held my breath for fear that it might rip at the seams. It was only after I stood in front of a room full of people trying to contain their laughter that I noticed my mistake.
As the years passed, the birthday outfits my mum bought me collected in my closet, and with them I began collecting memories of similar incidents. But that first incident was my introduction to a society that reminded me often of my weight problems.
I learned at an early age that people made judgments about others' habits, personalities, and identities based on appearance. We live in a country where eating disorders affect anywhere from 150,000 to more than 600,000 people; many feel the weight of this judgment. I learned to expect this when we would go on summer vacation to London, Malaysia, and Pakistan. Flight attendants would help my sister and me with our seatbelt, and remark: "Maybe sometimes you should let her eat her own meals," suggesting I picked from my sister's plate.
But I managed to escape the prying, judgmental eyes of others with the help of my favourite sportswear. Under the folds of an over-sized tracksuit, I found a way to disappear. These days, I know putting a tracksuit on can't stop other people from judging me. But clothing served—both then and now—as a way to gain control over my identity, the person I wanted to be.
The day I found my first tracksuit everything changed. I was 10, at home in Mississauga, Ont. School was cancelled: the streets were blocked off with mounds of freezing snow. I finished the book my mom had purchased for me for the month earlier, and I thought the snow day would be the best opportunity for me to look for next month's book, which she often hid in the house.
After searching the whole house, I headed to the storage room in the basement where we kept my dad's old suits and our salwar kameez, traditional Pakistani clothing. There was no book, but I found a Reebok tracksuit. That navy blue sweatshirt and its matching wide-legged sweatpants were three sizes too big for me—but it was my escape. I grabbed it, went up to my room, and put it on. It hung too loose and too long everywhere. It was perfect. Wearing something that was too big on me (for a change) hid the flaws people said I had—a kind of invisibility device. I believed no one could see anything in me that I didn't want to reveal. I wasn't just choosing what to put on my body; I was choosing who I was going to be that day.
For the next seven years, I wore only tracksuits. Most of them were hand-me-downs from my brother, over-sized and blue, black or grey. When the seasons changed, my mum took me shopping hoping that I would change my mind and buy a dress or jeans. But I always met her at the cash register with my athletic wear. Until I was 15, most of my classmates assumed I played a lot of sports; some decided my parents owned an Adidas store.
By the time I was 16, I stopped caring about what people thought of my body. The transformation occurred when I decided I wanted to be a writer. I studied the writers I read as a child and saw a pattern: they all used the way people spoke, walked, and even dressed as tools in character development. I decided to take the narratives I consumed and the influence of the people in my life into my wardrobe, an exercise in storytelling. I created my own therapeutic process: I wore my brother's band shirts to school to carry a part of him with me every day. I dressed like Dean Martin to claim his song lyrics as my own.
After my high-school graduation in 2011, I took a trip to Italy with my family and transformed again—this time into somebody who wanted to be visible. There, the philosophy that bodies are vessels to be filled with good food and art ran rampant. Italians didn't eat to stay alive: they lived to eat. While each city I visited was different on the surface, its heart was always at ease—a contentment I carried back with me to Canada.
This summer, at 22, I donated my navy tracksuit. My mom had already given away the others years ago, and this was the last one in my collection. Before folding it and placing it in a paper bag, I wrote a note on the tag inside the collar: "Served as invisibility cloak since 2003. May it bring you magic." I no longer wear tracksuits. I'm no longer interested in concealing my body based on society's expectations. Now, I am visible.
Aeman Ansari is a freelance writer who has been published in many Toronto-based publications, including Hazlitt and Torontoist. When she's not re-watching Hitchcock movies, she's working on her collection of short fiction inspired by stories from her grandmother, one of the few women in India to receive post-secondary education in English literature at the time.